With the advent of mobile technologies, many hoped that these information communication technologies (ICTs) would be able to fast-track development on the African continent. But ICT for development (ICT4D) projects come with their own sets of complexities.
So explained Professor Ulrike Rivett in her inaugural lecture, "ICT for development: the good intentions of the mobile phone".
This lecture, which represents Rivett's inauguration to full professorship, presented the many highs, lows and lessons contained within her 17-year-long journey of ICT4D research.
Following the advice of her family, this once-aspirant actress traded in the theatre for the lecture hall and enrolled as a student of land surveying, where she specialised in photogrammetry and remote sensing.
In 1995 she left her home in Rosenheim, Bavaria, to complete her PhD at UCT in the then Department of Land Surveying. It was at this time that mobile phone usage exploded.
Rivett became a member of staff in 2000, after which she moved to the Department of Civil Engineering.
It was there that she developed her profile as a researcher in the ICT4D field: from developing applications to support rural clinics during the HIV and Aids crisis of 2000, to systems for recording and collating the results of field test kits, searching for E. coli bacteria in water sources.
Rivett's research has carried her across the developing world. During this time she became an expert at changing 4x4 tyres and debunked the notion that "everywhere" has cell service.
In 2015 she moved to the Faculty of Commerce, in Information Systems, where she became the department's first woman professor.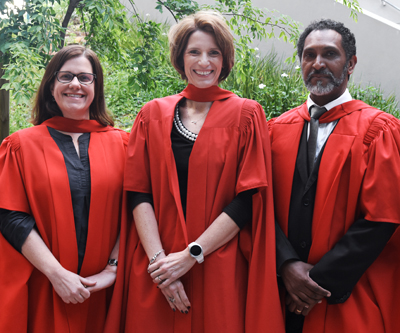 Bridging the digital divide
Not realising that they were, essentially, carrying around a computer, people were not afraid to use the mobile phone, Rivett explained.
"One of the things the mobile phone allowed for was the bridging of the digital divide: the notion of the haves and the have-nots, those who had technologies and those who did not," she said.
This was important, Rivett explained, because the moment you had a phone, you seemed to be more developed than the person who didn't.
It was for this reason that ICT4D became an important research arena. Researchers suddenly had the ability to collect data more efficiently and comprehensively than ever before. This would prove a valuable asset to decision-makers in the development sector.
But what does development mean?
"Development is a very complex and controversial and highly contested space, as you can imagine," Rivett explained. Who decides what development is?
Based as it is within the development sector, ICT4D work usually focuses on one of the 17 sustainable development goals (SDGs) or the eight millennium development goals (MDGs) that preceded them.
The field is both interdisciplinary and focused on applied research. This has proved both a challenge and a boon to Rivett, who refers to herself as an interventionist.
This means one thinks intervening is a good thing, she explained.
"It becomes incredibly difficult to watch and observe, but that is actually what you have to do when you work in the ICT4D space."
This was underscored during Rivett's first ICT4D research project, which sought to support rural clinics during the HIV and Aids crisis of the early 2000s through a mobile system.
"What we really learned is you need to take your cues from the queues you see," Rivett said.
People often walk for hours to reach clinics. Once there, they will spend hours queuing for treatment. If you are going to try to introduce a technology into these spaces, but that technology does nothing to improve these waiting times, then you needn't bother, she said.
Although the team was able to incorporate their system into the workflow in a way that did not add to patient waiting time, they were unable to reduce the queues.
"In actual fact, these people had worked out the best workflow that we could see. It was just that we needed to watch and observe a bit longer to realise that."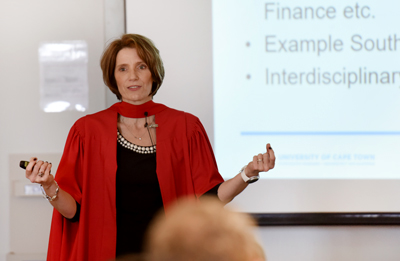 Research relevant to context
Colleagues compliment Rivett for her rigour in research and her drive for work that is both relevant to the contemporary moment and to the sector it investigates.
Rivett and her team learned this the hard way. After developing, testing and prototyping a device that they imagined would "save the developing world", they were unable to find an investor to mass manufacture it.
It was 2008 and the financial crisis was in full swing. No company was willing to invest in what they regarded as a profitless project. The developing world was, in the words of one would-be investor, a "bottomless pit".
"If you don't watch what's happening, if you sit in the university lab and you design, the world moves on. They're not waiting for you."
Rivett challenged researchers in the ICT4D field to publish in a way that is accessible to people working in the sector, rather than for fellow academics. To start with, try using words with fewer than eight letters, and remove those ending in "–ology", she advised.
"And then perhaps somebody will read our papers."
The challenge, Rivett explained, is that there are companies out there currently implementing systems that cost a lot of money. And these systems are completely ignoring all the experiences and lessons that have been learnt.
"And there is literally nothing more frustrating than when you see that development agencies are handing money out to projects that we know will fail because we've been there, we've done that and we've seriously got the T-shirt."
Don't assume you are the expert
Consult and develop together with local experts and beneficiaries, explained Rivett. This way of working, which is referred to as co-design, is the key to building a successful system.
In South Africa, this sort of public participation is actually a legal requirement for municipalities.
We try to help communities and municipalities to understand that the people who experience the problem must always be part of the solution, Rivett explained.
"We need to recognise local knowledge."
Do ICTs always make things better?
One must always be aware of the unintended consequences when introducing an ICT system into a context.
"It's a great thing to use technology, but what is the risk you are taking when you are implementing a technology that you can neither maintain, nor support in the long run?
"The road to hell is paved with good intentions," Rivett warned. "I think it's a phenomenal saying for the context of ICT4D … there is so much good intention … in the ICT4D sector, you have to be incredibly careful which direction you are paving."
But the sector has come a long way. There has been a real recognition that technology alone cannot solve social problems.
"We will not solve any social problems with technologies. And in the end it is always the beneficiaries that decide on the success of any of your ICT systems."
"We will travel along the road of ICT for a lot longer. I really do believe technology can make a difference. We will try to avoid paving the road in the wrong direction. And we will learn and share as we go along."
---
This work is licensed under a Creative Commons Attribution-NoDerivatives 4.0 International License.
Please view the republishing articles page for more information.
---