During an historic day at the University of Cape Town (UCT), where a special graduation was held alongside the robing of Vice-Chancellor Professor Mamokgethi Phakeng, students from the Faculty of Humanities graduated, academic staff were honoured, and an alumnus returned to inspire.
Highlights of the afternoon programme yesterday, 13 December, included Chancellor Graça Machel presenting the 2018 Book Award to Professor David Wardle for his work Suetonius: Life of Augustus.
Dr Sara Matchett, Professor Hendrik Hofmeyr and Associate Professor Svea Josephy were the worthy recipients of the 2018 Creative Works awards, also presented by Machel.
Following the awards, Phakeng introduced keynote speaker Maanda Tshifularo, who returned a decade after his own graduation to encourage the graduands to pursue a life of learning.
ʻThis is only the beginning'
Almost 10 years to the day that he graduated with a Bachelor of Science in Chemical Engineering, Tshifularo, head of Dialdirect insurance company, echoed the words he had heard on that special occasion.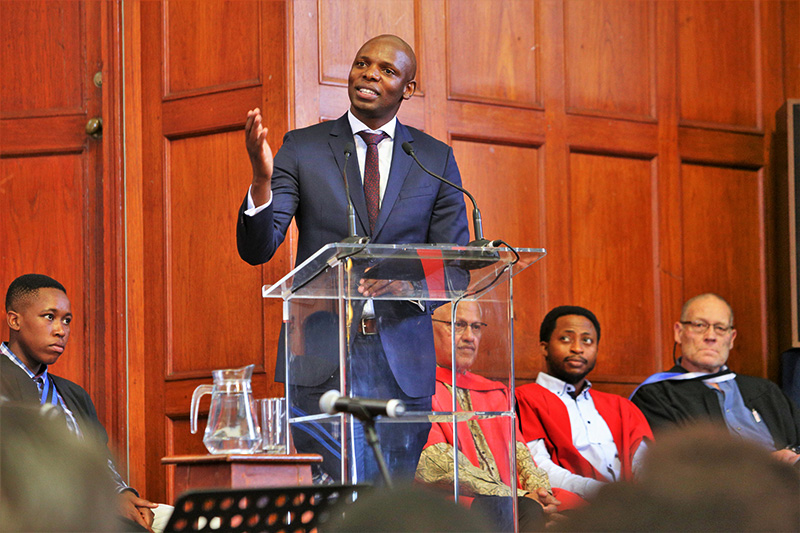 "This is only the beginning," he said, recalling the advice from Professor Eric van Steen, head of the Department of Chemical Engineering.
These words, said Tshifularo, have carried him through eight qualifications, including a master's in business leadership from the University of South Africa and a postgraduate diploma in financial planning from the Milpark Business School. He is now pursuing his PhD in financial capacity and literacy through the University of Johannesburg.
"You can do and achieve everything you put your minds to."
He recalled how emotional graduation day was, having made it to UCT from a rural village in Limpopo. His mother, a domestic worker for most of her life, raised three children on her R300 monthly salary.
He remembered the journey of "studying under trees, tents and in incomplete structures", finally making his way into the lecture halls of UCT.
Despite the many odds stacked against him, Tshifularo has transitioned from chemical engineering to finance, and has moved through leading roles at MTN, Discovery and 1Life to his current status as head of one of the country's top insurers.
Faculty of Humanities graduands celebrate their achievements following a ceremony at which they were urged to chase their dreams.
"Yes, it is possible, you can make it … You can do and achieve everything you put your minds to," he said.
Lifelong learning attitude
But, he cautioned, to succeed in this "complex and changing world", graduates must adopt a lifelong learning attitude, as well as nurture and grow their connections. To the amusement of the packed, newly-renamed Sarah Baartman Hall, he spoke of the ways he has had to step out of his comfort zone to make and nurture his own network.
"For a Venda boy, I had to take up golf… Can you believe it?" he said, adding cycling and running to the list of activities he took up to grow his connections.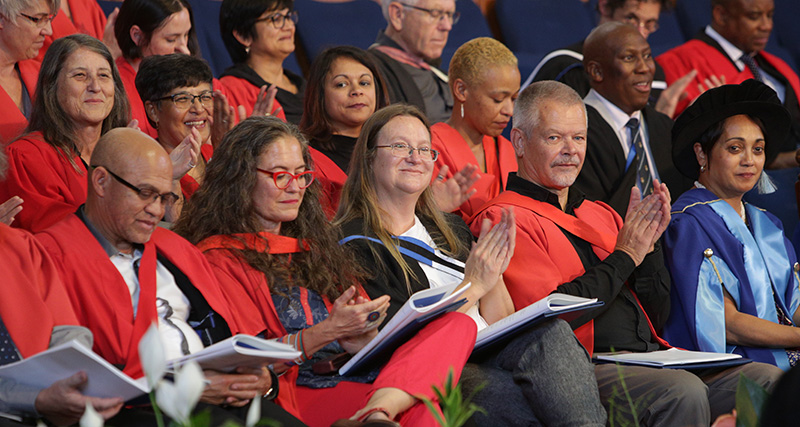 To succeed, the graduates will need to do the same, and "leap beyond the fences of textbooks".
Life after graduation won't be "a walk on a Cape Town beach", Tshifularo warned. Instead, they will have to "be courageous", and be prepared to fail and "bounce back, and back again".
"I have failed more times than I care to remember," he added, saying that the ability to bounce back stood him in good stead.
Concluding his speech, he made reference to Martin Luther King's iconic "I have a dream" speech. He noted how King had stayed up until 04:00 on 28 August 1963, going through his notes, perfecting the speech approved by his advisers.
But, come that historic moment, King was visibly losing track of the text. Seeing this, his friend and fellow activist Mahalia Jackson called out to him from the crowd: "Tell them about the dream!".
That dream, Tshifularo said, was not part of the original speech because King's advisers thought it lacked substance and gravitas.
But, because he was true to himself, King proceeded to deliver among the most memorable words in history: "I have a dream…"
And with that, Tshifularo called again for graduates to be courageous, to leap beyond that fence, and "tell them about the dream".
---
This work is licensed under a Creative Commons Attribution-NoDerivatives 4.0 International License.
Please view the republishing articles page for more information.
---