"Set your super-power dials to 'in service'," Professor Mamokgethi Phakeng told graduands at a special graduation ceremony on Thursday, 13 December, where she was officially robed as Vice-Chancellor. She has been serving in the post since 1 July this year.
Phakeng was robed at the first of six ceremonies of the two-day December graduation. Some 1 885 students will be capped, including 118 doctoral and 780 master's students. This brings UCT's 2018 graduate total to 7 000.
The robing occasion, a festival of music, song and poetry from students and alumni, reflected a new chapter for the University of Cape Town (UCT).
Eschewing the grandeur of an official installation ceremony, Phakeng chose to share and celebrate her robing in the company of 100 inspirational and special graduands from all six academic faculties, many able to graduate thanks to donor funding to clear their student debt.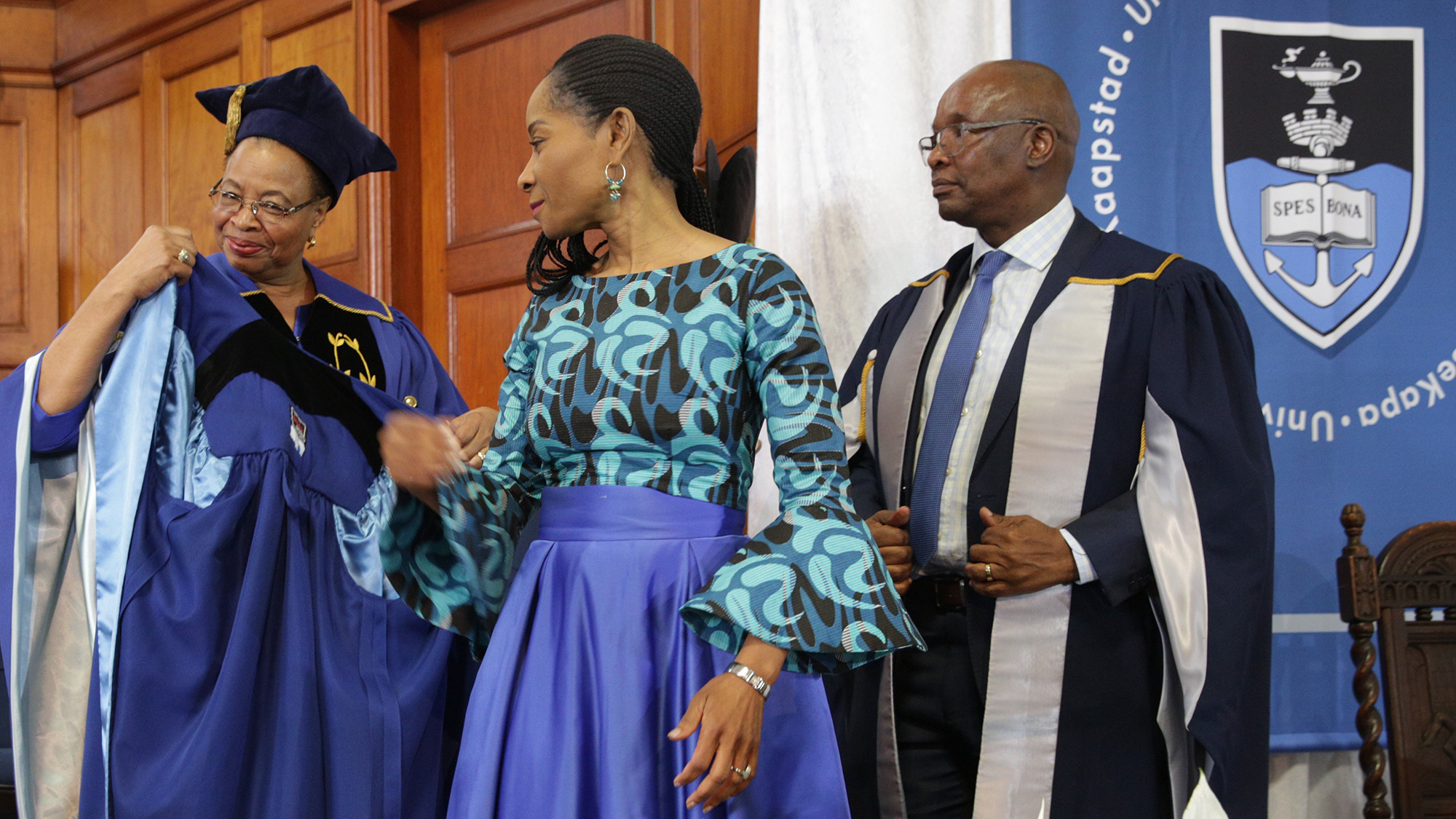 Among the guests were vice-chancellors and deputy vice-chancellors from other South African universities, as well other dignitaries, donors and alumni – and a group of Golden Graduates from the Class of 1968.
Following protocol, Chair of Council Sipho M Pityana presented the Vice-Chancellor to Chancellor Graça Machel, who officially invested Phakeng with her robe of office. Phakeng is UCT's 10th Vice-Chancellor since 1918 and the second woman to hold the office after Dr Mamphela Ramphele, Vice-Chancellor from 1997 to 2000.
Do good in the world
Acknowledging the work of former vice-chancellors, three of whom were on the platform with her, Phakeng lauded their efforts in shepherding the institution through good and bad times, guided by sound values.
"You have left in my hands an incredible gem, a gift of sorts, with the potential to change lives and change society for the better. It's my deepest intention and commitment to further your wonderful work to advance UCT to ensure its sustainability for generations to come."
Adding her characteristic light touch, Phakeng noted: "I'm told the job is tough, so I will need super powers…"
VC Prof Mamokgethi Phakeng's robing occasion was a festival of music, song and poetry from students and alumni, reflecting a new chapter for UCT.
Turning to the graduands, she challenged them to harness their own super powers to do good in the world.
"Between the time the sun rose this morning and will set this evening, a number of babies will be born in homes, some in clinics, some in shacks, some in hospitals, across South Africa.
"This group of children will arrive in our universities … some in poverty, some in love, some in violent situations, and a few will be privileged… some might be black, incredibly intelligent, queer and female – let's talk about super powers!
"The question we must ask ourselves and must ask each other is: what we can do to ensure that the true, almost limitless potential of this group of children is realised; that they have the best possible opportunity to succeed … and can one day benefit those around them.
"It's important that this country benefits from your skills, your education. The community needs you; your fellow citizens need you."
A group of generous donors had made generous "in-service" gifts to ensure they could graduate.
"My office's main task is to unlock opportunity for others, to open doors, to connect the resources where the need exists."
"And now you have an opportunity to give back. This is what I meant when I said I wanted money not to go to an individual but to a collective; those who are in need. This approach aligns with my thinking that the VC's position must act as an enabler of others.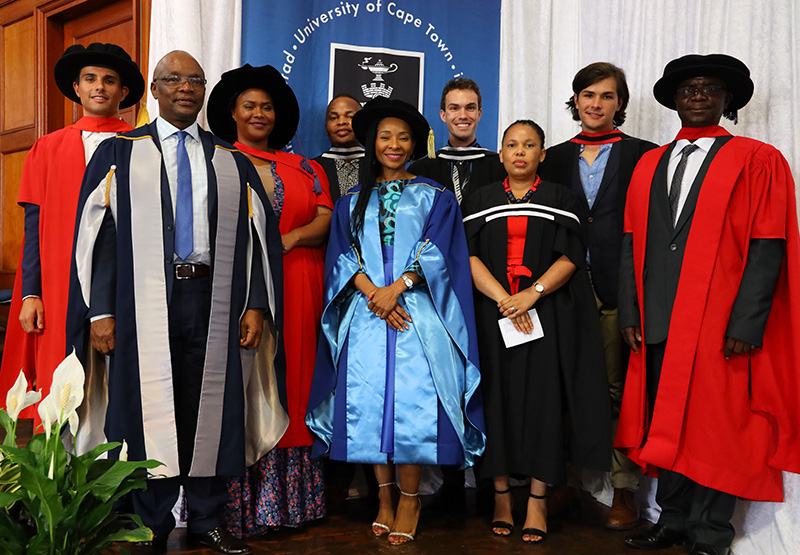 "My office's main task is to unlock opportunity for others, to open doors, to connect the resources where the need exists; create platforms for the success of members of our community.
"I request graduates to accept their gift to you with deep gratitude. I challenge you to choose to follow their example by giving to others who may be less fortunate."
Phakeng noted that they were special graduates for another reason.
To loud applause she announced: "You are the first group of graduates since the UCT Council made a decision to change the name of Memorial Hall to the Sarah Baartman Hall.
"I challenge you to use your education, this precious gift, to serve your community and your society, to help achieve the dream of a future that is more just, equal, fair, to make it inclusive for all. I challenge you to set your super-power dials to 'in service'.
"If you dare to accept my challenge today, what a wonderful miracle might unfold in our country and our world."
Leadership needs support
In his address, Pityana said the public robing was a symbol of the university's commitment to Phakeng's leadership, which had received "overwhelming support" here and abroad.
But her road would not be easy, and he called on the broader university community to support her.
"She understands that innovation and transformation are two mutually reinforcing ideals in society. She understands and appreciates that education does not happen in a vacuum but is deeply affected by our society, and that if we as an institution want to continue to achieve the highest we expect of ourselves, we have to not only adapt and respond to the realities around us, but also pioneer and innovate."
He said that as the leader of Africa's highest ranked university, Phakeng had committed to taking the institution into a more sustainable future "because it elevates and emphasises the good that all of us can do as diverse communities, regardless of our differences".
"Our nation's dream of a non-racial, non-sexist society as enshrined in the Constitution is made possible when such leadership exists."
"Our nation's dream of a non-racial, non-sexist society as enshrined in the Constitution is made possible when such leadership exists."
He said the fact that the university's top leadership – its Chancellor, Vice-Chancellor and many of the leadership lekgotla – are women, reflects UCT's commitment to gender diversity.
"Of course, the path of women in leadership in our society generally is never smooth nor easy. It attracts even greater responsibility and you will be no exception."
Nonetheless the pledge by the Chancellor and former Vice-Chancellor Ramphele, as well as the support pledged by other former VCs, pointed to the "wealth of goodwill" she enjoys.
"You must take full advantage of it," he concluded.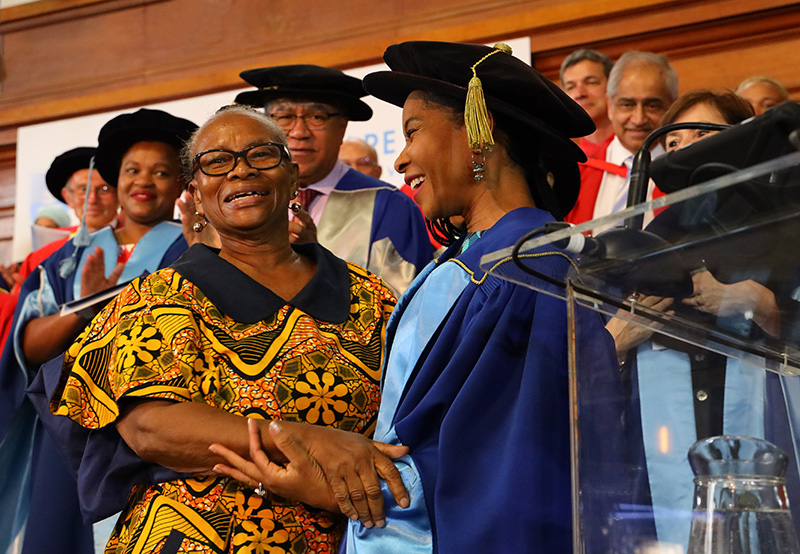 Barrier breaker
In introducing the new Vice-Chancellor, Machel alluded to Phakeng's unique make-up and fortitude, driven by compassion and her sense of community. Both would serve her well in her new role.
A decorated researcher and academic, Phakeng personified academic excellence, she said. But she was also a barrier breaker and a challenger of social and gender norms, "which come with no formal badges of honour".
Machel said that the new Vice-Chancellor had lived her values by opting for a modest robing ceremony, shared with 100 graduands who'd been unable to graduate because of fee debt.
At her own request Phakeng had asked that the money intended for her installation be directed at settling their fees. This would allow them to contribute to and play their own role in transforming society.
"This is the Vice-Chancellor we are welcoming," she said.
---
This work is licensed under a Creative Commons Attribution-NoDerivatives 4.0 International License.
Please view the republishing articles page for more information.
---