Over 2 000 people paid their final respects to world-renowned cardiologist and Dean of the University of Cape Town's Faculty of Health Sciences Professor Bongani Mayosi at a funeral service held at the Cape Town International Convention Centre on Saturday, 6 August.
The service was declared a special provincial official funeral by President Cyril Ramaphosa. Flags were also flown at half-mast throughout the Western Cape in acknowledgement of the significant impact that Mayosi had on South Africa over the years.
Mayosi, who died on Friday, 27 July at the age of 51, was described as a loving husband, adoring father, dedicated son, clinician par excellence, and educator and mentor to generations of students and doctors.
Tribute after tribute reflected on his warm and engaging personality and vision, as well as his many remarkable achievements.
"He was a brilliant academic. He became a very young head of Medicine at UCT. He was an A–rated researcher who was elected to the prestigious US National Academy of Medicine. He received the Order of Mapungubwe in Silver," said Minister of Health Aaron Motsoaledi, who had known Mayosi for 35 years.
Among his many other accolades and achievements, Mayosi was also at the forefront of the collaborative "1 000 PhDs in 10 years" project to build academic excellence in medicine in South Africa.
"He believed in the potential of black students and he mentored them with passion and love," said Motsoaledi.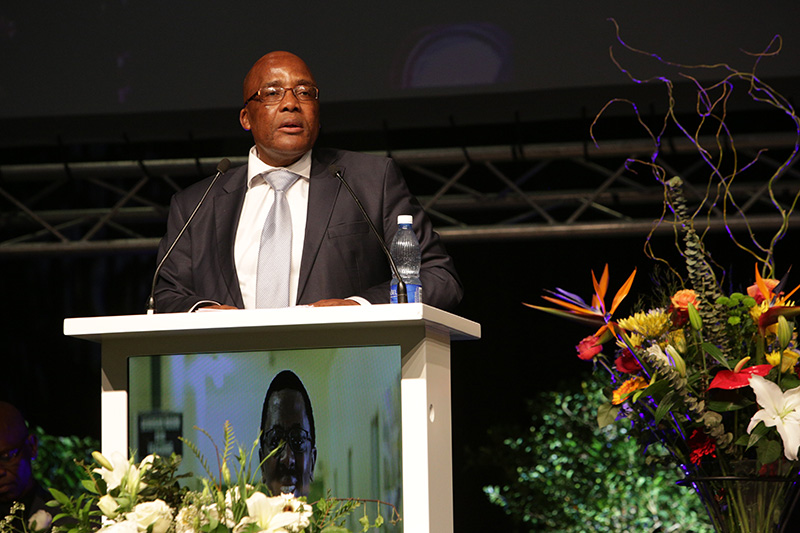 Whirlwind of benevolent energy
British clinical cardiologist Professor Hugh Watkins described how he was asked to be Mayosi's PhD supervisor at Oxford University in 1998. He had been told that his student "was destined to become a future leader of African medicine".
"It breaks my heart that he is no longer here, but his legacy is huge and it will grow with those he has mentored."
"I felt the pressure. He was my first student. I didn't know then that I didn't have to worry at all. Instantly he was a whirlwind of benevolent energy. He had the intellect, rigour, the drive but also the people skills to accomplish everything he set out to do. It breaks my heart that he is no longer here, but his legacy is huge and it will grow with those he has mentored."
Tributes from the Mayosi and Khumalo families were particularly poignant.
In a letter read on her behalf, Mayosi's widow Professor Nonhlanhla Khumalo described meeting her husband on the bus during orientation week at what was then the University of Natal. He was 16 and she was 17.
"I found Bongani's charm, humour and intelligence irresistible."
Their three daughters, Nosipho, S'vuyile and Camagu, also wrote letters of farewell that were read for them. They told of the joy of having a father who made them feel loved and treasured, who inspired them to do their best and was "the funniest and most humble person" they had ever known.
"At 7pm, you took off your tie, loosened your blazer and were simply Tata," said Camagu.
In her letter, Mayosi's mother Nontle Mayosi thanked her son "for putting the Mayosi family name on the map of the world".
Adored family man
"I thank God that he choose me to bring you into this world … such a genius for the world to share."
Dr Bhavna Patel, CEO of Groote Schuur Hospital in Cape Town where Mayosi worked for 26 years, said there had been an outpouring of grief from everyone – from doctors and nurses to clerks and porters.
"He would never enter a ward without his white coat [buttoned] and stethoscope around his neck. He led by example. He fought for the patients at all times and was not scared to voice his opinion."
Helen Botes, who worked for Mayosi when he headed UCT's Department of Medicine, spoke of his care when he approached her family to be part of a groundbreaking cardiology study, which has had far-reaching impacts. The study identified a "sudden death" gene found to be responsible for an inherited genetic disorder called arrhythmogenic right ventricle cardiomyopathy.
"All three of my children inherited a rare genetic disorder from their father, which led to his death. Shortly afterwards my eldest son died at the age of 30. I was approached by Bongani to perform genetic studies on my remaining two children.
"I remain indebted to Bongani for his care, compassion and for how freely he gave of his time to discuss any of my and my children's concerns. I thank Nonhlanhla for her role as well."
Professor Mpiko Ntsekhe, head of cardiology at UCT's Department of Medicine, said that through Mayosi, fellowships and funding to train world-renowned scientists were made available and "black excellence was lauded and rewarded".
Paediatric cardiologist Associate Professor Liesl Zuhlke reflected on the dean as a mentor who had supervised her doctoral studies.
Infectious enthusiasm
"His infectious enthusiasm permeated every interaction that we had. He permanently altered the trajectory of my life and therefore also of my family. He infused into all of his mentees his absolute passion and also urged us to find our own."
"He infused into all of his mentees his absolute passion and also urged us to find our own."
The memorial service was also a time to reflect on why Mayosi had taken his life after a two-year battle with depression which began soon after he took up the role as dean of the Faculty of Health Sciences in 2016.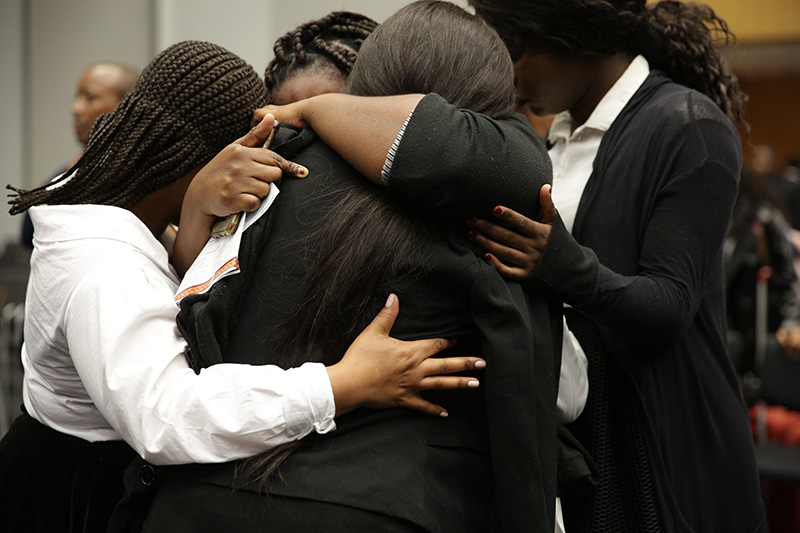 One of Mayosi's sisters, Ncumisa Mayosi, described the turmoil her brother had faced after the onset of the #FeesMustFall movement and the protests that broke out only a week or two after he assumed the position of dean.
"The vitriolic character of student engagements tore him apart … To be clear, Bongani believed in the students' cause, but the personal insults and abuse that were hurled at him without any justification whatsoever cut him to the core."
Family members said he had spoken to them about feeling isolated and let down by colleagues, the faculty and the university as well. He resigned twice but management did not accept his resignation.
Chair of UCT's Council Sipho Pityana said the university had to question whether there had been enough institutional and peer support for Mayosi during this time.
"There are lessons for all of us in this … lessons in how we channel our expectations of black excellence and excellence full stop, and how we express those expectations.
Time for reflection
"We need to ask ourselves if we have become so bloody-minded and entrenched in defending our own positions, whatever they may be, that we have lost an ability to listen, to view each other as human beings and act with empathy and kindness."
"There are lessons for all of us in this … lessons in how we channel our expectations of black excellence."
Pityana said it was also an opportunity to create the space for a more honest discussion about depression.
"We need to open up about this and support each other and maybe in this way many lives will be saved."
He added that the university had recently offered Mayosi a position as Pro Vice-Chancellor for Research into Diseases of the Poor. He had sounded enthusiastic about the new opportunity and was due to have started in his new role this month.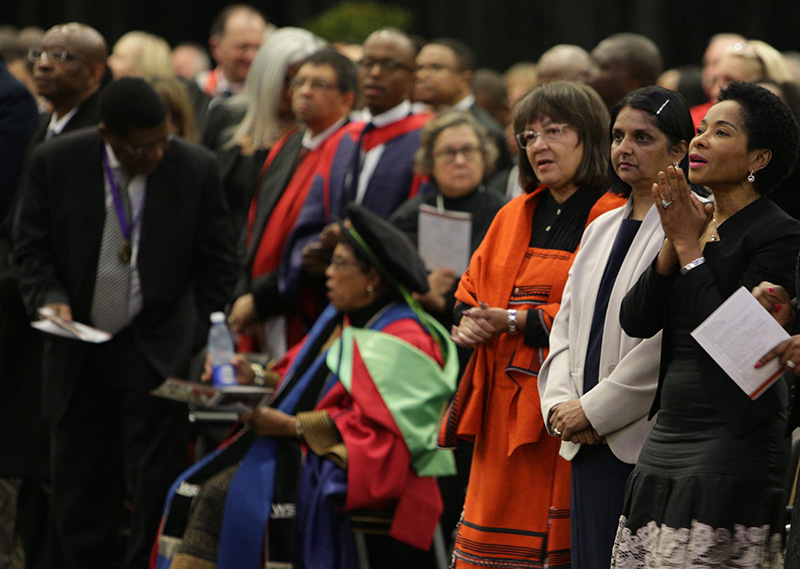 "If there is one thing we must take away from the loss of our friend, colleague and great intellectual is that success can be a very, very lonely place. Achievement brings with it the expectations of even greater achievement. It brings with it the desire for greater success. It brings with it a sense of even greater pressure.
"Each of us will miss Bongani in different, very profound ways, but it is up to us to find constructive ways that are true to his spirit of tenacity and kindness to truly honour his memory," Pityana said.
Read the eulogy delivered by Sipho M Pityana, chair of the UCT Council.
---
This work is licensed under a Creative Commons Attribution-NoDerivatives 4.0 International License.
Please view the republishing articles page for more information.
---