Messages from across the UCT community, the medical community, the country, the continent and the world have been pouring in to commemorate and celebrate the life of Professor Bongani Mayosi, the Dean of the Faculty of Health Sciences, who passed away on 27 July.
The messages that follow have been published as received. This page will be updated regularly as more messages come through.
---
Oh no. I am so terribly sorry. Bongani was one of the nicest people I ever met. He was such a brilliant man, but happy to chat to me when we met up by chance in Pick 'n Pay, Pinelands, where we both lived.
I don't know if anyone even picks up replies to these messages, but I hope this one comes through to someone.
The loss of Bongani is a huge loss to UCT, but also to our world. He was an amazing, lovely man.
I am shattered.
Jane Hendry
---
Dear Nonhlanhla
Sending you loving wishes to help comfort you in your grief.
Many thanks for being open about Bongani's cause of death – although more painful for you, it adds to the legacy Bongani leaves. Depression is a real illness with real suffering and we need to recognise and manage it, as with any other illness.
With love and respect,
Bev from Family Medicine
Beverley Schweitzer
---
Go well my friend and may your dear soul rest in peace. It was an honour and a privilege to know you.
Cyril O'Connor
Cyril O'Connor
---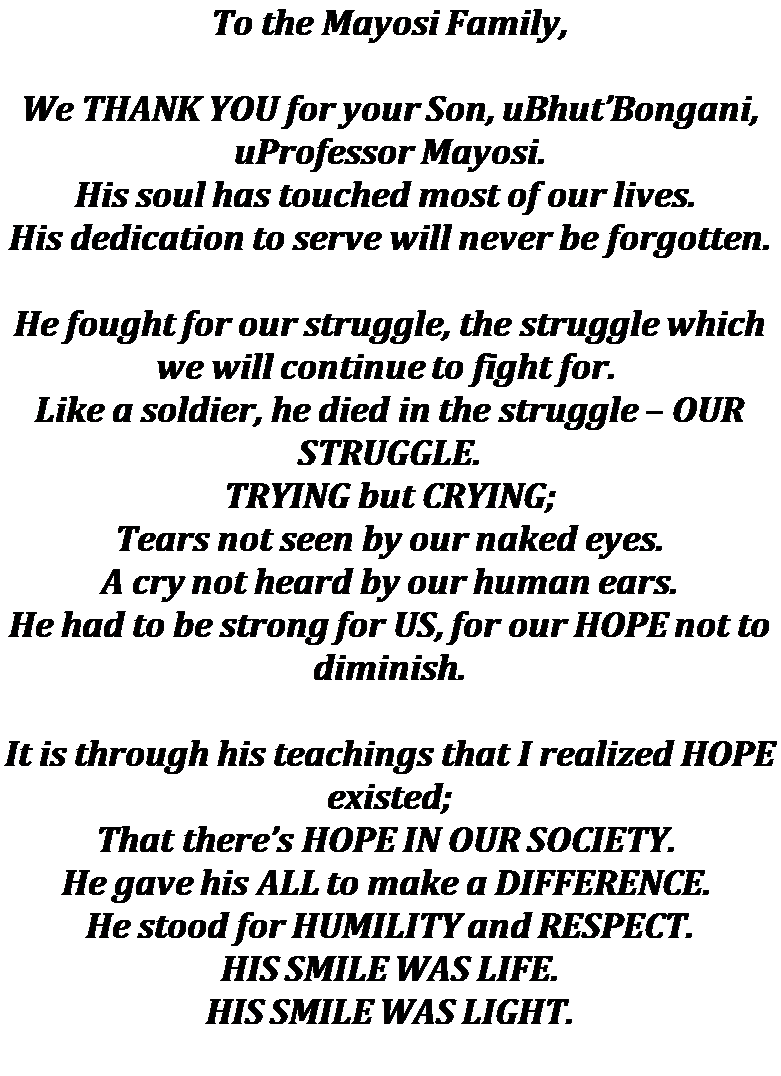 Lily Nombombo
---
I did not know you Professor Mayosi but I read about you over the years and saw you as a wonderful role model for all young men, and particularly young black men aspiring to rise to achieve their dreams.
May your family be lifted and held by the outpouring of love from so many.
Sally James
Deputy Head
SACS Junior School
BSc OT UCT 1988
Sally James
---
Rest in Peace Professor Mayosi your departure has left us with deep pain. We are deeply wounded.. Why did you leave us Prof? As young black students we were looking up to you and you were one of the people when we look up to we would easily say "Black child it is possible". Inxeba linzulu kuthi kodwa siyamcela uThixo asiqinise nathi as the community of UCT. Kakade kuthi uze kulunge kwantu kuthathwe ithole leduna kodwa besingazi kothathwa elityetyiswe kanje. May God be with the family in these trying times. May your Soul Rest in Peace.
Sisanda Mgema
---
Prayer prayed at Rondebosch United Church
29 July 2018
[in honour of Bongani]
O God, at times we will stand alone
Before the wide expanse of creation,
Staring at the eclipsing moon,
Or the crashing waves,
Or from a mountain top to the mountains beyond.
In these times of aloneness
We may carry a weight on our shoulders that we cannot share.
We may feel that our journey is travelled alone.
You may feel close to you or you may feel out of reach.
For in these places,
We stand in a sacred space,
Deeply woven into the web of creation,
Serenated by the birds' song
Sprayed by the surf of the sea
Grounded by the earth beneath our feet.
Though alone,
We are knitted into the sacred web of life.
And no matter where we stand in our aloneness,
We stand where many have stood before,
And others will stand where we have stood.
We are part of the sacred web of life.
May this web of life nourish us,
Be our strength and hope.
In times of aloneness.
In Christ's name we pray.
Amen
Suellen Shay
---
My name is Adam Kepkey. I am an alma mater of uct. My heartfelt condolences for the family of the prof, his wife and children and extended family. I did not personally know the prof but am so touched by his life story. I salute him for all his achievements. He was a heart man. I from my heart pray for strength for his family and the uct family. I know he really loved people. Thanks for helping young people and athletes to live longer by preventing sudden heart failure. We are our professor and will always be in our heart. Like with Mr Mandela, you are our hero and we love you with all our heart. You passed on in Mandela month and will always be our hero. We will cherish your memory and will continue your legacy by helping others from our heart. You made South Africa proud. Always in our heart. Adam
Adam Kepkey
---
My condolences go out to Prof. Mayosi's spouse, children and family – may they garner strength from each other and in the memory that their loved one has left a lasting legacy of excellence, dedication, achievement, and compassion. And may you, the countless students here and abroad that he touched, as well as his University colleagues and friends locally and overseas, demonstrate compassion for each other, which was a hallmark of Prof. Mayosi's character. As an international scholar of note, he set the bar very high as a role model on many fronts, showing us that 'the aspirational' is possible. South Africa, and Africa in particular, have lost his wisdom and one of the country's leading medical academics. His passing will not be in vain, for the reasons above, but also because it has sparked a renewed focus on 'self-care and well-being' for many students and professionals in our country and on the continent.
Sincerely,
Prof. Kurt April
Prof. Kurt April, PhD FRSA
Allan Gray Chair in Values-Based Leadership
Kurt April
---
Dear Mayosi Family
My sincere condolences on your loss. Professor Mayosi will be sorely missed by us all. I first encountered Professor Mayosi as a 6th year medical student. From the start of our tutorial, he acted out his values of respect, humility, kindness and real patient-centredness and taught us how important these values were for doctors. When he asked us questions, we did not answer in fear, as with many other consultants, but rather with the hope that we would not disappoint this outstanding teacher. I remember him asking me, during our final year class photo, when I would be joining the Department of Medicine – I felt such pride and amazement that this legendary professor had said such uplifting words to me. I continued to encounter Professor Mayosi while I worked at the Health Sciences Faculty and while shopping in Pinelands – I fondly remember his beautiful smile, articulate voice and nimble stride, greeting everyone whom his eyes met. We have lost a truly inspirational leader but we know his legacy and contribution to society will live on. Thank you for sharing this legend with the world – we are privileged to have known him. May our dear Lord give you strength and comfort. You are in our thoughts and prayers.
Much love
Nisha Jacob
Dr Nisha Jacob MBChB FCPHM(SA) M.Med
Public Health Medicine Specialist
Centre for Infectious Diseases Epidemiology and Research
School of Public Health and Family Medicine
Nisha Jacob
---
To the Mayosi family,
My sincere and heartfelt condolences on the loss of your husband, father, son and brother. While we cannot know your pain, we mourn with you.
Bongani Mayosi was my mentor and the person outside my family whose opinion I valued most. At a distance, he was an inspirational figure. In person, he was sage, patient, encouraging and uplifting.
I met Bongani when I was in medical school. Our relationship grew when he caught up with some of the South African Rhodes Scholars during a visit to Oxford about ten years ago. We kept in touch after that visit and he was responsible for my successful return to South Africa when my time in Oxford was complete, giving me my first research job and introducing me to many opportunities for young aspiring medical professionals.
I experienced a very dark period while I was in Oxford. At a time when my sense of self-worth had been tested beyond my limits, Bongani's encouragement and mentorship drew me from the darkness to the light. The idea that a man like him could expend any of his limited time and energy on me was at times all I clung to. The fact that he delivered on his promises is, in many ways, what saved me.
I had intended to pursue a mixed clinical and research career in cardiovascular medicine, and there is no better example than Bongani of what is possible with hard work and sacrifice. When life took me in the direction of Paediatrics, I was fearful of disappointing him, seemingly rejecting his "investment" in my career. It is a testament to the man he was, that his only response was encouragement, practical advice and the reminder that his door was always open. He understood that we each walk our own path, and that success in any field comes with difficult decisions and the consideration of more than just one's CV.
That is Bongani's legacy: not his death (as important as the issue of depression is), but his life. Bongani is not defined by his incredible list of professional achievements, but by the person he was. I will remember him for his easy smile, his infectious laugh, his patience, his wisdom, his genuine desire to teach and his drive to nurture the next generation of medical professionals. I will continue to strive to live a life that would make him proud and that honours the role he played in shaping my career. His legacy lives on in the many, like me, who are better for knowing Prof Bongani Mayosi.
With sympathy and humility,
Serini
Dr Serini Murugasen MBChB (UCT) MPH (Oxon) MSc (Oxon)
Clinical Research Officer (NeuroDEV)
Department of Paediatrics and Child Health
Faculty of Health Sciences, University of Cape Town
Serini Murugasen
---
May God bless you abundantly according to His riches in Glory. We are greatful to have known such an inspiring man who was ready to take on the world. His legacy shall prevail. Even in this time of need He is still God and He shall carry you on His wings and guide you in healing.
May his wonderful soul rest in peace.
May God bless you the Mayosi family
Mmanare Nkoana
---
I am so sorry for your loss. The suddenness of your father's passing has jarred the medical world so I cannot imagine what this time has been like for you all. To lose a father and husband must be unfathomable, leave alone the loss to the medical world and Africa. I pray for your strength during these times.
During my training at UCT as an undergraduate I encountered Prof on many occasions. Each if these was made special by him and I remember feeling dwarfed by his magnitude and presence and exemplary academic achievements. This was balanced by his cheerful demeanor, his undivided attention, the motivation and encouragement he offered and the positive energy he exuded. I recall his tutorials and ward rounds in awe of the depth and breadth of his knowledge of medicine and more especially, of people. These experiences galvanized me to keep striving and pushing forward even long after I left my alma mater. He had made an indelible mark on me as both a practitioner and a person. I still think of these times during my own darkness as a physician- pulled down by the sheer giant task each day brings. We all have these moments, but he concealed his so well. I feel privileged to have heard him speak again in person earlier this year. Once again- just being in his presence was as inspiring as hearing him speak as a first year medical student.
I know nothing can ease your pain or fill the spaces he has left in your lives but know that his legend will live on in so many of us as we move his message far and wide in our small ways.
Lala ngoxolo, Umphathi.
With warm regards and love to you all
Pariva Chutterpaul
MBChB 2006 (UCT)
Physician at King Edward VIII Hospital
Dept of Internal Medicine
Nelson Mandela School of Medicine
Pariva Chutterpaul
---
I met him once and so much energy was exchanged. His career was such an inspiration to me as a young black emerging researcher. I wish I had the opportunity to tell him this.
David Oyedokun
---
To the Mayosi family
No number of words can stem the flow of grief that you must be feeling, but may you know that Prof Bongani Mayosi was to all of us a beacon of hope, a symbol of excellence, an ear to the oppressed, an excellent clinician, a hunger researcher, and a gateway for previously disadvantaged children to access a medical education that they would otherwise not have known. He would not have been all these things to all of us without your support. With the passage of time, may your broken hearts heal, and your tears dry. May his dear departed soul rest in peace!
Dr Jaravaza
Diana Jaravaza
---
To the Mayosi family I would like to say my heartfelt condolences in this time of bereavement.
It cannot be easy, and I pray that God will comfort your hearts and bring peace to your thoughts. It can never be easy to lose a loved one. Please know we feel the loss with you and wish we could have spent more time with him.
I want to honour Prof Mayosi for always acknowledging us. For being someone who smiled no matter what he was feeling inside. The way he greeted us in the corridors – always with a smile.
His smile will surely be missed.
To the family: Psalm 34:18: The Lord is near to the heartbroken And He saves those who are crushed in spirit.
With sincere condolences
Shuretta Thomas (from Ethics)
Shuretta Thomas
---
I very well remember our brief chat during a workshop in January for an early career researcher like me. I am very grateful for your words and will abide by them. I will continue in your legacy. You have indeed penned your name in gold the world over and you will forever be remembered. Fare thee well Professor Mayosi.
Dr Nicholas Ekow Thomford
Postdoctoral Research Fellow
Division of Human Genetics
Department of Pathology
Nicholas Thomford
---
My memory:
Prof took a spontaneous pic with me on class photo day at Jammie Plaza. I remember thinking wow, best moment of the day. What a legend. And I have a pic with him. The year was 2013.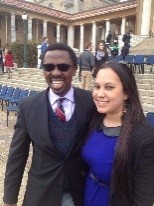 Thank you Prof, keep on shining! Your legacy lives on.
Ayesha Ryklief, UCT MBChB Class of 2013
Ayesha Ryklief
---
Lusapho lakwa Mayosi noKhumalo, Ngxe! Ndilila nani. Kubuhlungu ukushiywa ngabo sibathandayo. I am thinking and praying with you. Hold on to God's promise that He will never leave nor forsake you. It's a process, so please be patient. Nale izakudlula. Uxolo.
Lulama Sibiya
---
Dear Family
Our Heartfelt sympathy to the family of the fallen cadre in the medical field the revolutionist in transformation of the medical field. The biography of the late cadre is the testimony of intellectual lost to the country and the world. Particularly because it's one of those who may have been regarded in the past; as unable to research and uncover scientifically hidden medical conditions.
Our sincere Condolences to the family and the community he lived to serve.
On Behalf of the branch
Paul Gaika
Paul Gaika
---
I never knew Prof Bongani Mayosi as a personal friend, not as a student, nor a fellow colleague on the same level as he, I am staff member within the Faculty of Health Sciences, I am just one staff member making up the compliment of many staff whose lives are inter-twined into each other- a part of the family of the Faculty of Health Sciences.
The man who we mourn today, is a remarkable person whose infectious smile always gave me the encouragement to keep moving forward and taking that step into work each day to make the difference in the lives of all children. I am currently based at the Red Cross War Memorial Children's hospital and working in paediatric medicine research, I am encouraged to continue to fly the flag to better the lives of ALL children, to never forget to be humble, be compassionate and also firm in a gentle way.
His life is not in vain. no words can tell enough of the loss of this wonderful man, who inspired so many. I will never forget who he was and what he meant to me..I cannot explain why he touched me so deeply- but I know that when I hear his name it is his SMILE that will make me smile when I have dark days and I will continue walking forward in faith, trust and encouragement.
Rest well Prof Bongani Mayosi-Rest well
Jacinta Munro
Jacinta Munro
---
Like all, I was shocked and extremely saddened by the untimely passing of Bongani who I admired immensely as a humane person, scholar of note and role model for the medical profession, especially medical students and the younger generation of doctors.
I wish to extent my sincere condolences to the Mayosi family and trust that they will find the strength to come to terms with their immense loss.
Flip Bornman
Emeritus Professor of Surgery
University of Cape Town
Flip Bornman
---
To the family of Professor Mayosi,
Our deepest sympathies on the loss of your loved one;
he will be missed by all at UCT.
Sincerely,
Mino Caira
Emeritus Professor
Senior Research Scholar
Department of Chemistry
University of Cape Town
Mino Caira
---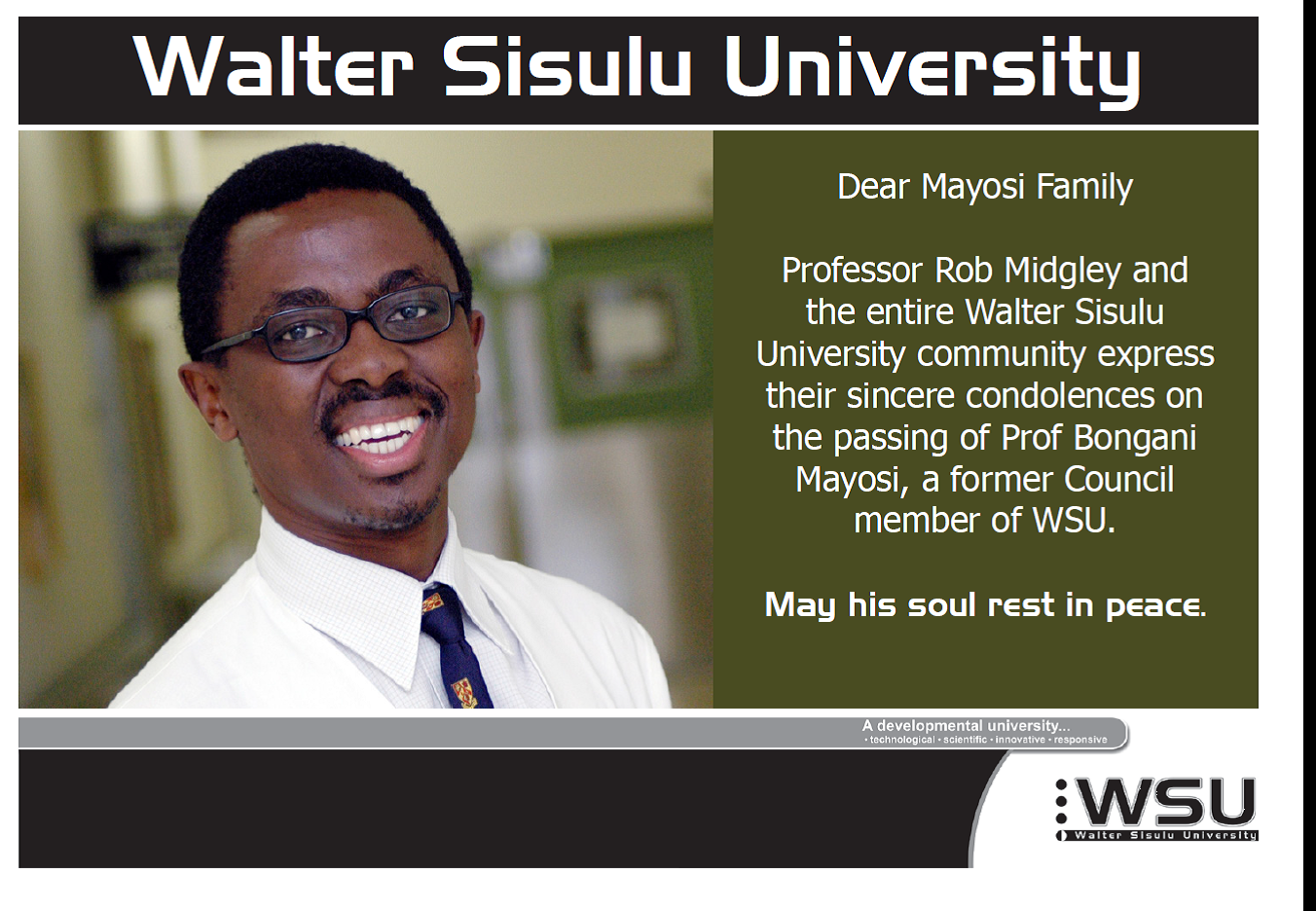 Rob Midgley, Vice-Chancellor and Principal
---
I am saddened by the loss of Professor Mayosi.
His work in his field of study and associated responsibilities as a leader of transformation at the University warrants that he be recognised for taking giant leaps. He was truly a giant amongst us!
I am fortunate to have had a brief interaction with such a giant and I can say that he leaves behind an impact that will gain momentum in his honour.
May your soul be at peace., Professor Mayosi.
May your family find solace in your life and legacy.
God bless,
Samuel Chetty
School of IT
Department of Computer Science
University of Cape Town
Samuel Chetty
---
Sapho lakwa Mayosi ooRhadebe elo Khumalo ooMntungwa siyayazi nilahlekelwe xoloni ntozakuthi sikhala nani.
Xolani sapho loRhadebe lo Khumalo lilele iQhawe elithembekileyo, elikrelekrele ngemvelo ugqatso ulufezile.
Bhut' Bongani liqhawe elifele ubuqhawe nokuzinikela kwimfundo ephakamileyo yaseMzantsi wonke, Zicuthiwe iintsuku zakho usathe chuuu, Bushunqulelwe ubomi bakho lashiyek'usapho lwakho lunyembezana.
Professor Mayosi's death has robbed South Africa of one of the best brains and fervent health experts who still had so much more to offer the nation.
Nonhlanhla Khumalo ntombi yo Mntungwa, Mbulaz'Omnyama qina molokazana woBhungane izwi endinokushiya nalo lele bible elithi:
"He heals the broken-hearted and binds up their wounds" (Psalm 147:3). Lean on God and allow Him to continue the process of healing your broken heart.
A giant tree has fallen.
Mth'omkhulu uwile, isithonga sivakele… Bhungane, Ndlebentl'zombini Rhadebe lala ngoxolo Bhut' Bongani.
Vathiswa Mbangi
---
May your Soul Rest in Peace Prof Extraordinaire. Your contribution to Medicine will forever remain. Thank you for being an inspiration to all.
Marothi Phahlane
---
You will be sorely missed!!
Malcolm Miller
---
Good day
I would like to dedicate the attached poem to our beloved Dean, Prof Bongani Mayosi.
I interacted with him from time to time and always found him to be a profoundly passionate, professional, congenial, selfless and intelligent man, with the utmost humility.
He use to attend meetings at our Centre and I would just love listening to him speak. His voice was so melodious and engaging.
I will always remember his huge, infectious smile and the twinkle in his eye whenever he spoke about one of his passions!
His passing has left a significant void in all our lives, but we will move forward taking great care to keep his legacy alive and will honour his memory by becoming the best versions of ourselves – everyday!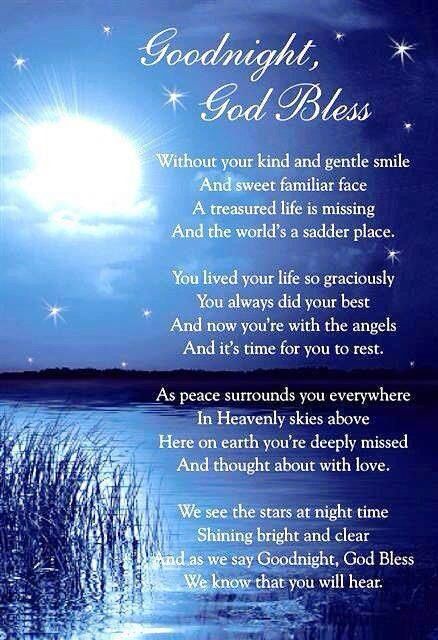 Prof,
In you we had a shining example of an exemplary human being, and although you are gone, your memory, vision and values will continue to live on.
We will sorely miss you and your special brand of "Mayosi Magic" you brought into our lives. Rest in everlasting peace, gentle soul!
Warm regards,
Faldeelah "Fee" Fisher
Administrator
UCT Clinical Research Centre
Faculty of Health Sciences
Faldeelah Fisher
---
---
This work is licensed under a Creative Commons Attribution-NoDerivatives 4.0 International License.
Please view the republishing articles page for more information.
---