Professor Bongani Mayosi's shoes were "custom-made", said Babu Muhammad, one of his students, at a Faculty of Health Sciences memorial in the Barnard Fuller quad on Monday. Mayosi, dean of the faculty and a National Research Foundation A-rated researcher, died tragically on 27 July.
Health Sciences classes and exams were postponed, giving the community time to mourn a "beloved leader". The memorial was one of three faculty events held to grieve and celebrate their dean, a bright star in the university's firmament.
The faculty events are part of a wider university programme to honour Mayosi. Memorial and funeral services will be hosted at UCT on behalf of the Mayosi family in the Memorial Hall on 2 and 4 August respectively. The memorial service will be live-streamed.
Losing a mentor
Muhammad said that being part of Mayosi's research group came with the privileges of travelling to meet the best researchers in the field and visiting excellent facilities. But it also came with high expectations.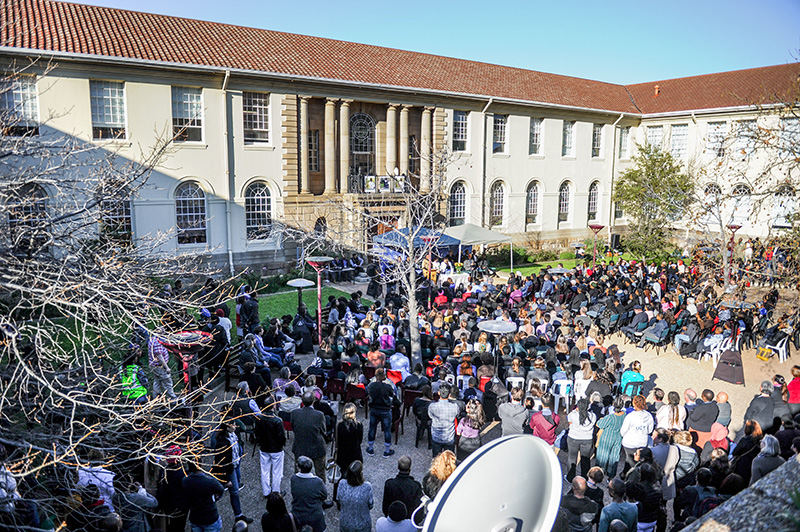 "But this is also part of the pressure. UCT has great scholars and we tend to elevate these people and idolise them, make them perfect individuals who know everything … as students we also forget they are human and we also need to give them room to make mistakes.
"We can't sit here and glorify Bongani [and not ask] did we give him an opportunity to be himself? As students in the Mayosi Group, we have lost a mentor and someone we look up to. But the good thing is we can go back to our lab now and conduct the research in the way he would have wanted it to be."
"Professor Mayosi's shoes were custom-made. I don't think anyone can fit in them. We can only follow the direction that they point us to."
"Professor Mayosi's shoes were custom-made. I don't think anyone can fit in them. We can only follow the direction that they point us to."
Kea Molelekeng of the Health Sciences Student Council (HSSC) said, "The passing of our dean, our black dean, is extremely brutal for all of us. Prof Mayosi was our pride … Prof believed in us, he challenged us, and he embodied black excellence that we aspire to. But in African culture when we mourn we don't look back, we look forward …
"These are trying times but it's only possible [to manage] if we walk together. We must keep our goals and remember why we are in this faculty."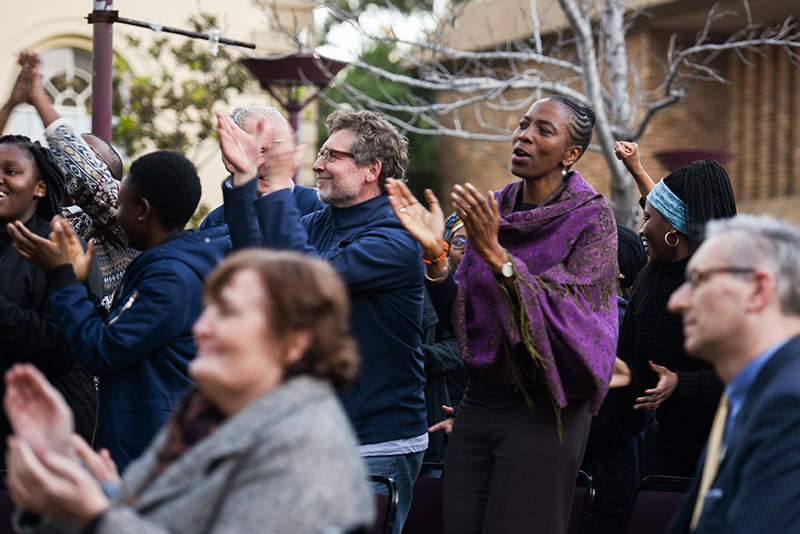 Fellow HSSC member Leago Sebesho added, "Prof was a humble man; he acknowledged you, and made you feel seen and heard. He was interested in your dreams and aspirations. He was a true servant leader … a loving, caring man who showed how to be a leader in trying times.
"What we need is comfort and solace. We need to be kind and considerate to one another, something I believe is embodied in Prof's spirit."
Mayosi's brand of activism
Professor Elelwani Ramugondo of the Division of Occupational Therapy said that everyone would mourn Mayosi in different ways.
"And to appreciate what he meant to all of us will take time. So, we need to be patient with ourselves and the memories we hold of him."
She directly addressed staff and students who felt they were somehow responsible for his death, noting the tendency in crisis among those who have suffered severe oppression "to self-blame and to begin to blame each other".
"The tendency is historical, don't get locked into it," she cautioned. "When apartheid was being dismantled it didn't take long for there to be stories of black-on-black violence ... Watch out for that tendency. It's not useful. It is violent, and it stops people from healing and it stops people from correctly diagnosing the problem."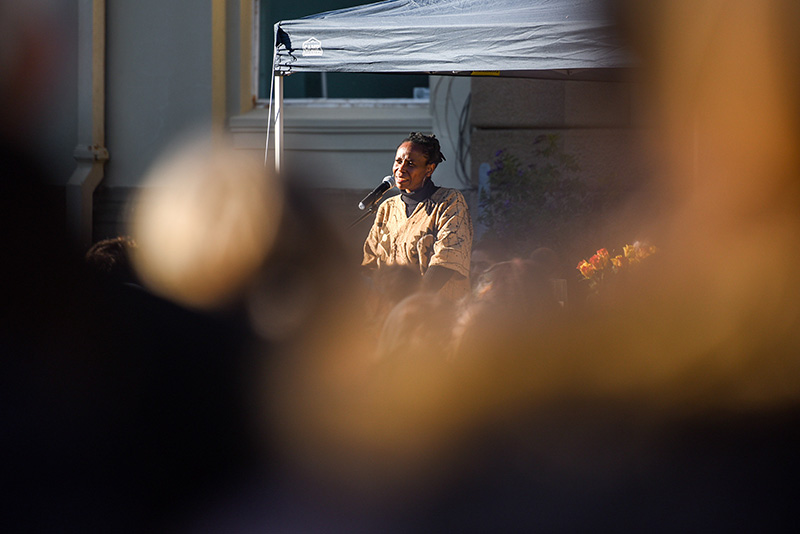 Ramugondo also highlighted Mayosi's "brand of activism".
"It's a rare kind of activism; it's not the toyi-toying kind of activism, or a barricade on the road. I'm not saying there isn't a place for that other kind of activism … but Bongani's activism involved a vision for the people of this continent to set the agenda for health, not only nationally but globally.
"Those of you who ever walked with Prof Mayosi would have noticed his brisk walk; wherever he was going he walked with a sense of urgency. This vision that he had kept him awake, it made him work long hours – almost as if he knew that he could run out of time."
What now?
Addressing the huge hole Mayosi had left, Ramugondo added, "The hardest question many of us will be left with is 'What now?'… Where are the leaders who are worth supporting to see that vision through?
"So, I hope that as we continue this life's journey that whatever we seek to emulate in him it wouldn't be in the way he chose to depart. I need to say this because there are students who are distraught; there are students who think, perhaps it is time for them to depart too. I say to you: Emulate Prof Mayosi in the way he lived. Think about the vision he had. Seek out those people that affirm you. Know who they are. You know it in your gut. Seek them out for support."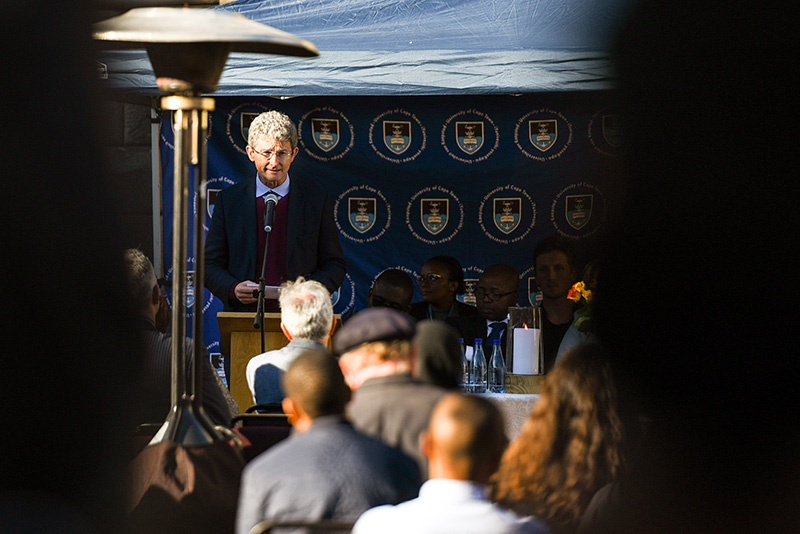 Head of the Department of Surgery Professor Graham Fieggen endorsed Ramugondo's call.
"It's going to take some time for the richness and fullness of Prof Mayosi's legacy to be really appreciated. All we can do today is for each of us to reflect on our lives and how they intersected with his … We all have wonderful stories.
"We are all grasping for some anchor, some way of making sense of all this … One thing is for us to reflect on the tributes we heard this morning [an event led by Vice-Chancellor Professor Mamokgethi Phakeng] and the other is to think about the future."
He said it was important to self-reflect and not to apportion blame after the difficulties of 2016 and the complex times that followed.
New start
"If this could be a new start for all of us as a faculty, to really look at ourselves and our own roles for the future."
He added that the place to start was in drawing inspiration from Mayosi's "own voluminous and wonderful writings", particularly his inaugural lecture, "The Future of Medicine".
"I want to read one paragraph: 'It has been pointed out that at any point in history the possibility existed that things might have gone differently from what ensued. Individuals and people acting with a common purpose can change the course of history. The historical political deal at the end of apartheid showed us that there are no predetermined futures. The future depends on what we do today to ensure a better life, for our children and our children's children.' "
---
This work is licensed under a Creative Commons Attribution-NoDerivatives 4.0 International License.
Please view the republishing articles page for more information.
---