"In 2019 our students proved that they have what it takes to become real change-makers in our society. Whether they were winners at the UCT Student Leadership Awards or the national Entrepreneurship Intervarsity; whether their projects and ideas addressed education, banking or inclusivity in this country, it is very clear that our students are already building the kind of society that they want to be a part of in the future, uncertain though it may be. Their participation on the international stage shows that this university continues to produce truly global citizens. I am certain that their enthusiasim, energy and willingness to grapple with our complex social challenges will become emblematic of the increasingly technological world we find ourselves in while retaining the centrality of our common humanity."
Dr Moonira Khan
Executive Director: Department of Student Affairs
---
Giant leap for student start-up
Zaio, a gamified platform that offers open-access learning for aspiring software developers, topped the Existing Business: Social Impact category at the 2019 Entrepreneurship Intervarsity. The platform was launched in 2018 to help student developers gain practical experience and to help start-ups build affordable tech.
Zaio has since partnered with UCT's School of IT and the Faculty of Engineering & the Built Environment to endorse projects completed through the platform. They will also partner with incubators in Cape Town and Gauteng as a tech provider for other start-ups.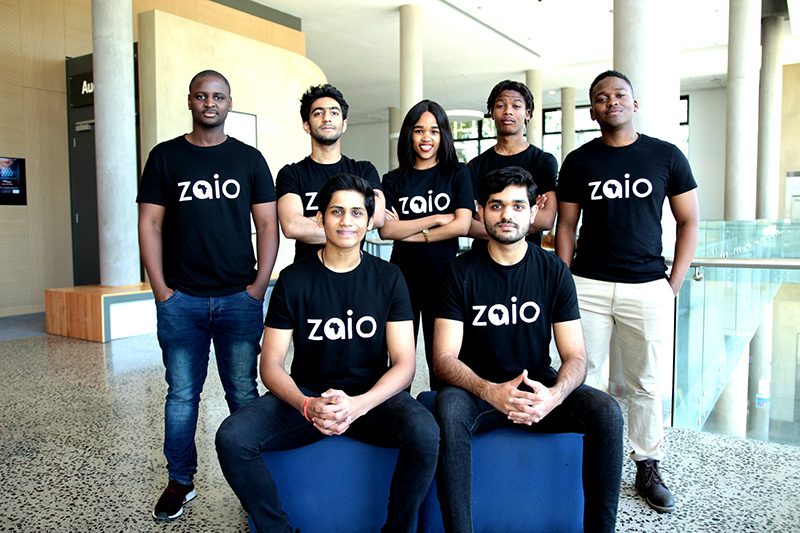 ---
SA's 'LinkedIn for creatives'
Founded by commerce students Dean Adams, Darshil Ramchander and Sabir Buxsoo, Untapped Culture is a digital portfolio that allows creative professionals to upload their CVs and examples of past work. It also serves as an online directory for anyone in the country seeking a creative professional.
---
UCT's Mandela Rhodes scholars
Seven UCT students were honoured among the Mandela Rhodes Foundation Class of 2020, joining 47 inspirational young leaders from across Africa. They are: Tariro Chatiza, Tatenda Kaponda, Sister Kashala, Hlumelo Marepula, Nyasha Mashanda, Joshua Mirkin and Nosisa Ngwenyama.
---
3D-printing solution for education
Denislav Marinov, a third-year physics and chemistry student, plans to put one educational 3D printer into every school in South Africa. He believes that this will drive solution-based, collaborative and cross-disciplinary thinking among learners – and effectively democratise education.
R70 000 was raised in the first round of crowdfunding
for Marinov's industrial 3D printer design.
The aim is to enable learners to creatively address South African problems and then use design thinking and engineering – and a 3D printer – to create tangible solutions.
One of the high-impact leaders in the Klaus-Jürgen Bathe Leadership Programme, Marinov's industrial 3D printer design will eventually produce the smaller printers for schools.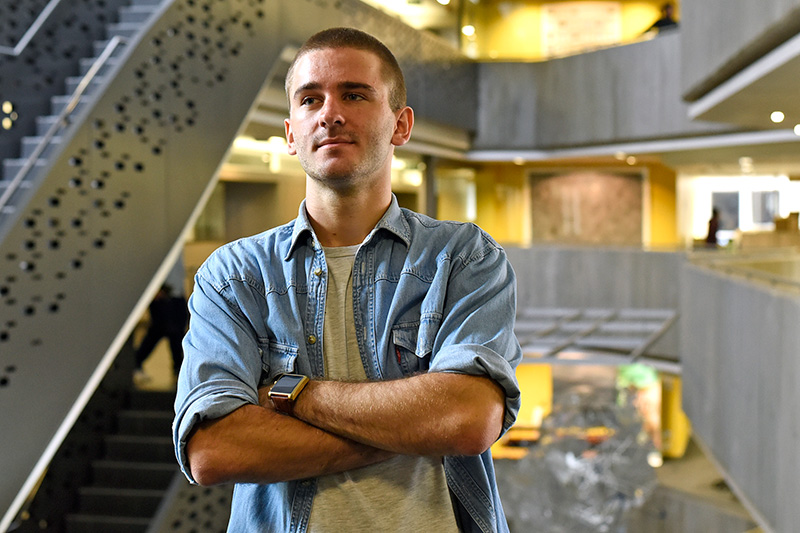 ---
SA's banking Siri
Naledi is a multilingual personal banking and financial management assistant powered by artificial intelligence that reaches users via WhatsApp. She understands and speaks isiXhosa, isiZulu, Setswana and English; allows users to buy airtime, transfer money and check account balances; and offers users financial advice whenever they need it.
According to Thapelo Nthite, a fourth-year mechatronics student who developed the platform with some of his peers, Naledi was primarily designed to help address the issue of financial exclusion in South Africa – particularly the language barrier associated with existing banking applications.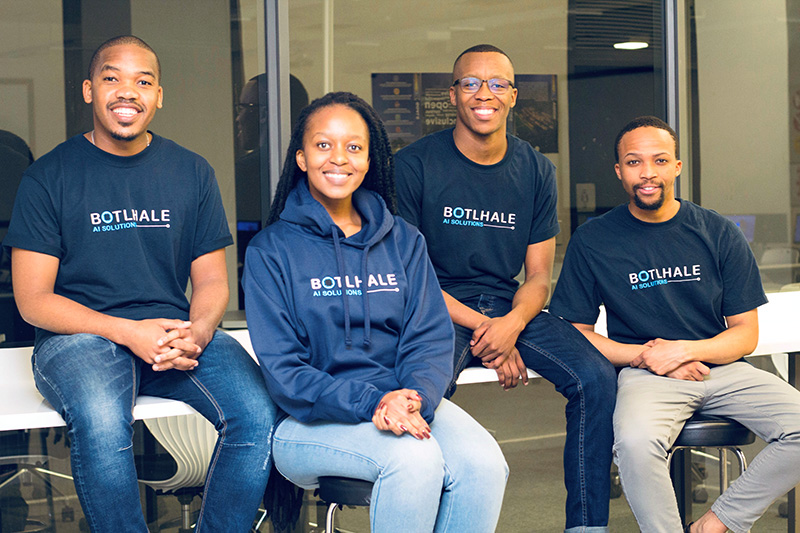 ---
Oxford Global Challenge
Five UCT students represented the university at the Oxford Global Challenge: Map the System 2019 – a global competition that encourages participants to think differently – and deeply – about social and environmental change. The UCT team, Mas'Funde, was one of 1 146 competing from 33 universities internationally.
Tasked with understanding and resolving challenges plaguing their home countries and the world at large, Mas'Funde chose to engage with South Africa's basic education crisis.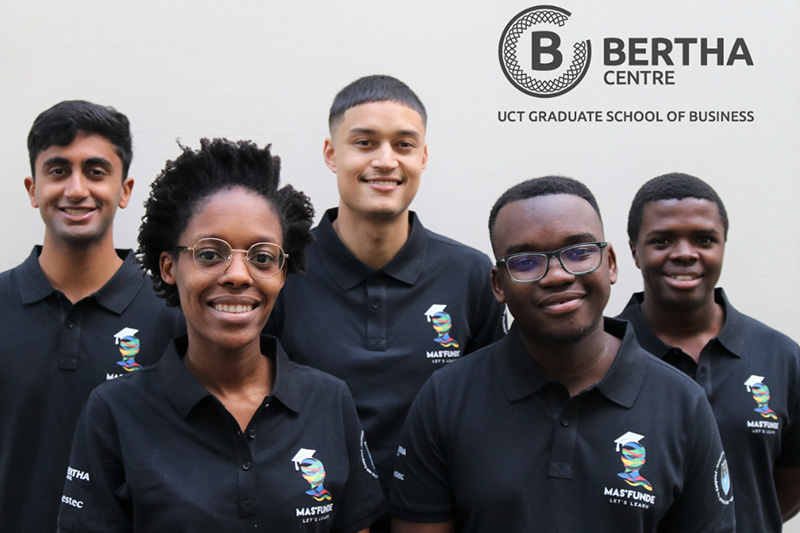 ---
Leading with distinction
Some of UCT's brightest stars were lauded for their achievements at the 2019 Student Leadership Awards, held at the Baxter Hall residence on 15 October.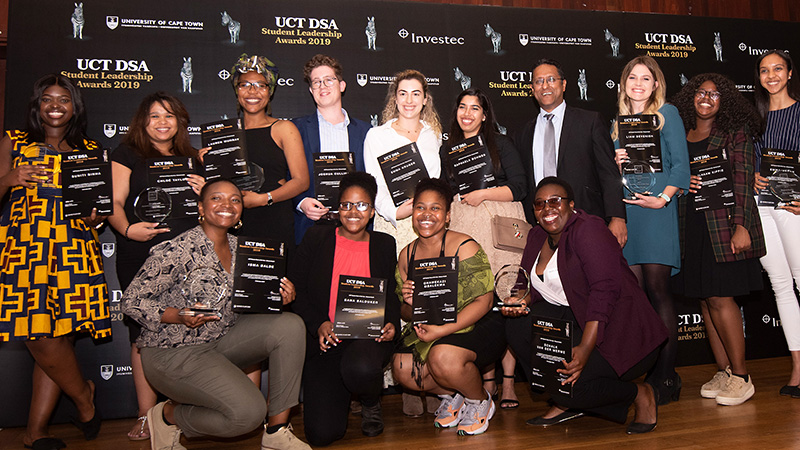 Individual winners
Vice-Chancellor's Award: Athenkosi Nzala
Deputy Vice-Chancellor's Award: Asanda Lobelo
Executive Director: DSA Student Leader Award: Camri Schoultz
Kerry Capstick-Dale Leadership Award: Shamila Mpinga and Dali Maseko
Leadership Excellence Award: Jessica Worsley, Willie Macharia, Thabang Sebetoane, Nicholas Loxton and Soligah Solomons
Media and Arts Award: Lance-Selae August and Soligah Solomons
Entrepreneur Award: Athenkosi Nzala, John Anyetei, Savannah Verhage and Thapelo Nthite
Social Responsiveness Award: Athenkosi Nzala
Team winners
UCT Student Team of the Year: SHAWCO Health
Most Outstanding Team in Sports: UCT ParaSports Club
Most Outstanding Society Executive: UCT Surgical Society
Most Outstanding Team in a Social Responsiveness Initiative: Tshehetso
Most Outstanding Undergraduate Student Faculty Council: Law Students' Council
Most Outstanding Team in Residence Life: Academic Representatives' Council
Most Outstanding Team in Media: Varsity News Collective
Most Outstanding Postgraduate Student Faculty Council: Postgraduate Law Students' Council
Read the article and watch the video.
---
Levelling the maths and physics playing field
South Africa continues to face a dearth of qualified engineers, and a final-year mechanical engineering student said he not only knows why, he's also doing something about it.
Thabang Sebetoane, a maths and physics aficionado, has seen this first-hand, with several of his friends unable to cope with the maths and physics that the degree demands. In response, he established Tshehetso, a mentoring and tutoring non-profit organisation that grooms matric pupils for what's ahead when they begin their engineering studies.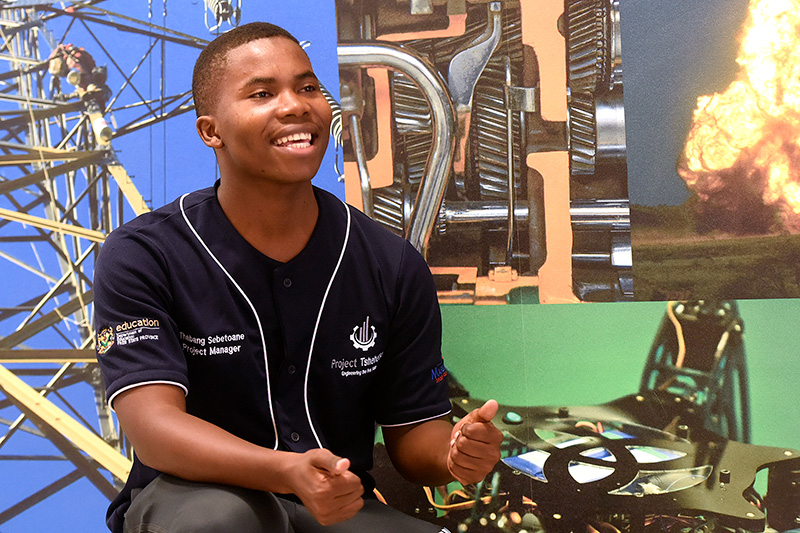 "Tshehetso aims to level the playing field between quintile 1 and quintile 5 schools, and to provide children in poorer communities with the same training and learning opportunities that children in more affluent schools are exposed to."
Sebetoane and his team of tutors also help with the university enrolment process, and once candidates are accepted, Tshehetso runs support camps before the start of the academic year.
"Nothing gives me more pleasure than knowing that I can help and make a real difference."
---
The Pitch
Run by the Academic Representatives' Council, The Pitch finals on 9 May saw eight aspiring entrepreneurs pitching their service or product to a panel of potential investors. To compete, entrants had to be enrolled at UCT and have a concept in either the idea or testing phase.
From over 150 initial entrants, 4IR Mobile Clinic – the brainchild of Tlotliso Jonas, Namhla Juqu and Evans Tjabadi – took first prize in the ideation category for their plan to create a convenient, digitalised mobile clinic to address access to healthcare. Top honours in the testing category went to Jasantha Singh for her product Aurora Rose, an unfragranced soap suitable for ultra-sensitive skin.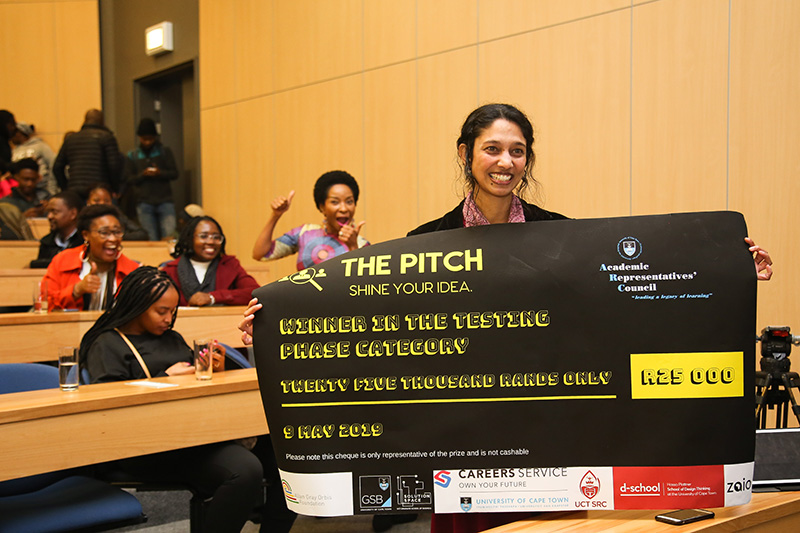 Read the article and watch the video.
---
'Kasi kid' wins Budget Speech Competition
Economics student Caleb Qoyo won the undergraduate section of the 2019 Nedbank / Old Mutual Budget Speech Competition to emerge as one of the brightest young economic thinkers in South Africa.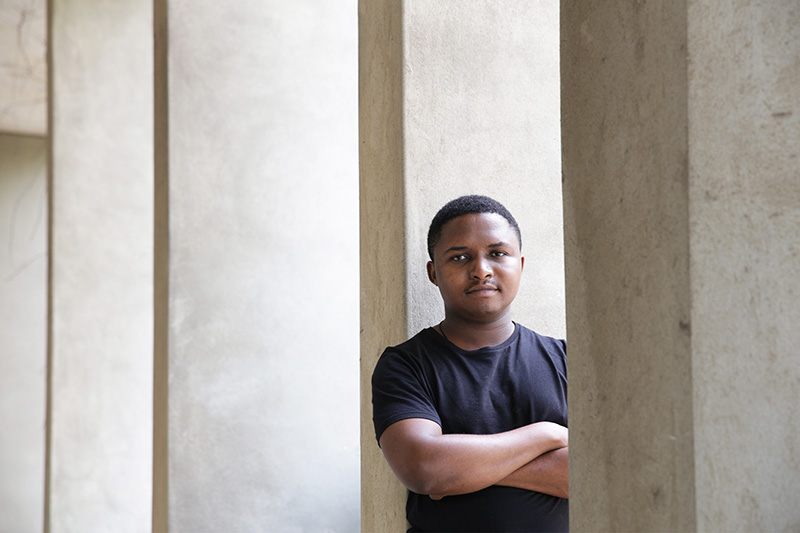 The "kasi kid" believes that many of his peers are keen to "start their own businesses and create employment for others", as well as "create solutions for us, by us that understand the nuances of our context".
With plans to start his own NGO within the socio-economic field, Qoyo works part-time as the programme coordinator at the Emagqabini Education Academy, which specialises in tutoring, mentorship and career guidance for learners in Khayelitsha.
---
Hijab-wearing rugby player talks inclusivity
When Zahraa Hendricks ran onto the field for UCT's women's rugby team, she had no idea that her hijab would garner so much attention – nor that it would spark debate about inclusivity.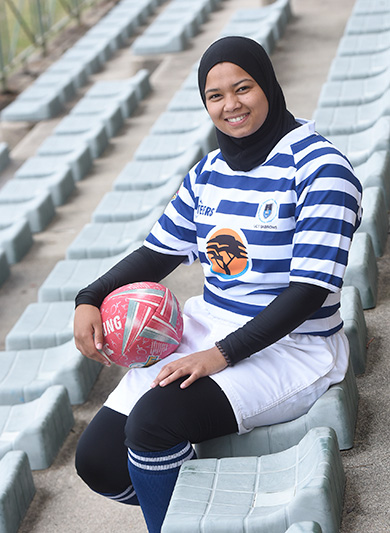 During a pre-season friendly against the Cape Peninsula University of Technology on 2 March, photographer Cheryl Roberts snapped two pictures of the young player. The caption originally shared by Roberts read: "In South Africa, on a sports field in Cape Town today, a hijab-wearing woman rugby player enjoys participating in rugby. And there are no objections to her religious attire on the sports field.
Elsewhere in the world, in a country like France, a hijab wearing sportswoman was objected to. Not in South Africa."
"I'm here to show that there is a place for us,
and we can do what we want to do."
But for Hendricks, it was nothing out of the ordinary.
"I mean, this is who I am. When I go to practices, I always wear my scarf."
The online response was overwhelmingly positive. People spoke about their pride as South Africans, how the country is more integrated than the rest of the world, and how Hendricks is paving the way for other young Muslim girls. The comments speak to inclusivity on a national level, but also at UCT.
As for her own efforts to build inclusive spaces, Hendricks sees herself as part of a movement of Muslim women who are defying the stereotypes of them as oppressed, submissive and without agency.
---
This work is licensed under a Creative Commons Attribution-NoDerivatives 4.0 International License.
Please view the republishing articles page for more information.
---