"When we are in a space where we can follow those who lead, let's do that. When we are in a space where we can lead, let's do it with distinction. That's the only way we can make our continent great."
That's the advice University of Cape Town (UCT) Vice-Chancellor Professor Mamokgethi Phakeng shared with the audience during the 2019 Student Leadership Awards at the Baxter Hall Residence on Tuesday, 15 October.
Hosted by the Department of Student Affairs (DSA) in partnership with Investec Corporate Social Investment, the annual event acknowledges individual students and student teams for their leadership contributions in respect of community, social justice, entrepreneurship and media.
It was an evening of cheers, ululating and celebration as some of UCT's exceptional student leaders were called to the stage to accept their trophies and certificates. This year marks the 16th anniversary of the awards.
The evening's festivities included musical items performed by talented UCT students, surprisingly not part of the university's College of Music and in fact studying towards other degrees at the institution.
Addressing the students, deans and deputy deans of faculty, and members of the Leadership Lekgotla, Phakeng said: "This is by far one of my favourite events of the year. It is a time for us to come together as a community and celebrate the achievements of this year's awardees."
"The winner of this award is the embodiment of the kind of student leadership and social responsiveness to hope for here at UCT."
Congratulating the winners
When she announced that the winner of the 2019 Vice-Chancellor's Award was Athenkosi Nzala, there were loud cheers from the audience.
Nzala, a Mandela Rhodes Foundation (MRF) 2019 scholar, is pursuing his master's in education, specialising in education policy in UCT's School of Education. Prior to his postgraduate studies, he completed a degree in civil engineering in UCT's Faculty of Engineering & the Built Environment (EBE).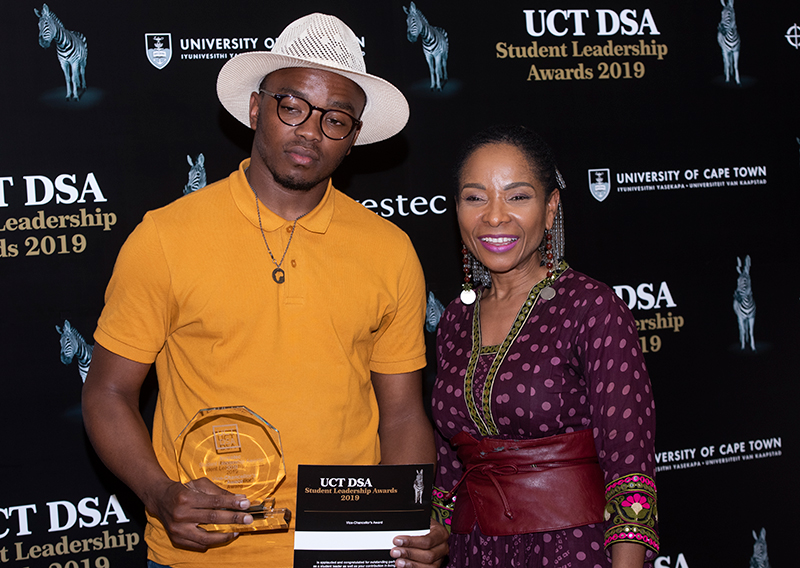 He is the founder of the AfrikaCan! Foundation, a non-profit organisation (NPO) that provides extra-curricular opportunities to children in under-resourced communities in Cape Town.
Phakeng said Nzala's commitment to the values of transformation, social justice and serving others is the reason he was handpicked for this award. He also walked away with two other accolades, namely the Social Responsiveness award, and first place in the Entrepreneur Award category.
"The winner of this award is the embodiment of the kind of student leadership and social responsiveness to hope for here at UCT. [He] is dedicated to hard work, leadership and helping others achieve their full potential."
"Skilful leader"
Deputy Vice-Chancellor for Transformation Professor Loretta Feris named Asanda Lobelo as the recipient of the Deputy Vice-Chancellor's Award.
Lobelo is the outgoing president of the Students' Representative Council (SRC) and a member of the UCT Council. Feris described her as a "skilful and industrious" leader who remains committed to the values of inclusion and who has reignited passion and institutional reform among students and staff at UCT.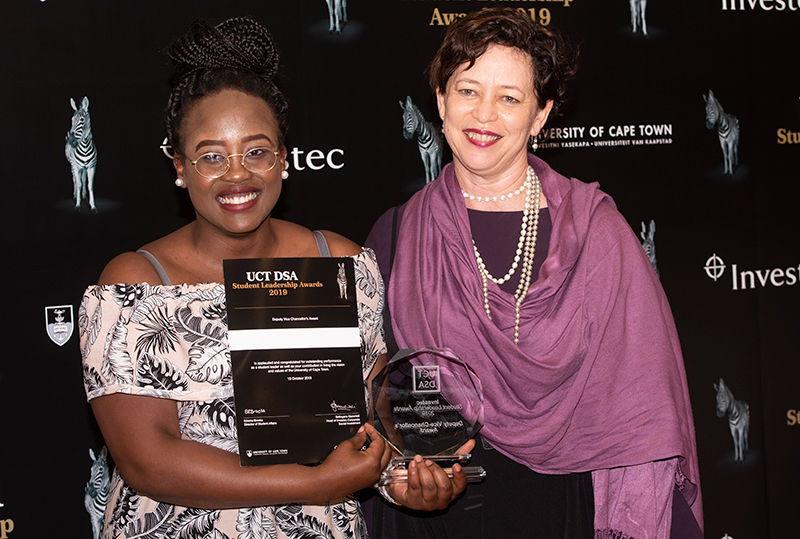 The other individual awards presented on the evening were:
Kerry Capstick-Dale Leadership Award: Shamila Mpinga and Dali Maseko.
Media and Arts Award: Lance-Selae August (1st winner) and Soligah Solomons (2nd winner).
Entrepreneur Award: Nzala (1st winner), John Anyetei (2nd winner), Savannah Verhage (3rd winner) and Thapelo Nthite (4th winner).
Leadership Excellence Awards: Jessica Worsley (1st winner), Willie Macharia (2nd winner), Thabang Sebetoane (3rd winner), Nicholas Loxton (4th winner) and Soligah Solomons (5th winner).
Executive Director: DSA Student Leader Award: Camri Schoultz.
Terrific teams
Part of the evening's proceedings included the presentation of the Team Leadership Awards, which recognise excellent student leadership as part of a team.
For 2019, the UCT ParaSports Club walked away with the Most Outstanding Team in Sports Award. The club was lauded for working hard to raise awareness around disability in sport at UCT, and was commended for providing more sporting opportunities for people with disabilities.
The UCT Surgical Society was awarded the Most Outstanding Society Executive accolade for its work providing opportunities that support student excellence and development, and for its relentless efforts to raise funds for Operation Smile and Red Cross War Memorial Children's Hospital.
There was plenty to celebrate when some of UCT's brightest stars were lauded for their achievements at 2019 Student Leadership Awards.
Tshehetso, a non-profit organisation that mentors and coaches matrics in maths and physics to help prepare them for university and an engineering degree, won the Most Outstanding Team in a Social Responsive Initiative category.
The founder of the NPO, Thabang Sebetoane, a final-year mechanical engineering student, also received the third individual Leadership Excellence Award.
The other team awards presented on the evening were:
Most Outstanding Undergraduate Student Faculty Council: Law Students' Council.
Most Outstanding Team in Residence Life: Academic Representatives' Council.
UCT Student Team of the Year: SHAWCO Health.
Most Outstanding Team in Media: Varsity News Collective.
Most Outstanding Postgraduate Student Faculty Council: Postgraduate Law Students' Council.
---
This work is licensed under a Creative Commons Attribution-NoDerivatives 4.0 International License.
Please view the republishing articles page for more information.
---