When Zahraa Hendricks ran onto the field for the University of Cape Town's (UCT) women's rugby team, she had no idea the hijab she was wearing would garner the attention it did – nor that it would spark debate about inclusivity.
During a pre-season friendly against the Cape Peninsula University of Technology on Saturday, 2 March, photographer Cheryl Roberts snapped two pictures of the young player.
The caption for the posts originally shared by Roberts read: "In South Africa, on a sports field in Cape Town today, a hijab wearing woman rugby player enjoys participating in rugby. And there are no objections to her religious attire on the sports field. Elsewhere in the world, in a country like France, a hijab wearing sportswoman was objected to. Not in South Africa. The young woman rugby player turned out for the University of Cape Town women's rugby team."
On Facebook, the original post was shared over 370 times; on Twitter, it received more than 310 retweets. And on Monday, popular Muslim talk station Radio 786 dedicated almost eight minutes to it.
But for Hendricks, it was nothing out of the ordinary.
"I'm a Muslim so I'm always wearing my hijab," she said.
"I'm a Muslim so I'm always wearing my hijab."
The 21-year-old, first-year student is studying English and media studies at UCT. Fresh from The Leadership College in Manenberg where she was head girl, Hendricks has spent her first month on campus signing up for new and exciting experiences. One such experience is full-contact rugby.
While she has played touch rugby before, joining the UCT women's rugby team presented a new and exciting challenge for the pint-sized Hendricks. Even so, playing in her hijab was, again, nothing new.
"I mean, this is who I am. When I go to practices, I always wear my scarf. It wasn't any different when I was playing on Saturday."
Admittedly, someone did ask her about her hijab and if she really planned to play rugby while wearing it. But she paid no real notice.
"If it had to obstruct or hinder my performance, it could have been an issue. But it didn't, and I feel comfortable wearing it and playing in it as well," she said.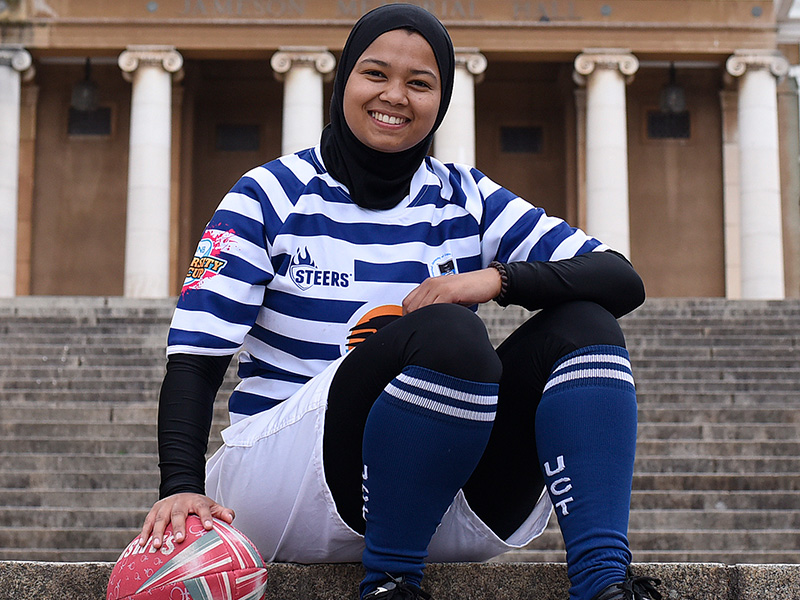 An inclusive space
The online response to Roberts's photos of Hendricks has been overwhelmingly positive. People have spoken of their pride as South Africans, how the country is more integrated than the rest of the world, and that Hendricks is paving the way for other young Muslim girls who give up contact sports when they reach puberty.
The online comments speak, in part, to inclusivity on a national level and on the field, and certainly, at UCT.
While Hendricks has only been on campus for a few weeks, the experience has proved an eye-opening and welcoming one. She's meeting people from across the world.
"What I like about it is that you can be who you want to be."
And the on-campus experience has supported her as a Muslim female. A huge part of this is the prayer room, or Jamaat Khana (JK), on upper campus.
"Overall, I feel safe at university but when I go there it's like... it's like home."
Hendricks said this is especially important because students spend so many hours on campus and need a place to practise, pray and find peace. The JK also allows her to meet up with "other Muslim sisters".
"I'm here to show that there is a place for us and we can do what we want to do."
"We just engage, and you know, that positive energy that surrounds you is brilliant. I love that."
An equally important part of her life as a Muslim at UCT has been participating in the Muslim Students' Association's (MSA) on-campus initiatives. These bring students together as "one Muslim body".
She hopes others elsewhere learn from UCT about creating inclusive spaces and bodies like the JK and MSA.
As for her own efforts in building inclusive spaces, Hendricks sees herself as part of a movement of Muslim women who are defying the stereotypes of them as oppressed, submissive and without agency.
"I feel like Muslim girls feel they're out of place or that there isn't a place for them in society," she said.
With her photos doing the rounds online, Hendricks is firm about her intentions as a Muslim sportswoman.
"I'm here to show that there is a place for us and we can do what we want to do."
---
This work is licensed under a Creative Commons Attribution-NoDerivatives 4.0 International License.
Please view the republishing articles page for more information.
---