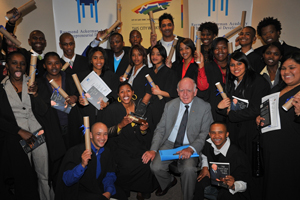 Patron entrepreneur: Raymond Ackerman with graduates from his GSB-based academy.
For six years now, the Raymond Ackerman Academy of Entrepreneurial Development at the Graduate School of Business has been doing exactly what its name suggests - moulding ambitious young people, all with a nose for business but short of opportunities, into the next generation of entrepreneurs.
Named after and supported by one of South Africa's most famed captains of industry, the academy has graduated over 300 such young wheelers and dealers since opening its doors in 2005. (There's a second academy at the University of Johannesburg.)
Every year, the academy recruits, in rigorous selection processes, about 30 18- to 30-year olds for each of its two six-month programmes. These students are often those who, as Ackerman noted when he first started the academy, would otherwise have fallen through the cracks, either fresh out of school and unsure what to do next, unemployed, or in need of the training.
Over the full-time programme, these students are then immersed in both the hard and soft disciplines of entrepreneurship. All this at a fraction of the actual cost of the course.
Students get top-drawer training and enjoy access to the high-quality GSB facilities. They have the opportunity to network with and work alongside experienced business types, notably in the form of MBA students who serve as mentors. And they get to meet their patron.
Necessarily, plenty of attention is paid to the fundamentals of business, even covering essentials such as maths literacy. But as both programme director, Elli Yannakaris, and students testify, personal development is central to the academy.
These life skills are what students appear to enjoy most. "It made me get to know myself better, and made me realise how important it is to have goals and have a sense of where you're headed," said 19-year-old Zahra Luckan, who did the January to June 2011 programme.
Self-styled "business fanatic" and entrepreneur Dean Stuurman, 22, was also able to see where he had tripped up in some of his previous entrepreneurial ventures. "I learned a tremendous amount, especially about stuff I think I had been naive about before, like the importance of HR."
Many graduates have gone on to bigger and better things. Some have continued their studies on the back of their GSB qualifications. (One even went on to study chocolatiering in Switzerland before opening her own business.) The course delivers exactly what it sets out to, says businessman Brehndan Botha, who sits on the selection committee. And it does make a difference in students' lives.
"It's not a wishy-washy course," he says. "And students leave changed and empowered."
---
This work is licensed under a Creative Commons Attribution-NoDerivatives 4.0 International License.
Please view the republishing articles page for more information.
---