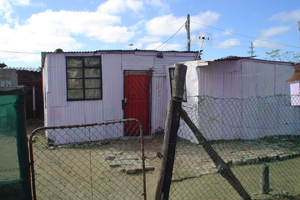 Poverty war: The Poverty and Inequality Planning Group will tackle economic survival.
It's probably among South Africa's most burning questions: why, in a country of rich resources, are poverty and inequality persisting and even deepening?
With countless groups and individuals striving to address the matter, it remains at the centre of national debate.
UCT plans to tackle the issues through the newly-established Poverty and Inequality Planning Group (PIPG), which hopes to get to the core issues and define poverty and inequality more broadly, rather than merely meeting people's basic needs.
"We are trying to generate an understanding of poverty that is not just about economic survival," explained group chair Professor Crain Soudien. "We are talking about citizenship, about why people are not able to flourish and realise their talents."
This view, Soudien believes, makes the project stand out from other poverty-alleviation initiatives.
Vice-chancellor Dr Max Price committed himself to appointing experts to lead and co-ordinate intellectual projects to enhance the university's impact in addressing problems of public schooling, climate change and sustainable development, crime, poverty and unemployment. Initiatives have been launched in other areas, but the university has been struggling to conceptualise a focus on poverty, Soudien noted. After Price met with the university's Social Responsiveness Committee and several other academics late last year, it was decided that a planning group could address the issue.
The PIPG comprises high-profile members from diverse disciplines. It aims to identify all major role players inside and outside the university, including academics, research groups and NGOs who are doing poverty-alleviation-related work, be it in policy or at intervention levels. Then they will be invited to a forum, planned for the end of 2012, to present their work and discuss underlying factors for the persisting poverty and inequality.
"We don't want to simply present the information, we need to get to the core of what these issues are all about," said Soudien.
The group's work could have a profound effect on the university, particularly on teaching.
"Hopefully, this will precipitate a university-wide awareness of how crucial it is to be clear about how central poverty is to the nature of our society," added Soudien, "and how the kind of leaders that we should be producing ought to be deeply aware of this context. Our teaching, therefore, should be directly relevant and pertinent to this, and be more emphatic than it may have been in the past."
The group recently met Minister Trevor Manuel of the National Planning Commission to present its ideas, and to discuss possible synergies with government. (One of the members of Soudien's team, Associate Professor Viviene Taylor, is also a member of the commission).
In the meeting, Manuel pointed out that there are linkages between the government's work and that of universities. He challenged the university to mobilise its resources and to engage urgently with the pressing social issues, and to make its research socially relevant.
As part of a mapping exercise, PIPG is inviting members of the UCT community who work in poverty related areas to indicate what they are doing to engage with the challenge of poverty and inequality through their research, teaching and social responsiveness. A web-based tool for this purpose has been designed.
The purpose of eliciting this information, said Soudien, is to compile information on poverty and inequality-related activities at UCT to share among colleagues working in this area, and to promote collaborative opportunities.
The aim is also to facilitate opportunities for engaging with the National Planning Commission, thus enabling the translation of research into the development of key national policies, and provide the basis for invitations to participate in the forum planned for 2012/2013.
The deadline for the web-based survey to map out who is doing what in the area of poverty and inequality has been extended to 15 August.
"We are aware of how busy you are, but may we ask that you set aside 20 minutes to complete the survey," Soudien pleaded.
Here is the link.
---
This work is licensed under a Creative Commons Attribution-NoDerivatives 4.0 International License.
Please view the republishing articles page for more information.
---