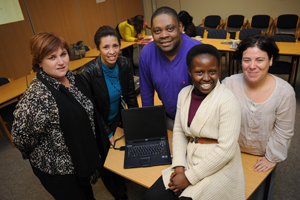 Best practice: (From left), Cathy Sims of Career Services; Edwina Brooks of DSA, Jerome September of DSA, Dr Suki Goodman of the Department of Organisational Psychology, and (front) Kyobula-Mukoza.
UCT's Emerging Student Leaders Programme (ESLP) is a "brilliant" initiative that has largely been rolled out as intended, and should be continued.
However, the programme lacks certain components, such as self-assessment, community involvement and experiential activities, because it spans such a short period of time, and needs to be lengthened.
So said MPhil graduate in programme evaluation Stella Kyobula-Mukoza in her seminar, A Formative Evaluation of UCT's Emerging Student Leaders Programme, hosted by the Department: Student Affairs in July.
The week-long ESLP was developed in 2008 and implemented a year later to enhance students' leadership skills, on the understanding that after graduation they would be entrusted with leadership positions across all sectors of society. The programme promotes the values of good citizenship, the culture of human rights, sensitivity to the environment, and respect for diversity and difference.
Using both the theory and the implementation evaluations, Kyobula-Mukoza, under the supervision of Dr Suki Goodman, head of UCT's Department of Organisational Psychology, investigated whether the structure, organisational features and activities of the programme are aligned to established best practice, and whether it was delivered as intended.
According to Kyobula-Mukoza, 90% of international best practices were present and the programme has targeted the intended beneficiaries.
Even though communication, presentation and interpersonal skills are acquired through the programme, Kyobula-Mukoza recommended that participants also be equipped with skills for delegation, creative thinking, and managing meetings and conflicts.
"We also propose that journal-writing be integrated into the programme to allow for self-awareness and reflection," Kyobula-Mukoza suggested.
The evaluation was welcomed by staff of the Department: Student Affairs, who assured the audience that they are considering implementing some of the recommendations.
---
This work is licensed under a Creative Commons Attribution-NoDerivatives 4.0 International License.
Please view the republishing articles page for more information.
---