"It is a privilege for me to be standing here today to hand over the baton to the people who will be here when we, the 2019 retirees, are elevating our feet in our homes," said Sindiswa Ntshongwana, director of student funding and administration in the Department of Student Affairs.
Ntshongwana was among 88 retirees who were honoured on 8 October at a dinner hosted by the University of Cape Town (UCT) at the Cape Town International Convention Centre.
"Mam' Sindi" – as she is affectionately known by students and staff – delivered an address on behalf of the professional, administrative support and service (PASS) staff cohort. She had her peers and their loved ones in stitches as she recounted memories of her 18 years at UCT. She also thanked the students, in absentia, who she said had taught her so much.
But she was clear about her expectations for the next generation of UCT PASS and academic staff.
"You must continue doing the nation-building," she said.
Shaping future generations
"The role of education is for us to shape the future generations so that they take their rightful place … so that they can be something."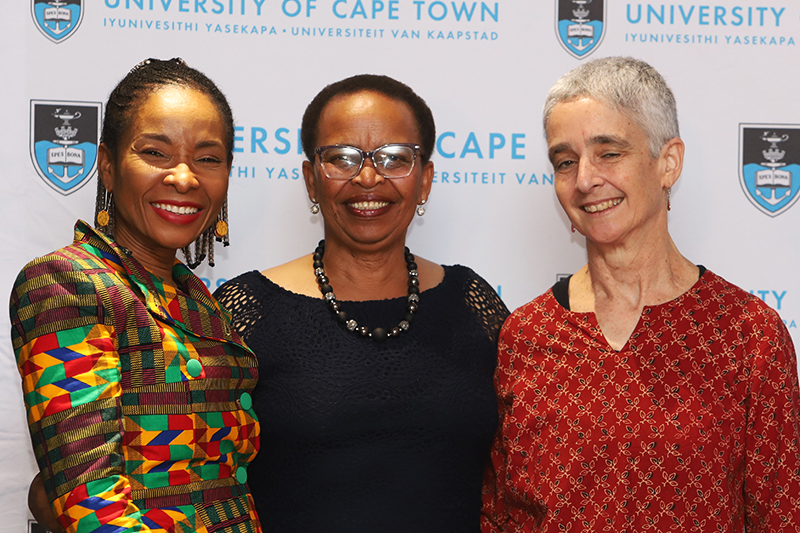 Professor Rajend Mesthrie, who served the university for 33 years (or, as he pointed out jokingly, 33.333 years) spoke on behalf of the academic retirees. Like Mam' Sindi's, the professor's speech was met with laughter and nods of agreement from his audience.
He recalled how he and his peers were "born naked technologically", regaling the gathering with amusing stories of using a floppy disk for the first time and excitedly running up to Molly Blackburn to collect the department's faxes.
"This is an occasion for us to say thank you to you for serving the university as you did, for the commitment that you have shown to UCT."
Mesthrie, who is from the School of African and Gender Studies, Anthropology and Linguistics, also thanked the vice-chancellors under whom he had served: Stuart Saunders, Dr Mamphela Ramphele, Professor Njabulo S Ndebele, Dr Max Price (2008–2018) and the incumbent vice-chancellor, Professor Mamokgethi Phakeng.
He gave special thanks to the last two, for their "wise and effective" leadership and for guiding the university through trying yet necessary times.
There was plenty of fun, laughter and reminiscing when UCT took official leave of 88 retirees at an event at the CTICC.
Proposing a toast
With her glass of water in hand, Phakeng delivered the toast for the retirees.
"This is an occasion for us to say thank you to you for serving the university as you did, for the commitment that you have shown to UCT.
"This is how universities become great, because people commit to making them great," she said.
She added that while the university must look and act differently to the one the retirees would have first encountered, and how this could be a daunting experience, they could leave safe in the knowledge that the next generation would love and take care of UCT just as the retirees had.
"Thank you for making us who we are, all the good things that we are," said Phakeng.
"We wish you a long life of good health."
---
This work is licensed under a Creative Commons Attribution-NoDerivatives 4.0 International License.
Please view the republishing articles page for more information.
---