Gathered at a dinner to mark their farewell from the University of Cape Town (UCT), 105 retirees looked back with nostalgia at their years at the institution during an evening rich with recollections, memories and music.
Many said at the event at the River Club on 27 November that they were looking forward to having more time to relax with friends and family, while others have already set their sights on community work and other interests.
The retirees, who have notched up between one and 47 years of service, were congratulated for reaching their retirement milestone and were acknowledged for their contribution to the university.
Vice-Chancellor Professor Mamokgethi Phakeng thanked them for contributing their skills and expertise – whether it was "in our university's laboratories, our residences, our gardens, our classrooms, our administrative offices or our teaching hospitals".
"We are grateful for your commitment and dedication to making this institution run smoothly, and for teaching and caring for thousands of our students over the years," she said, before proposing a toast to "good health and everlasting friendship with UCT".
'Celebrate the contribution you have made'
Chair of Council Sipho M Pityana encouraged the retirees to keep in touch with the university.
"Take part in summer school and public lectures, concerts and other events at the university. You are part of the family, even though you may have retired."
Everyone had played their part, he said, whether they had been at the university for a short stint or had dedicated their entire career to the institution.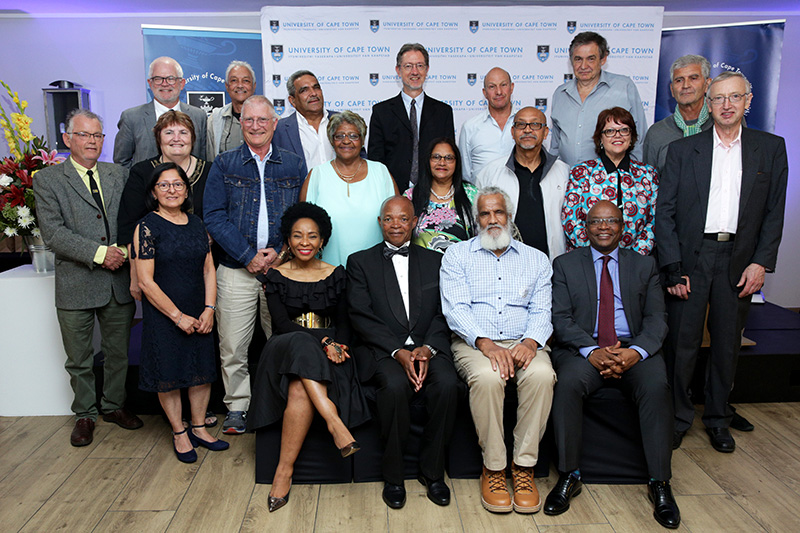 "Celebrate the contribution you have made and the bricks you have laid in building this institution."
Each one of the retirees made their way to the podium to receive a gift and pose for photographs. For some, it was a bittersweet moment.
"Many of us have spent so much of our lives in this university and are a little worried about what will happen now," said Mbuyiselo Mnyani of UCT's Access Services, adding that, at the same time, it was exciting moving on to a new chapter.
"We hope we have contributed to the university and will carry the torch of this great institution," he said, speaking on behalf of retirees from Professional, Administrative Support and Service (PASS) staff cohort.
Speaking for the academic contingent, Professor Alan Rycroft from the Department of Commercial Law said one of the roles of a retiree was to "remind those who stay behind about those things that made a difference … which made UCT a stronger and better place".
He said when he had arrived at UCT nine years ago he had been pleasantly surprised by the very warm welcome he received.
"Celebrate the contribution you have made and the bricks you have laid in building this institution."
Shifting gears into retirement
"As we come to the end of our time here, we can leave no better legacy than promoting collegiality and collaboration."
Mpho and Uvimba Band performed between dinner courses and speeches and were a hit with the guests.
After the dinner, guests mingled and shared some of their thoughts about shifting gears into retirement, as well as some of their most memorable times.
Peter Buckton, who was the longest serving retiree at 47 years, said he had spent "three quarters of my life" at the university, 25 years in the Microbiology department and, more recently, as sports coordinator in the Sports and Recreation department.
"I will miss the students and the atmosphere and vibe. UCT is such a nice place to be," he said. He plans to keep in contact with the university and, as a keen runner and soccer player, to stay active in his retirement.
"To sever such long ties with UCT is impossible."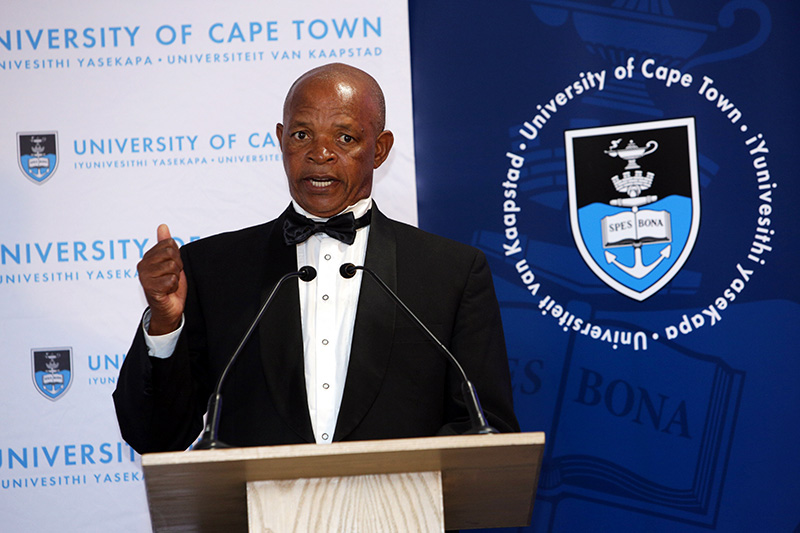 Linda Nkomo, administration assistant for the Academic Support Programme for Engineering in Cape Town (ASPECT) office at the Centre for Higher Education and Development (CHED), described how her colleagues had become "like family", while the students also held a special place in her heart during her 21 years of service.
"When the first-year students would come to UCT, I often used to say: 'If you're missing your mother come to my office.' I always supported them. When they were sick, I worried about them. I regarded them as my own children."
At graduation ceremonies, Nkomo was the first to cheer for the graduates she had watched move through their years at UCT.
"I used to try and give them the information they needed, with love."
"I am going to miss those students and the graduation ceremonies so much," she said with a gentle laugh.
Professor Jean-Louis Cornille, who spent most of his working life in the French section of the School of Languages and Literatures, said he will continue doing research. His career has spanned a few fascinating decades, starting with his first period at UCT.
"It was in 1986, just before the birth of a new nation.
"I wrote 28 books during my 32 years here, mostly on French and Francophone writers," he added.
Charmaine Adriaanse, who was based at the Visitors' Information Centre on upper campus, was often the first person visitors approached when they came to UCT. She said she made it a point to be friendly and welcoming.
"I used to try and give them the information they needed, with love."
She is looking forward to setting herself some new goals in life.
"This is a stepping stone to get out into the world in a different way. I want to keep myself busy doing community work because that is where my passion lies."
---
This work is licensed under a Creative Commons Attribution-NoDerivatives 4.0 International License.
Please view the republishing articles page for more information.
---