The late Professor Bongani Mayosi, former dean of the Faculty of Health Sciences at the University of Cape Town (UCT), is remembered as a humble servant leader who lifted as he rose.
This was the leitmotif of the honouring and reflective part of a two-part memorial held at the faculty a year after his tragic death on 27 July 2018. It was also at the core of the powerful and poignant testimonies of six colleagues and protégées who shared their encounters with the world-leading academician, clinician and scholar who had made UCT his home.
The memorial was attended by members of his family, friends, colleagues and students.
Setting the tone was the 35-piece Faculty of Health Sciences Orchestra which performed Edward Elgar's "Nimrod", from Enigma Variations, a tribute to their fallen colleague and "our version of a moment of silence".
Conductor Shawn Karlsen said Mayosi had been a fervent supporter of the orchestra from the time it was mooted.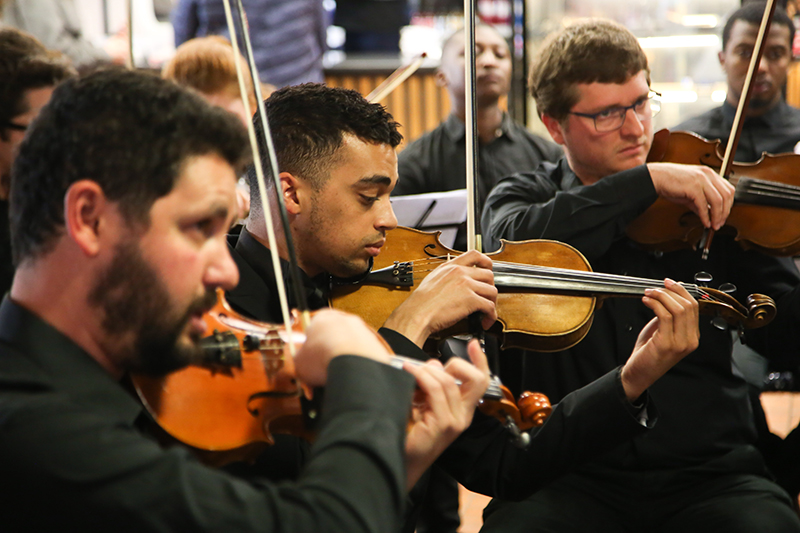 "We feel strongly that we'd like to express our acknowledgement of him as a musical colleague and friend of orchestras."
'Immeasurable contribution'
Programme director Mpiko Ntsekhe said the memorial was an opportunity for the community, still looking for answers and still hurting from Mayosi's death, to think deeply about his life and his values and honour his "incredible and immeasurable contribution to who we are and reflect on who he wanted us to be; to do some collective soul-searching and introspection in the hope that we can begin a collective journey of healing and reconciliation…".
"In his eyes, students were future leaders. Colleagues were partners in saving lives. He did not just do research; he grew researchers."
In her campus communique about the memorial, Vice-Chancellor Professor Mamokgethi Phakeng called on the university to honour the anniversary of Mayosi's death by reflecting on the effect he'd had on the community.
"In his eyes, students were future leaders. Colleagues were partners in saving lives. He did not just do research; he grew researchers. He grew his passion in the people who worked with him.
"He had a sense of urgency about his vision that he passed on to others. Today they are a living testimony to his inspiration."
Among those who shared personal tributes was paediatric cardiologist Associate Professor Liesl Zuhlke, who had been one of Mayosi's students since 2008.
He had seen something in her, Zuhlke said, and had grown her from a newly qualified paediatric cardiologist into a fully-fledged researcher.
"He irrevocably and indelibly changed my life… My life will forever reflect his deep and enduring influence… His strategy of 'lift as you rise' permeated all our interactions."
A memorial was hosted by the Faculty of Health Sciences one year after their former dean Professor Bongani Mayosi's tragic death, an opportunity for the UCT community to foster reconciliation and healing.
Guiding angel
Physician Neliswa Gogela said of Mayosi: "This man wanted me to dream bigger." Growing up she'd decided that becoming a doctor would free her from childhood poverty in the Eastern Cape.
Afterwards she realised she wanted more; she wanted to become a physician and to train at UCT. When Mayosi had called to invite her, it was a dream come true. More was to follow, including a stint at Harvard University where she deepened her research and methodology learning.
"For 14 years I called him my superhero but recently I realised he'd been my guiding angel."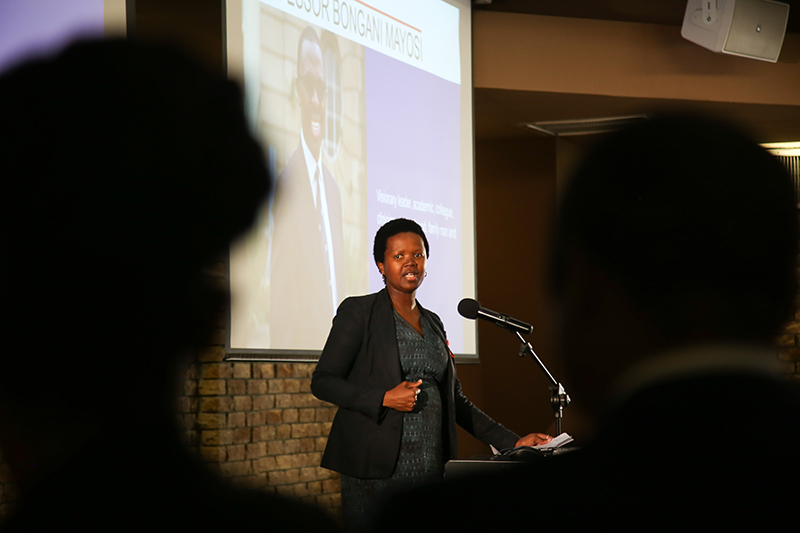 Nurse Veronica Francis, or "Sister V" as Mayosi called her, said he had taught her to lead with a servant heart.
In 2008 Francis entered the Mayosi research family as a research nurse, working in Vanguard Clinic in Bonteheuwel, little knowing that Mayosi had a bigger plan for her. Later he asked her to coordinate the Investigation of the Management of Pericarditis (IMPI) research programme, even though she had no clinical trials experience.
"Bongani knew, instinctively, there was something greater inside me."
"Bongani knew, instinctively, there was something greater inside me …. He took me in partnership, crafting me to steer the IMPI warrior ship, to chart the African continent and beyond, to go where angels never tread."
Lwazi Mhlanti, part of the Mayosi research group, said Mayosi's early expression of trust in his capabilities under fire set his path.
"He trusts us with his legacy," he told the gathering.
"I was just a delivery boy living day-to-day, wondering where my next meal is going to come from… Bongani guided my career."
Mhlanti started in the group as a research assistant and is now a database and systems developer there. Mayosi had also been a mentor, Mhlanti said, recalling that he had asked him to develop an app to present to a meeting of the African Union.
He was shaking with fear about talking in front of dignitaries but a few words from Mayosi had changed that. He had called him over and said, "I trust you".
"I trust you"
"That eased the tension. I spoke confidently … the app is now used internationally."
Siwe Toto remembered a conversation he'd had with Mayosi three months after starting occupational therapy at UCT. Starstruck after meeting the man he'd read about, Toto confessed he wanted to be a "knower of things" and wondered if he should perhaps change to medicine.
Mayosi had encouraged him to stay in his field but pursue a PhD to add to the body of knowledge.
"He told me, 'If you need anything you must let me know. There's not a country in the world I don't know people in. Your PhD should take you outside your country.'
"That stayed with me and Bongani was one of two people who convinced me to come back to UCT… Ten years later I'm still in occupational therapy – and still learning what it is! But in his honour, I will get to that PhD."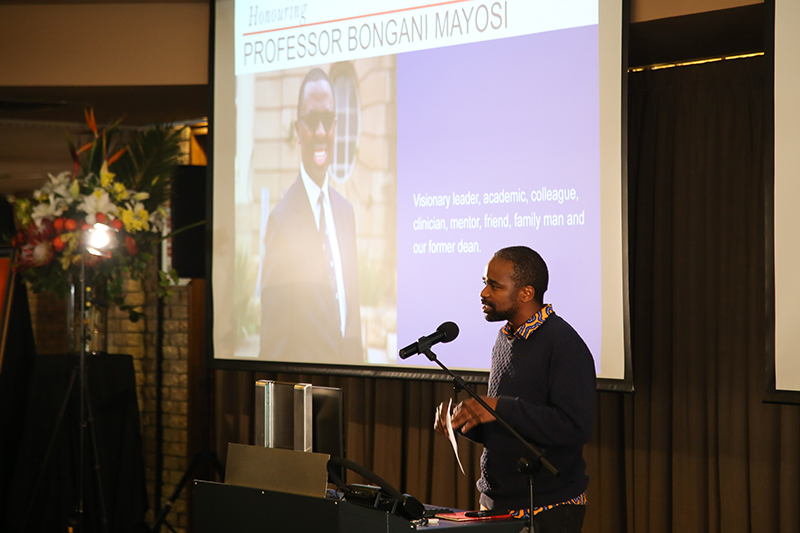 Family member Mashiko Setshedi said the Mayosi house had become her second home after moving to Cape Town in 2005. She had been there the night he died. She had arrived late, but still they had sat and talked; he had given her his time and his counsel on her life and career.
"He was an excellent listener. He didn't just talk about himself or his pain…"
In coming to terms with the loss afterwards, Setshedi said there had been soul-searching. People had asked, "Had there been any sign of what was to come?", "Did he look happy?".
"The answer to that question was yes. He was happy that night," she said. In her personal reflections, Setshedi said she has now revised the narrative about loss.
"True to his nature, even that night, he gave me so much more than I could have hoped for."
"True to his nature, even that night, he gave me so much more than I could have hoped for."
Recovery work ahead
Even after a year since his death, there is still significant recovery work ahead of the UCT community, Phakeng said in her communique.
"I believe the best memorial we can raise to him is to allow his inspiration and example to become a living part of us."
The need for healing was also alluded to in the opening prayer by former UCT Chair of Council, Archbishop Emeritus Njongonkulu Ndungane.
The second part of the memorial was devoted to healing and reconciliation [not available for public reportage] and moderated by mediators from the Centre for Violence and Reconciliation. The panellists were medical student Langa Twala, Professor Graham Fieggen, Professor Elelwani Ramugondo and Professor Ntobeko Ntusi.
As Ntsekhe said in his welcome: "While he did not live to see his plan of producing 1 000 PhDs in 10 years, there is little doubt that many more than 1 000 among us will have been inspired and motivated by his life's work and legacy and [will] make his dream a reality."
---
This work is licensed under a Creative Commons Attribution-NoDerivatives 4.0 International License.
Please view the republishing articles page for more information.
---