The University of Cape Town's Memorial Hall was filled to capacity as people from the university community and further afield came to pay tribute to the late Dean of the Faculty of Health Sciences, Professor Bongani Mayosi, who passed away last Friday, 27 July.
In a moving memorial service on Thursday, 2 August, Mayosi was remembered for his work and influence across UCT, South Africa and the world; his love for his family and students; and his generosity of spirit.
Speakers shared what he had meant to them as dean, colleague, mentor, leader, friend and family member. The hall echoed with musical tributes performed by the UCT Choir, the Jazz Between Friends ensemble and UCT Opera School student Fanel Mkwanzi.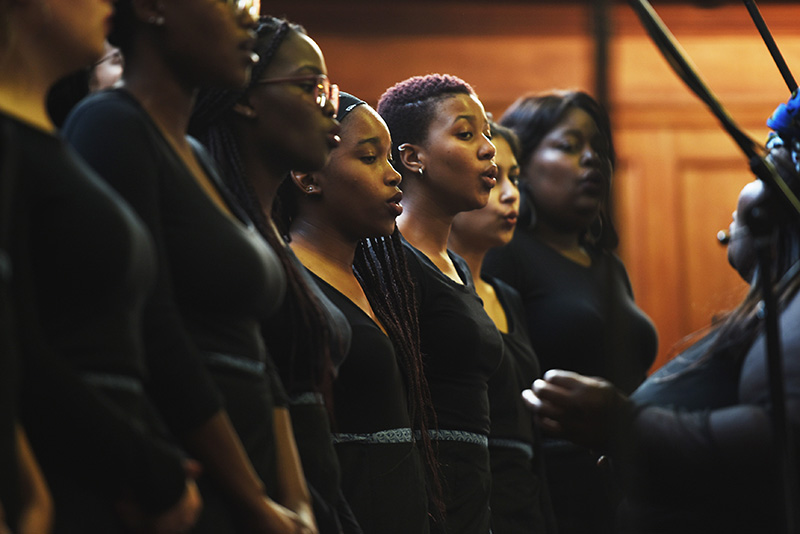 Brilliant young student
Deputy Minister of Health Dr Mathume Phaahla described Mayosi's brilliance as a young student who started his first year of medical school at the age of 16. He studied a BSc in medicine and a medical degree, emerging as both a clinician and a researcher.
"In the year he graduated, in 1989, he earned five cum laudes and awards. He was just exceptional."
Phaahla said he had last seen Mayosi only two weeks ago at a graduation at Stellenbosch University. He recalled that he had looked subdued.
"In a flash moment I was concerned ... I noticed that he was not catching the excitement like everyone, but I dismissed that concern. I had no idea that was the last time I would see [him] alive."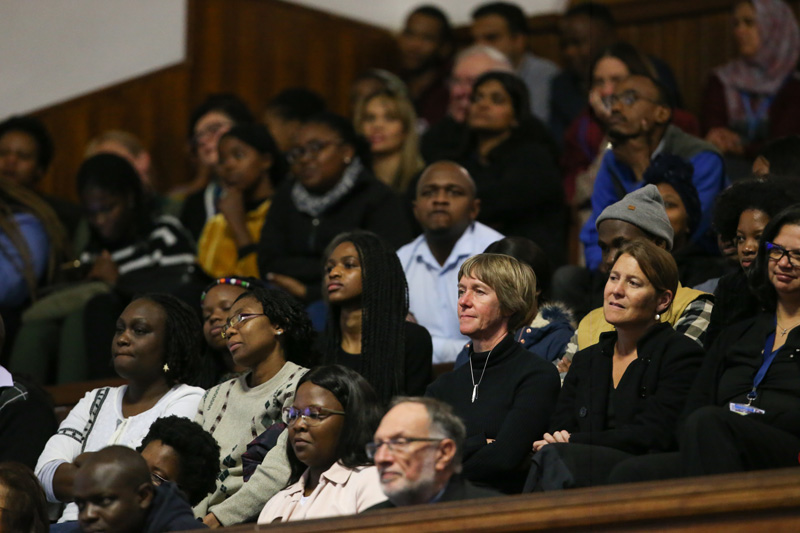 The dean's contribution was "monumental and colossal", said Paahla, but, most importantly, he had served the poor.
"Bongani could have been a multimillionaire many times over, but he chose to serve the people up until the end. He could have settled in Canada, in the UK, anywhere, but instead he chose to serve poor communities and students from poor communities."
"As a leader, Bongani was awesome. His brand of leadership was honest, inspiring, full of integrity and characterised by creativity and innovation."
Black excellence
Vice-Chancellor Professor Mamokgethi Phakeng spoke of "a man who gave his utmost to help others" and worked to advance transformation.
"He did not just call for change. He was change ... in his life and in his work. He set an example for us."
He represented black excellence, she said. "He was living proof that black scholars can be the best in whatever they can do.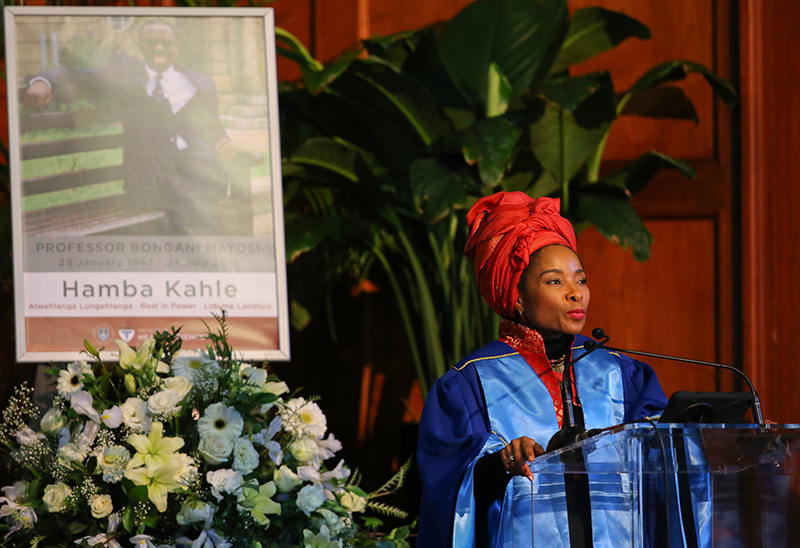 "We have lost Professor Mayosi but we have not lost his effect on us. That is something we can nurture and feed and build into our lives, so that his inspiration can become a living part of us as individuals and as the UCT community."
She added that this was a time for reflection for the university.
"We must help one another heal from this tragedy, to be open and truthful with one another, to learn how we can better support one another to create a community of care."
Clinician, teacher, leader
Speaking as the representative of the Faculty of Health Sciences, Professor Ntobeko Ntusi sketched Mayosi's 27 years at UCT and Groote Schuur Hospital, and his rise from a medical registrar to being head of the Department of Medicine and then dean of the faculty.
"He was second to none as a clinician. He was loved by his patients who remembered his gentle and impeccable bedside manner. As a teacher he was legendary. As a leader, Bongani was awesome. His brand of leadership was honest, inspiring, full of integrity and characterised by creativity and innovation."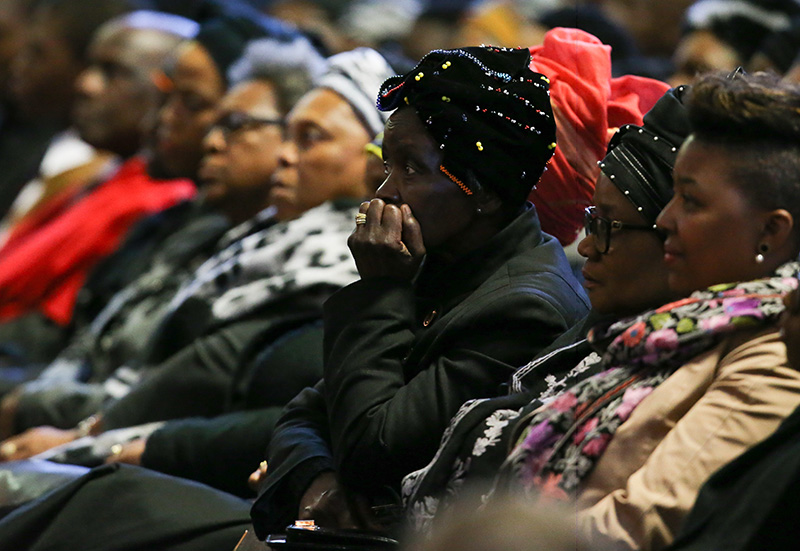 He said that among his many successes, Mayosi had translated his research on rheumatic fever into policies adopted by the African Union, the World Heart Federation, the World Health Organization and the World Health Assembly.
As a global leader in his field, he published widely, made several research breakthroughs in tuberculosis and cardiology and helped to shape health policy and practice, said Ntusi.
"He carried the burden of responsibility. He carried the burden of our ambitions, goals, hopes and dreams."
Beloved brother
In a poignant tribute which generated ripples of gentle laughter, one of Mayosi's sisters, Khutala Mayosi, shared a story of their childhood in rural villages of the Eastern Cape and her brother's passion for education from a very young age.
"One summer day in 1971 – he was four; I was three. My mother couldn't find me anywhere in the house. She looked for me only to discover that Bongani had taken me without consent to school."
She described how the old Sub A classes were held in a town hall, with different Sub A classes in each corner of the hall.
"As time went by, classes were allocated to the different grades. That was a problem for me ... I could not function unless Bongani was within eye view. They had to make special arrangements. The door had to be kept open so that I could see him."
Khutala told how her brother had shared mottos and inspirational quotes while they were growing up. "You must live your life with meaning and purpose," he had encouraged his siblings.
She also thanked everyone on behalf of the Mayosi family for their support and messages of condolence. "It shows how he touched many lives."
Passion and perseverance
Mayosi's love for his family came up often during the service, with several speakers saying how much he had appreciated the support from his wife and his daughters, whom he had described as his pride and joy.
Moses Isiagi, the vice-chairperson of the Postgraduate Health Sciences Students Council, said that students who had studied with one of the dean's daughters had seen this for themselves.
"Those of us who grew up with absentee fathers could see how he genuinely loved his daughter."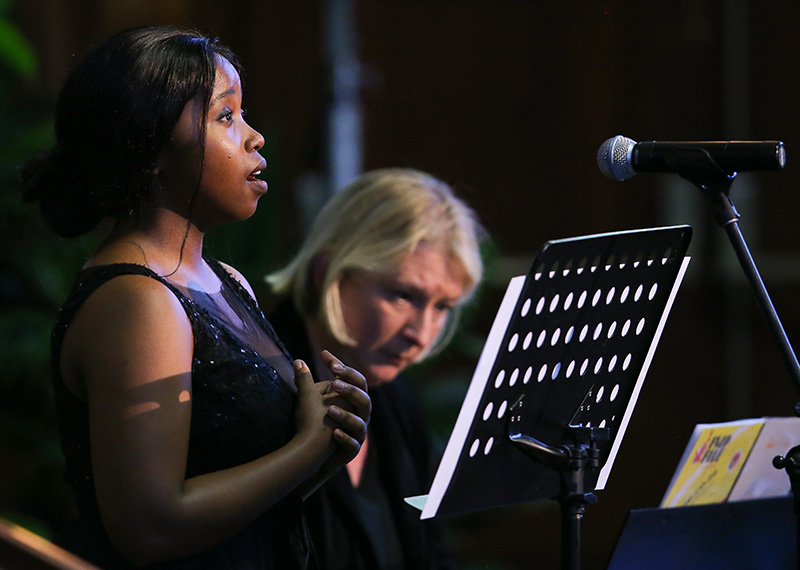 He also relayed his experience of a #FeesMustFall protest march to Parliament.
"I remember vividly as we marched to Parliament. He did not march behind us or in front of us; he marched closely with us. And [as] he marched you could see the passion, you could see the perseverance.
"What we can learn as a UCT student body, as UCT and as [the] rest of Africa, is that he maximised his life ... he left a candle burning for us to maximise our lives."
For the benefit of others
Professor Mike Sathekge, representing the College of Medicine of South Africa, said that one of the dean's legacies was his pioneering passion for ensuring a common standard for exams across all colleges of medicine throughout the country.
He had also motivated the colleges to work together and to develop the people around them.
Professor Alison Lewis, dean of the Faculty of Engineering & the Built Environment, said Mayosi had made personal sacrifices for the benefit of others.
"He carried the burden of responsibility. He carried the burden of our ambitions, goals, hopes and dreams. We could project our loftiest ideals of character onto him, but we can also forget that we are just human. The most poignant thing we can learn from any hero is that they are human."
Professor Martin Veller, the chair of the South African Committee of Medical Deans and dean of the Faculty of Health Sciences at the University of the Witwatersrand, described Mayosi as among the very best medical academics South Africa has ever produced, with "remarkable humaneness".
"None will forget his characteristic smile and abiding generosity when meeting him."
A funeral service for Professor Bongani Mayosi will be hosted at the Cape Town International Convention Centre on 4 August.
---
This work is licensed under a Creative Commons Attribution-NoDerivatives 4.0 International License.
Please view the republishing articles page for more information.
---