Hundreds of students from the University of Cape Town's Faculty of Health Sciences held a candlelight vigil for their dean, Professor Bongani Mayosi, who passed away on Friday, 27 July.
The students sang struggle songs and hymns and paid tribute to Mayosi, describing him as a guiding light and a brilliant role model who always took time to listen to their concerns. Many described him as humble and kind and said he went out of his way to help them.
In a moving tribute, Khanyisa Pinda, a fifth-year MBChB student who was diagnosed with dilated cardiomyopathy (an enlarged heart) in 2013, said the pioneering cardiologist and dean had played a huge role in his life.
"When I went into heart failure, I couldn't complete my medical degree. I had no hope. But the intercalated degree programme by Prof Mayosi helped to save my life."
Together with Professor Arieh Katz of the Department of Integrative Biomedical Sciences, Mayosi introduced two research training tracks in parallel with the professional MBChB programme in 2011, particularly to encourage young African clinician-scientists.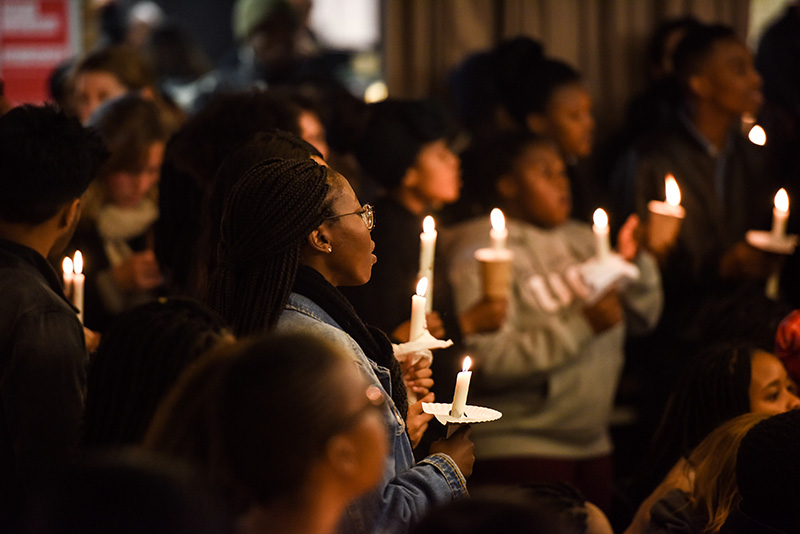 Although facing severe shortness of breath and exhaustion, Pinda was able to pursue the less strenuous degree, an MMed honours in medical biochemistry, with the support of his dean.
"I was able to focus on my honours degree and I'm really grateful to Prof Mayosi for that. I know he was very passionate about black clinician–scientists. I will make sure that his legacy endures," said Pinda.
"It's a great shock and a great loss, but we need to think of the legacy he has left behind."
A positive influence
Students also spoke about the influence that Mayosi had had on their lives.
Zandile Booi, who is studying an MSc in medical virology, got to know Mayosi in the cardiovascular genetics group when she was doing her honours degree.
"When I was introduced to him, he shook my hand nice and firmly and he had the biggest smile ever."
She said she was particularly inspired by Mayosi while studying her honours, which was very intense.
"Seeing him kept me going. He was the epitome of excellence."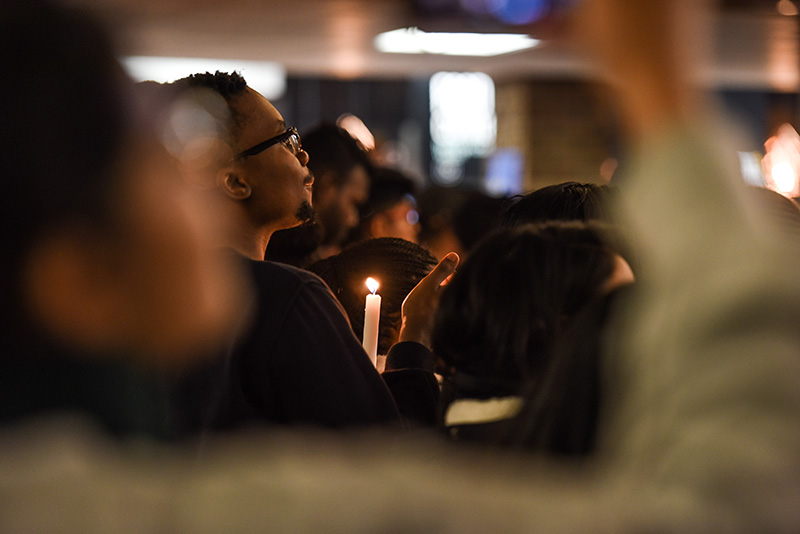 Sikho Ngcobo, a fourth-year physiotherapy student, said the dean was loved by the students.
"He was greatly loved by us. If you passed him in the corridors, he would stop to talk to you. If he sensed that things weren't right, he would give you his full attention and encourage you to tell him your concerns. It wasn't just routine for him. He wanted to truly know how his students were doing. He was so genuine."
Final-year medical student Sandiswe Nkema recalled the first time she met him.
"I remember our clinical nurses talking about his amazing practical skills. He was like a legend. So when I met him and saw how humble he was I was amazed. I was very touched.
"It's a great shock and a great loss, but we need to think of the legacy he has left behind."
Smangele Malema, a master's student in biomedical forensic science, said Mayosi had given hope to black students in the Health Sciences faculty.
"He made us feel at peace and we felt like we could amount to something. He was a great inspiration to us all and will be missed dearly."
"He was a great inspiration to us all and will be missed dearly."
Students also used the opportunity to raise awareness about depression and mental illness, urging fellow students and staff to keep a close watch on their own health and to seek help through appropriate channels.
---
The SADAG toll-free counselling line is 0800 24 25 26 for students and 0800 171 171 for staff
The ICAS counselling toll-free number is 0801 113 945 for staff
---
This work is licensed under a Creative Commons Attribution-NoDerivatives 4.0 International License.
Please view the republishing articles page for more information.
---