Third-year Bachelor of Commerce Management Studies student Sarina Mpharalala was hailed as "a force of nature" as University of Cape Town (UCT) Vice-Chancellor Professor Mamokgethi Phakeng named her the winner of the Vice-Chancellor's Award at the 15th Student Leadership Awards on 17 October.
The Department of Student Affairs awards event, in partnership with Investec Corporate Social Investment, is held annually to acknowledge individual students as well as student teams for their leadership contributions in respect of community, social justice, entrepreneurship and media.
Phakeng said of Mpharalala that she has a passion for leadership, entrepreneurship, empowerment and social impact, and has managed to maintain academic excellence while serving UCT as part of initiatives and organisations that have put her skills and capabilities to positive use.
"She is well on her way to her stated aim of leaving a mark," she said, adding that Mpharalala had founded social entrepreneurship venture Vhafumakadzi Takuwani in 2017 to help women access job opportunities.
"And, all this as a third-year Bachelor of Commerce Management Studies student."
News24 honoured Mpharalala as one of the 100 Young Mandelas of the Future in recognition of her community commitment. She was also a nominee in the Young Female Role Model of the Year for South Africa category at the Startup Global Awards, and in the Empowerment Award category at the Africa Women Innovation and Entrepreneurship Forum Awards.
"Today, we honour her as the recipient of this year's Vice-Chancellor's Award. Congratulations to the force of nature that is Sarina Mpharalala," Phakeng said.
The Deputy Vice-Chancellor's Award was presented by Deputy VC Professor Loretta Feris to sixth-year medical student Husna Moola in recognition of her tenacity, leadership and "possibly most importantly, sharing her experiences to help motivate current students".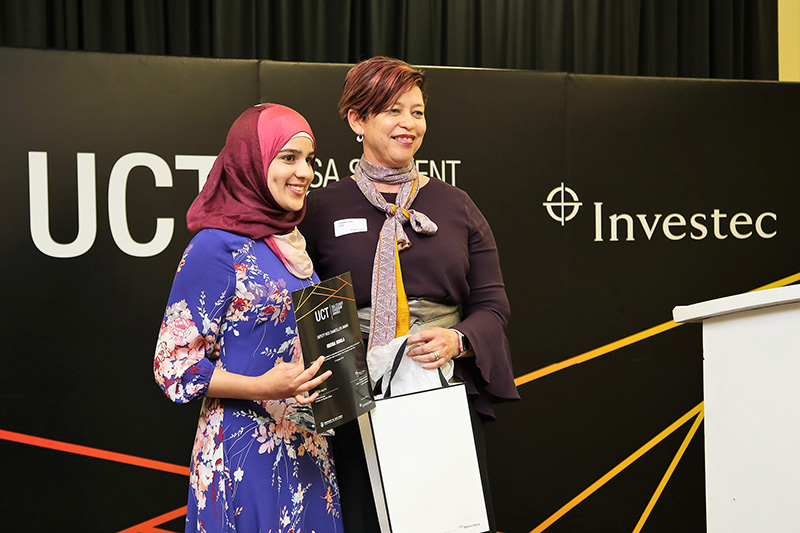 Individual leaders
The Faculty of Health Sciences was well-represented among the winners of individual Student Leadership awards, with students Nicholas Loxton and Langa Twala named joint recipients of the Kerry Capstick-Dale Award.
The Ackerman Family Award, which is only presented in the event there is a suitable candidate, was awarded to Genetics and Human Physiology student Ruth Amoore, daughter of UCT's former Registrar Hugh Amoore.
Other awards presented on the evening were:
Executive Director's Award: Dalingcebo Maseko (Commerce)
Social Responsiveness Award: Kira Dusterwald (Health Sciences)
Media and Arts Award: Viwe Tafeni (Humanities), Jarita Kassen (Humanities), Tamutswa Claire Mahari (Humanities) and Star Senamile Zwane (Humanities)
Entrepreneur Award: Nicholas Loxton (Health Sciences)
Leadership Excellence Award: Langa Twala (Health Sciences), Liam Devenish (Science and Health Sciences), Naledi Mbaba (Law), Tamika Mtegha (Humanities) and Daniel Tate (Commerce).
Team awards
The team leadership awards recognise outstanding student leadership as part of a team, and this year's Student Team of the Year Award was presented to SHAWCO Health by UCT Registrar Royston Pillay.
"The work that this team has put in during the course of 2018 has positioned the organisation as a national and global force in healthcare advocacy and healthcare innovation," Pillay said.
"They are doing something at UCT that is spectacular, underpinned by a profound sense of service and community."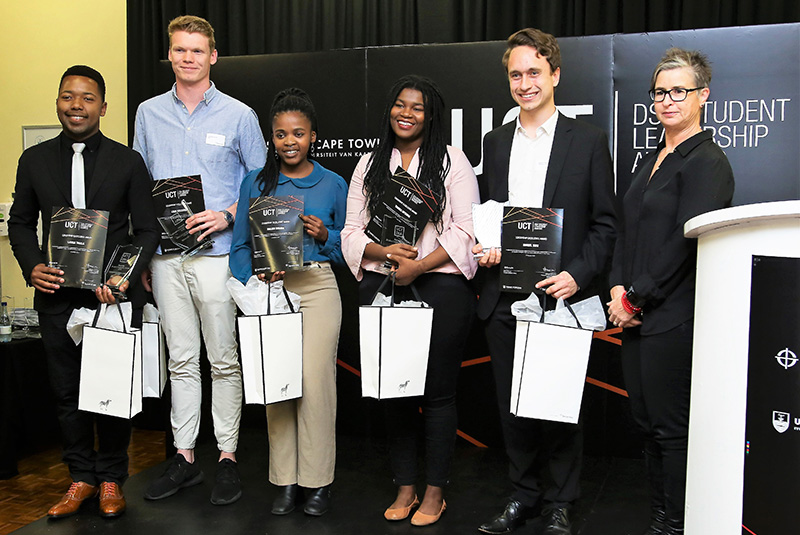 Other teams that won awards were:
Most Outstanding Team in Residence Life: My Domain
Most Outstanding Society Executive: UCT Surgical Society
Most Outstanding Team in Student Media: Varsity News Collective
Most Outstanding Team in Social Responsiveness Initiative: Students for Law and Social Justice
Most Outstanding Undergraduate Student Faculty Council: Health Science Student Council
Most Outstanding Postgraduate Student Faculty Council: Postgraduate Law Student Council.
---
This work is licensed under a Creative Commons Attribution-NoDerivatives 4.0 International License.
Please view the republishing articles page for more information.
---