Entrepreneur, leader and globetrotter are just a few words to describe UCT commerce student Sarina Mpharalala. But it has been a journey of growth and reclaimed confidence for this 20-year-old Venda woman, who's had more than her fair share of hurdles along the way.
When Mpharalala arrived at UCT as a first-year, full of confidence, she didn't expect the transition to university life to be a challenge. As a top-performing high-school student, backed by the Allan Gray Orbis Foundation, Mpharalala enrolled at UCT feeling fully prepared and excited about her degree of choice.
Instead, she struggled to adjust to the university environment, eventually exiting the foundation.
"I moved from four scholarship offers to none. I felt miserable," she recalls.
"I moved from four scholarship offers to none. I felt miserable."
Distraught, Mpharalala experienced a minor heart attack on the Jammie Steps, and had to be hospitalised.
Now, two years later, she's back on top. She's just been named one of News24's 100 Mandelas of the future, in honour of Nelson Mandela's 100th birthday this year. And as a successful student and entrepreneur – twice over – she has a message for others grappling with similar difficulties.
"Go through it and grow through it, because eventually you'll glow through it."
Failure isn't irreversible, Mpharalala maintains, urging fellow students to rather see the lows as an opportunity to work harder, and come back even stronger.
"Don't rush the process, because that's exactly where the growth comes from," she says. "Looking back, I'd simply say to my first-year self: There'll never be another you. Do you. Own this journey. Own race, own pace. Be bold, fearless and persistent. Some doors close because they were never meant to open."
Reclaimed confidence
Although it was an incredibly difficult time for Mpharalala, this trying period drove her back to her entrepreneurial efforts, which had taken a back seat to her studies during her matric year.
"The thought of no longer having the pleasure of that stable monthly allowance evoked my drive to continue with my two seasonal businesses, as a make-up artist and a nail technician, in order to balance out my needs.
"I must say, I was so comfortable that I wouldn't have done this if everything was in place."
"I wouldn't have done this if everything was in place."
Mpharalala rebuilt her confidence, eventually accepting that she didn't need to be validated as a "high-impact entrepreneurial leader" by an external organisation.
"I reminded myself that if they [Allan Gray] initially took me as that, then surely I will remain exactly that – regardless.
"I looked around me and realised that there were so many women who were saying I inspire them and are keen on elevating themselves, but there are insufficient platforms to assist them."
So Mpharalala founded Vhafumakadzi Takuwani, a non-profit company that works to empower women to rise in leadership and entrepreneurship. The organisation officially launched in April this year, and Mpharalala hopes that Vhafumakadzi Takuwani will embolden a movement of women to disrupt and occupy spaces.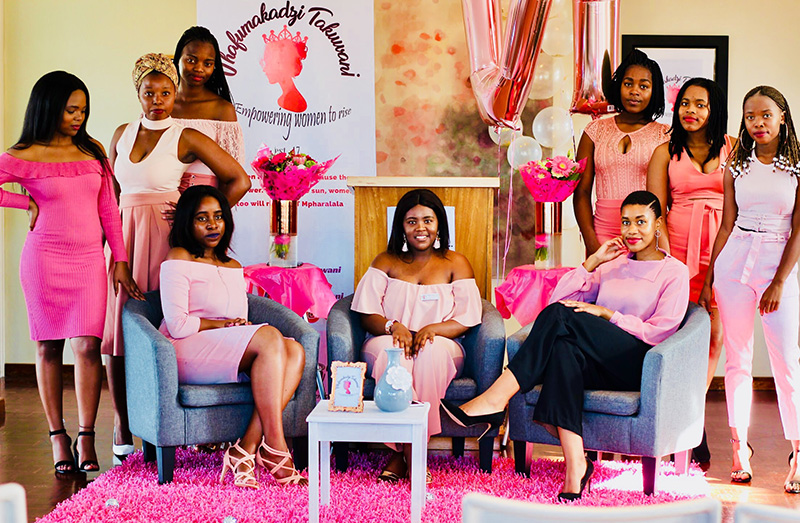 Getting involved
When not studying, or running her start-ups, Mpharalala is active in student leadership: from residential committees to the student chapter of the Businesswomen's Association South Africa, and the Commerce Students' Council, where she currently serves as secretary general.
Being involved in activities beyond one's studies is vital, Mpharalala says, because it helps broaden your horizons.
"There is so much room for growth. You have the potential, so respect it by taking action. We need to strive to be all-rounders.
"I'm just a girl who chooses to privately overcome challenges and finish strong."
"It is very important to find yourself academically, but don't neglect your aspirations and other interests."
For instance, in her role as Ms Amanzi UCT, Mpharalala has had many opportunities for public speaking, which is something she really enjoys. Maximise your strengths and abilities, she advises.
"This is the perfect time to try and fail, so don't fail to try. If we attempt and fall, we'll rise again. Managing this requires strength, a positive attitude, resilience and persistence."
Of her own journey, Mpharalala is frank that she has not always had life "all figured out".
"I am known to be confident, strong and bubbly. Don't be deceived. It does not just happen. I'm just a girl who chooses to privately overcome challenges and finish strong," she says.
Taking opportunities
Mpharalala takes her own advice seriously, and when she was encouraged to apply for the 2018 Ingenious Faces Global Accelerator Program, she grabbed the opportunity with both hands. The programme took place in India earlier this month, and helped to reshape Mpharalala's entrepreneurial mindset.
Earlier this year Mpharalala travelled to Australia, where she attended the International Scholar Laureate Program as part of the business and entrepreneurship delegation.
"I am humbled to have been chosen," she said. "The opportunity has been a remarkable experience in my life and my entrepreneurial journey."
It is exactly this drive that got Mpharalala noticed by News24 when they compiled their list of 100 Young Mandelas of the Future. They said they were inspired by her efforts" to make a difference in the lives of others" and her "persistence to achieve her dreams against all odds"
---
This work is licensed under a Creative Commons Attribution-NoDerivatives 4.0 International License.
Please view the republishing articles page for more information.
---