UCT has been working tirelessly to respond to the water crisis in the Western Cape. While academics and researchers continue to engage with City stakeholders, campaigns to save water internally are well on their way.
As part of continued efforts to cut water usage by half (read the DVC Desk…), the university is rolling out various water-saving measures across residences and campuses.
Essential to the success of this campaign are the efforts of staff in the departments of Student Housing, and Properties and Services. Most recently, they have launched a campus-wide rollout of water-efficient washing machines.
"The new machines are very high-tech," explained John Peters, area maintenance manager of residence maintenance.
"We are now using 45 litres of water per wash. In the past, with the top loaders, we used 145 litres. We are now going to save 100 litres of water per wash.
"So, you can just imagine, if you multiply the water saving across the university . . . it will be an enormous saving to the university in terms of water and electricity."
The campaign will see the installation of 238 of these water-saving washing machines, beginning at Obz Square. The rollout is expected to be completed in May 2018.
"We are moving to the new water-saving [washing machines] due to the current drought. But even before the drought, Properties and Services, and in particular Student Housing, were looking at a more cost-effective washing machine, where we can reduce water consumption."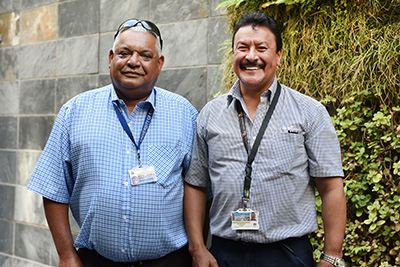 Water guzzlers
In preparation for its water-saving initiatives, the team analysed water consumption across the university. They discovered that laundry was one of the largest water guzzlers. These new machines will be instrumental in cutting water usage throughout the residence system.
But a change in student behaviour is also critical, added Peters. This installation has therefore been accompanied by a drive, facilitated by Student Housing, to encourage students to limit themselves to a single load of laundry per week.
The installation of the new washing machines is just one of several interventions that are taking place across the university, Peters said.
"We have already gone into the second phase at Obz Square," he said. "We are fitting aerators, which are restrictors, into all basin taps."
These essentially restrict water flow from five litres to 1.4 litres per minute.
A team effort
Peters explained that in order to 'sell' the new machines to Student Housing, his team at Properties and Services had to prove that the savings were there, both in the short and long term.
"There was also a big input from the Student Housing side: Mr Glenn Von von Zeil and his RFOs [residence facilities officers]."
The product was first tested in Graça Machel residence, by Sean Brown and Wesley Wright.
Students were most excited with the cutting of time – down from 40 to 23 minutes per cycle. The clothes come out drier too, said Peters, which meant less time spent waiting and less electricity used for tumble drying.
The machine is also easy to use, he continued. As it is pre-programmed, students need only press a single button.
---
This work is licensed under a Creative Commons Attribution-NoDerivatives 4.0 International License.
Please view the republishing articles page for more information.
---