Information and Communication Technology Services (ICTS) has taken UCT's water-reduction goals to heart. Led by their water champion, Jenny Wood, they've implemented a comprehensive communications and action campaign to reduce their in-house 'watermark'. And they're working to get everyone on board.
UCT recently announced a drive to reduce its water consumption by 50%. Many departments and units, such as ICTS, already have action plans in place.
On 26 January ICTS began monitoring their water meter, publishing the daily readings on the ICTS Water Conservation Initiative page. As staff enter or leave the ICTS on Main building, they're greeted by slideshows displaying water-wise information and a Day Zero dashboard on two electronic screens in the lobby.
Mellow yellow
They're also reducing water usage in the bathrooms by turning off water in urinals and using pee mats (urinal screens that reduce odour and splashback) to manage this, applying the "let yellow mellow" approach in toilets, using spray bottles in kitchens for cleaning, reducing the amount of water used in cleaning, and looking for alternative ways of producing water for their needs, says Wood.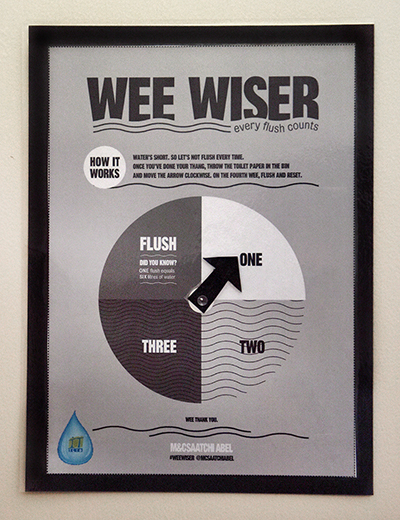 Wood and a group of ICTS staff volunteers are implementing a comprehensive water campaign that is based on a proposal adopted by ICTS management earlier this year. The team launched the initiative to staff in ICTS on Main on 1 February. This was followed by a virtual Q&A session, which was open to all staff.
The two-part plan hinges first on an awareness campaign for ICTS and Properties and Services' cleaning and security staff in the building. This includes posters, electronic communications, pledge boards and stickers created by communications coordinator Niki McQueen with input from the team.
"We've put up posters in the kitchens and toilets and a pledge board for staff to sign committing them to being water wise. We've also placed hand sanitiser in toilets," says Wood.
Second, the plan outlines the actions that ICTS is taking to monitor and communicate about their water usage, water reduction, the use of grey water and alternative water sources.
Staff on board
ICTS staff are thinking hard about how they use water. Suggestions include: collecting grey water from cleaning activities to flush toilets, staff supplying their own drinking water and bringing their surplus grey water to work, fitting tap diffusers and aerators in bathrooms, checking for leaks, carrying out a water usage audit and harvesting water from air conditioners. ICTS is also investigating the cost and logistics of rainwater harvesting.
Building on this spirit, Wood and the team have created a list of useful resources as well as an Outlook ICTS Water Conservation Initiative Group with links to UCT's and other communications on water conservation as well as free resources from the City of Cape Town website and the World Wide Fund for Nature – South Africa (WWF-SA) website, among others.
They're also augmenting their communications using the Twitter hashtags #futurewater, #ICTSwaterwise and #defeatdayzero.
Reaching out
Wood says that the campaign encourages staff to extend these water-wise practices to their homes.
They're also keen to assist other UCT departments. At the 1 February PASS forum for professional, administrative support and service staff, ICTS offered to share their resources to help others kick-start their initiatives.
"So far UCT Libraries has taken us up on the offer of using the customisable poster designs," says Wood.
"Credit goes to all those ICTS on Main colleagues who worked on the deliverables, ordered supplies such as hand sanitiser, and who are gathering water-meter data. It has been a real team effort."
Who is your water champion and what is your department, residence or team doing to save water at UCT? Let us know by contacting newsdesk@uct.ac.za.
See the water champions campaign poster...
---
This work is licensed under a Creative Commons Attribution-NoDerivatives 4.0 International License.
Please view the republishing articles page for more information.
---