According to a recent media release from the City of Cape Town, Day Zero has been shifted back to 4 June, but that is no reason for Cape Town residents to become complacent about water-saving efforts. Now is the time to do better than ever.
UCT has been working hard to respond to the water crisis (Read the DVC Desk…), with industry experts engaging with stakeholders in the City, driving awareness and water-saving campaigns on campus, and leading UCT's own Water Task Team – which was created to address and manage the impact of the drought on the university.
Thanks to the work of the Water Task Team, UCT is now committed to reducing its own water consumption by 50% (Read the DVC Desk…). To help the university reach this goal, here are five simple water-saving ideas that you can implement in your office.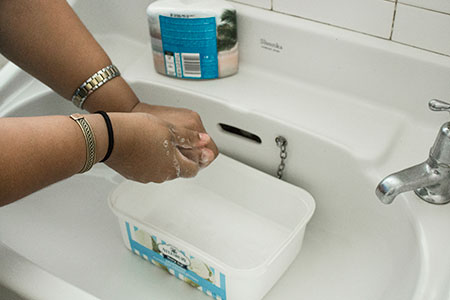 1) Every bit counts
Waste nothing.
Make sure that there is a container placed in every basin to collect the water that is used to wash hands, rinse coffee cups or clean up after lunch.
Ask your colleagues to rifle through their kitchen cupboards – they are bound to come up with an empty ice-cream container or two.
Your department may want to invest in wet wipes or hand sanitiser to do away with hand washing completely.
2) If it's yellow, let it mellow
We've been told repeatedly not to flush the toilet unless it's entirely necessary.
While this is an easy enough policy to instate in one's own home, it can be rather more awkward in an office environment. But equipping each toilet with a spray bottle made up of a solution of spirit vinegar and one teaspoon of lemon essence will help to take the stink (literally) out of this essential water-saving method.
Remember that each time you flush the toilet, you send nine litres (or more) of potable water down the drain.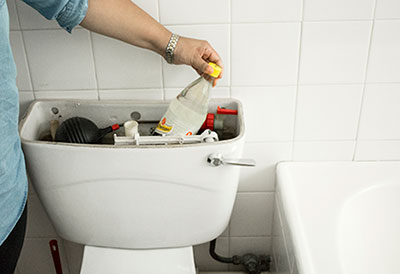 3) Fill your cistern
With that in mind, each and every toilet cistern in your office should be fitted with a brick or a filled bottle to reduce the amount of water used when you absolutely have to flush.
Better still, turn off the toilet's tap and fill the cistern with water you have collected from hand-washing basins or kitchen sinks.
Any leftover grey water can be used to water any plants you might have around the office.
4) Bring your own water
According to the City of Cape Town's guide to using less 50 litres a day, roughly two of our daily 50 litre allotment should be used for washing hands and brushing teeth. Bring a bottle of water to work for this purpose. This will ensure that you keep to this limit, and will be a constant visual reminder of what is to come should we reach Day Zero.
5) Put up signage
You might think that water saving has been drilled into everyone's head by now, but even the best of us might become thoughtless before our morning coffee.
A sign above the loo might be the difference between Day Zero and being a water-saving hero.
---
This work is licensed under a Creative Commons Attribution-NoDerivatives 4.0 International License.
Please view the republishing articles page for more information.
---