PhD candidate Megan Lukas was one of 25 young scientists honoured with a Green Talents award at the International Forum for High Potentials in Sustainable Development, which took place in Germany during October.
The Green Talents award is conferred by the German Federal Ministry of Education and Research to provide young researchers across the globe with a platform for sharing their views on green concepts, with a mind to changing the world for the better.
Lukas, who is pursuing her doctoral degree in environmental and geographical science, was selected from hundreds of applicants from 95 different countries.
"I still can't believe I was selected and that I went to the forum. But I obviously felt very honoured, especially knowing that I was selected out of 602 applications," she commented.
Lukas was recognised for her research on how people connect to their environment within the under-resourced township setting of Nyanga, in Cape Town.
"It is important to understand, at a grassroots level, how and why people are behaving the way they are towards their environment."
Her work is concerned with how pro-environmental behaviour, sustainable living and attachment to place unfold in such settings, where green space, trees and recycling facilities are often lacking.
This year's forum focused on sustainable production and consumption and took place over two weeks, between several German cities. During this time, awardees visited key research sites and sustainability hotspots in order to gain insight into the German research landscape.
They were also presented with opportunities to engage with experts and key innovators to discuss their research and to gauge opportunities for potential collaboration.
Indeed, as part of their award, these young researchers are invited to return to Germany in 2018 for a fully funded research stay at an institution of their choice. And Lukas intends to take full advantage of this opportunity.
Inequality and environmentalism
"In such an unequal city, where access to nature is not always easy for people living in a township such as Nyanga, the people living there are still connecting to the natural through sustainable living practices and pro-environmental enactments," she explained.
Through her research into pro-environmental behaviour, Lukas introduces the concept of home. She argues that human connection to and ways of imagining the idea of home are a result of this pro-environmental behaviour.
"The concept of home is considered to hold an abundant area for understanding the social and the spatial and offers a range of research within the subject geography.
"As a result of social and economic problems, people are creating ways to reconnect to their homes and engage in home-making activities that ultimately provide pro-environmental opportunities," she explained.
Lukas strives to identify ways in which people in poorer urban communities can improve their lives, using sustainable methods that are both self-motivated and self-implemented.
"Human behaviour is the prominent cause of the environmental crisis in the world today. So it is important to understand, at a grassroots level, how and why people are behaving the way they are towards their environment."
The judging panel noted significant value in Lukas's long-term aims. She hopes her work will provide political decision makers with an understanding of what is required, at a social and grassroots level, to achieve sustainability and improved socio-economic well-being within townships.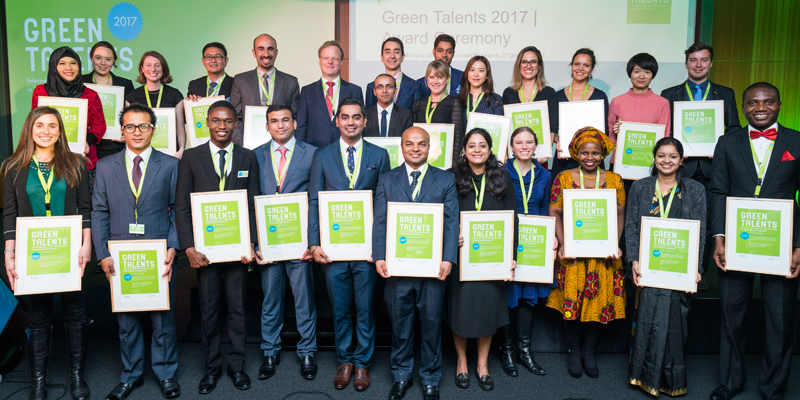 International collaborations
The tour was an unbelievable experience, according to Lukas.
"We visited six institutions that focus on different forms of sustainability and met with various experts in particular fields.
"Highlights include meeting the German coordinators and the 24 other awardees, who were from 21 different countries – the stories we shared about each other's countries were very interesting; staying in eight cities in Germany; and meeting two professors who were interested in my research with whom I could collaborate next year."
The trip provided grist to Lukas's mill. Her work was embraced with positivity.
"In fact, my research was mentioned in the keynote address at the awards ceremony," she said.
"From the interest expressed by the awardees, to the interest and similar research shown by the professors I met, I felt acknowledged in the field. Many of the people I met want to visit Cape Town now!
"I now see that there is room for me in the field. Unfortunately, I haven't received much support for my research here in Cape Town, so to be welcomed with open arms in Germany, where environmental work is taken so seriously, was an affirmation of note for me!"
---
This work is licensed under a Creative Commons Attribution-NoDerivatives 4.0 International License.
Please view the republishing articles page for more information.
---