The 400-seater New Lecture Theatre (NLT), at the southern end of University Avenue, was built with the aim of obtaining a four-star green rating from the Green Building Council of South Africa (GBCSA).
Jigisha Mandalia, MPhil in Energy and Development Studies student at UCT's Energy Research Centre, conducted a case study analysis of three recently completed UCT buildings: the New Engineering Building, Snape and the NLT.
"UCT has been working on developing plans and targets to improve sustainability across campus since 2008," explains Mandalia. "In 2012, a policy was adopted that stated that all new buildings will have a minimum four-star rating."
Her research titled 'An analysis of institutional structures and decision making processes that affect the sustainability of buildings at the University of Cape Town', looked at the various barriers and challenges that exist at UCT that hinder the advancement of sustainability – particularly sustainable buildings.
"NLT's rating can be seen as a great achievement, but on the other hand one can question why only in 2016 do we have an accredited building? Or why only four stars and not higher?" she says.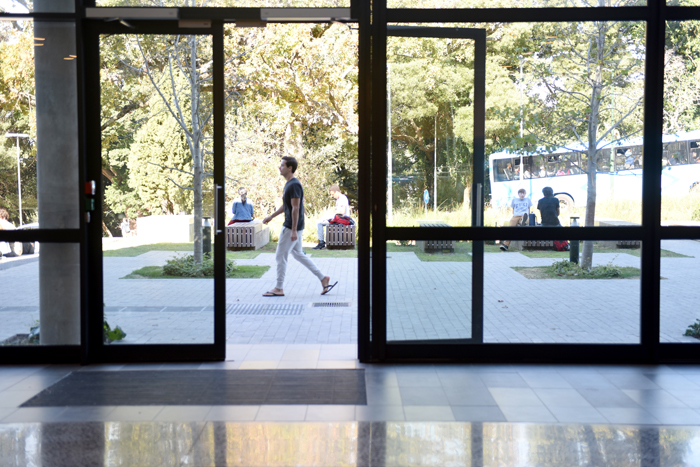 Her research found that UCT faced several barriers that slowed down the advancement of constructing and maintaining sustainable buildings.
A major barrier is lack of financial and human resources: not enough money is available to build and there are too few people who actively promote sustainability or are mandated to include environmental sustainability elements. Another challenge is the lack of awareness around sustainability issues, particularly from students.
The rating followed months of rigorous planning and implementation in the areas of energy efficiency, materials, water usage, indoor air quality, transport, ecology and lighting to ensure that the stringent standards were achieved. "It's not just about energy efficiency. It's also about the management of the building, which is quite important because UCT doesn't have energy managers. So it's all good and well to say we have a rating, but if lights are on all the time then what is the point if there's nobody monitoring it?"
Other barriers include inefficient organisational and committee structures.
She explains that these include UCT's many committees and the number of people involved in decision making, the time it takes for a task to be completed and identifying the right people and processes to get something done in such a large institution.
Green Star rating
According to the GBCSA, a green building has to use recycled materials, should have water-efficient plumbing fittings, harvest water and use renewable energy sources. It must incorporate design, construction and operational practices that considerably reduce or eliminate the negative impact of development on the environment and occupants.
Green Star SA is a voluntary environmental rating system that evaluates the environmental design and construction of buildings. Green Star SA tools were developed to provide the property industry with a measurement for green buildings.
The NLT achieved an "As Designed" rating and not "As Built", which is only granted after construction is complete and the building is in use.
This was because of cost issues, she says.
The construction of the NLT was recommended early in 2010 as an urgent need was identified for a lecture venue to accommodate courses with large enrolments.
GAPP Architects and Urban Designers designed the building with a range of green features and all-natural finishes to ensure low or zero maintenance. Its distinctive cladding is Rheinzink corrugated sheeting, a sustainable maintenance-free material that suited the curved shape.
Environmentally friendly features include windows that open and shut automatically depending on the heat and carbon monoxide levels, motion-sensor lighting and the harvesting of rain water to flush the toilets. Construction of the R62 million NLT kicked off in November 2014 and was completed in April 2016. The venue was fully operational by the start of second semester and has provided a much-needed social space and a gateway to the southern end of campus.
The new lecture theatre includes breakaway zones and gathering areas with screens that can project content from inside the auditorium. This is also an informal learning environment as the social spaces and foyers are open to the public during the day.
"Having a good view also improves the rating. People should be able to look out to a pleasant and unobstructed view, as it is not just about being environmentally sustainable … people use the building and you have to make sure it's functional, fit-for-purpose and user-friendly," explains Mandalia.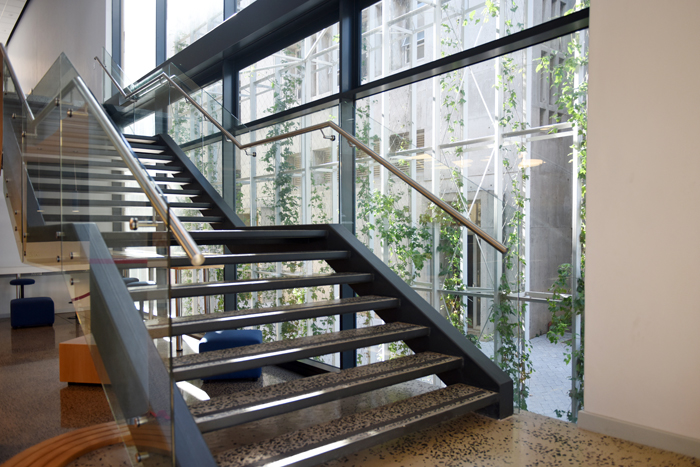 The new lecture theatre is next door to the Jammie Shuttle's South stop, which enhances its accessibility and adds to its green-building credits.
One element that added to the cost of NLT, but is important, is the use of double-glazed windows. "These are a norm overseas especially in colder countries where you want to keep the heat in. It's a bit more expensive, but it's useful because it also acts as a noise insulator," she says.
UCT is the second university in South Africa, after NMMU, to have an accredited green building.
"It's also educating people about how the building was built and how it should be used and to be conscious of the way they use it. This helps in reducing the building's environmental footprint," says Mandalia. "You need to design and build correctly but also not forget to monitor the building to ensure that it remains a four-star-rated building."
---
This work is licensed under a Creative Commons Attribution-NoDerivatives 4.0 International License.
Please view the republishing articles page for more information.
---