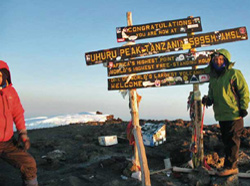 High life: Pat Callaghan's (medical libraries) Kilimanjaro trip was a gift to herself.
Mental toughness comes with age, says Pat Callaghan after her Kilimanjaro ascent, a celebration of her 55th birthday
Pat Callaghan's office is high among the stacked books in the health sciences library. New editions teeter on her desk. "Look here," she says from her computer. Blue sky. Snow. The signpost in the picture reads: Uhuru Peak Tanzania 5895m AMSL.
"That's me after I summited Kilimanjaro."
Callaghan still sounds euphoric. She doesn't look 55, the milestone birthday that took her to the top of Africa's highest point and the world's largest volcano.
"I wanted to do something different," she explains.
And she did, at 06h30 on 1 July, a week after celebrating her 55th birthday. The delay had been planned to coincide with full moon (better visibility). At 23h00 the previous night Callaghan and a party of three had started the final ascent. At the summit, the temperature steadied at a fresh -20 deg C. Perfect for ice-cream cake.
At 50 Callaghan hiked Namibia's Fish River Canyon. She hopes to summit Mount Kenya at 60. She has an appetite for mountains, though Kilimanjaro was more of a tough hike than a climb.
"You need willpower to get you up there. It's not a physical thing any more. It's a mental thing."
The senior librarian assistant has always been active - no special training regimes for Kili - hiking every day after work and tackling longer treks on weekends.
The spate of muggings along some of her favourite routes brings a howl of protest. But they won't deter her. She hikes with a partner.
"And I carry a stick," she says pointedly.
There's mental toughness there. It comes with age, Callaghan concedes.
"And they say the older you are the better you handle altitude sickness."
Mountains have become her retreat, especially after losing her young son, Jason, some years ago. When he became ill, she'd carry the seven year-old on her back, up and away among the peaks.
After summiting Kilimanjaro, Callaghan sent an SMS to her daughter, Nina, to spread the news. In the victory was a silent tribute to Jason.
At the top, it's not a physical thing any more. It's a mental thing.
---
This work is licensed under a Creative Commons Attribution-NoDerivatives 4.0 International License.
Please view the republishing articles page for more information.
---