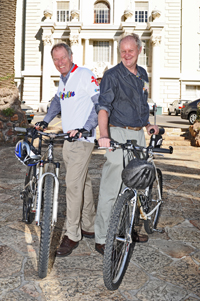 Profitable pedalling: UCT's Dr Paul Roux (right) and Professor Steve Reid have set off to bike some 1 000km to raise money for rural health care in the Eastern Cape.
On 21 April, four able if not Absa Cape Epic-fit health practitioners took to the saddle to trek some 1 000km across South Africa in a fundraising initiative known as Bike for a Bakkie, Pedal for a Pickup - the second instalment of the Pedal for Peddie project that raises funds for rural health care in the Peddie area of the Eastern Cape.
UCT's Dr Paul Roux and Professor Steve Reid, with Stellenbosch University's Professor Hoffie Conradie and occupational therapist Debbie Nash, have set off in a bid to raise money for a minibus to transport patients between clinics and hospitals in Peddie. There is just one doctor servicing 11 rural health clinics in the area presently, many of these accessible only by the roughest of roads.
"The service burden in rural hospitals is enormously high," says Reid. "There has to be support by local community-based organisations and NGOs if you want to meet the needs."
Last year, Pedal for Peddie raised some R150 000 for programmes that support orphans and vulnerable children in the area, among others.
The beneficiary of the cycling epic is the Keiskamma Trust, a non-profit organisation based in Hamburg, Eastern Cape, that offers health services to the local communities. From the Cape Town side, the cycle tour is being championed by the Kidzpositive Family Fund, an NGO - co-founded by Roux - that is dedicated to improving the lives of children living with HIV in Southern Africa.
The cyclists set out from Hamburg in the Eastern Cape, traversing a route through the rural back roads of the Eastern and Western Cape, before arriving at Groote Schuur Hospital in Cape Town on 2 May.
"This is us doing our bit," adds Reid. "We love cycling, and it's for such a good cause."
---
This work is licensed under a Creative Commons Attribution-NoDerivatives 4.0 International License.
Please view the republishing articles page for more information.
---