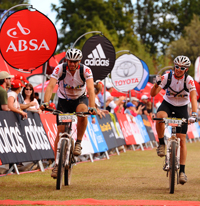 Tough ride: Prof Marc Mendelson and his son, Ben, finish the Absa Cape Epic. Mendelson rode the same bike he did in the 2006 Epic, a full suspension Santa Cruz Blur LT. Ben rode a Bianchi Pulse hardtail. (Picture courtesy of Sportograph.)
Professor Marc Mendelson, head of the Division of Infectious Diseases & HIV Medicine, and his son, Ben, were among the 496 teams that finished this year's Absa Cape Epic.
The duo rode in KidzPositive colours to raise awareness of the NGO that looks after the interests of HIV-infected children and adolescents, with a number of projects based at UCT.
Ben (18) is a first-year student at UCT. It was Mendelson's second Epic (he rode his first in 2006) and Ben's first.
"It's the hardest mountain bike race in the world," Mendelson commented afterwards. "However, more importantly, it shows you some of the most beautiful perspectives of the Western Cape that few get to see. You meet the most amazing people sharing adversity and triumph, and you go through more emotions in one day than you can imagine possible."
Father and son have ridden one-day races together before, but had never competed in a stage race together. The duo came 481st in 57 hours 19 minutes. Of the 600 teams that started, 496 finished.
"The low point and high point was undoubtedly Stage 3, the hardest stage of all, although the organisers didn't realise it until the professionals came in and told them how tough it was," Mendelson recalled. "They immediately extended the cut-off time to 11 hours (from 10). At about 50km, not knowing about the extended cut-off, we entered a nature reserve that was sand and rocks. Realising that we still had over 70km to ride and knowing the profile of the course, we knew that we had little chance of making the cut."
But the duo crossed the line, with two minutes to spare, having been in the saddle for 10 hours and 58 mins.
"That was the high point emotionally. Not even crossing the line at Lourensford compared. After that we got stronger and mercifully, the course became more rideable, even though we still had both the longest stage, and the stage with the most climbing to come. The other highlights were the inspirational feats of some of the teams, like one of the riders from the Knight Riders team, who completed the last 15km of Stage 1 without a tyre, on his rim alone, and countless other teams who underwent extreme physical and technical adversity and still finished.
"The never-give-up ethos of the Epic shines through in every team that finishes, even though you may think you are finished more times than you like to remember! And it was a great lesson for an 18 year-old and one couldn't wish for greater role models than those who were around us."
The dynamics of father and son were "interesting".
"Ben is a much stronger and more accomplished rider, but had to ride at my speed (riders in a team must be within two minutes of each other at all times). This was both frustrating for him at times, but a good thing as he didn't burn out early, which can happen when the 'testosterone starts to fly'. We worked well as a team, although he gave the old man hell at the water points! It was a tremendous experience riding together and one that we will always cherish."
Will there be a next time?
"Yes, hopefully in 2012."
---
This work is licensed under a Creative Commons Attribution-NoDerivatives 4.0 International License.
Please view the republishing articles page for more information.
---