From Cairo to Keurbooms on two wheels in a year, a journey yielding a storehouse of lessons and memories. That sums it up for five intrepid University of Cape Town (UCT) graduates who reached home on 17 December 2019 after a year in the saddle. They called their adventure Our Africa Polé-Polé, or "slowly, slowly" in Swahili.
Nine countries later, the saddle-weary group finally arrived back in South Africa on 17 December 2019. The core team were Suzanne Lambert (civil engineering), Michelle Rorich (economic development), Robbie Rorich (electromechanical engineering), Jess McCormack (landscape architecture) and Angus Teeton (African music and technology). Helen Swingler caught up with Rorich and Lambert who reflected on a journey "rich in community and creativity".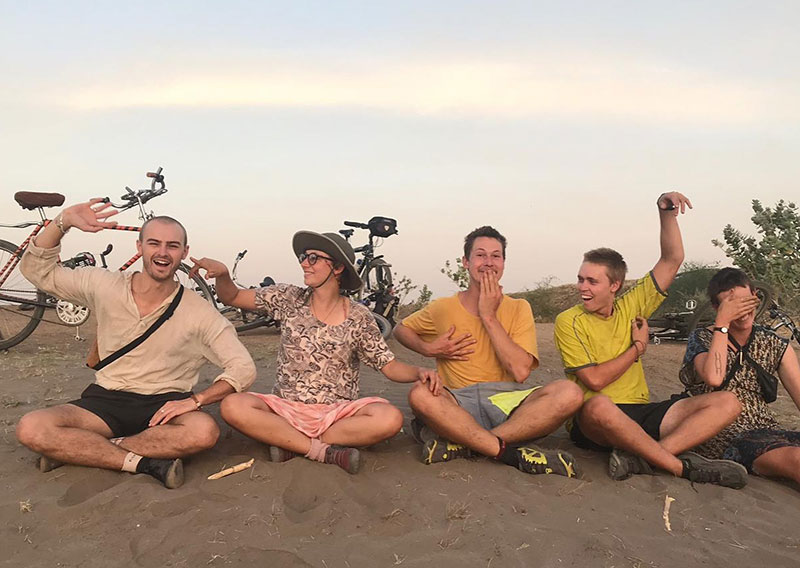 Helen Swingler (HS): You cycled through Egypt, Sudan, Ethiopia, Kenya, Tanzania, Malawi, Zambia, Zimbabwe and Mozambique. What were your favourite places?
Michelle Rorich (MR): Lumbila is probably the group's absolute favourite; a hamlet (according to Google Maps) on the Tanzanian side of Lake Malawi, nestled at the base of the Livingstone Mountains. It's accessible only via a path over the mountains or by a 40-minute boat trip from Matema. We rested there for a day, playing in the water with the children and their dugout canoes and braaiing fish on the beach. We also loved our time in Nairobi – visiting an incredible start-up that has designed a waste solution for urban areas that is not connected to sewers. Suzy was in heaven! It was a real treat visiting Kimana Sanctuary at the foothills of Kilimanjaro. We chatted with the programme manager who shared their success story of engaging the community to conserve this gorgeous piece of savannah.
HS: Disappointments?
MR: We loved visiting Great Zimbabwe, but it was very sad that so few other tourists were there and more generally in Zimbabwe, which has so much to offer. They're probably deterred by the image the media conjures up of Zimbabwe – nothing in the shops and it's difficult to pay for the things that are there. We didn't find that at all. Most shops are well stocked with essentials and Ecocash – a mobile payment service – is super convenient and everyone uses it. Luckily, we didn't have to queue for petrol – a real issue, along with power cuts. But it was wonderful to see people installing rain tanks and solar panels and planting vegetable gardens to survive poor government services and inflation. The deforestation in Malawi and Zambia were depressing. There are pockets of people and projects working to provide alternative sources of income generation to making and selling charcoal. ZayoHub and Kusamala [Institute of Agriculture and Ecology] are examples of these.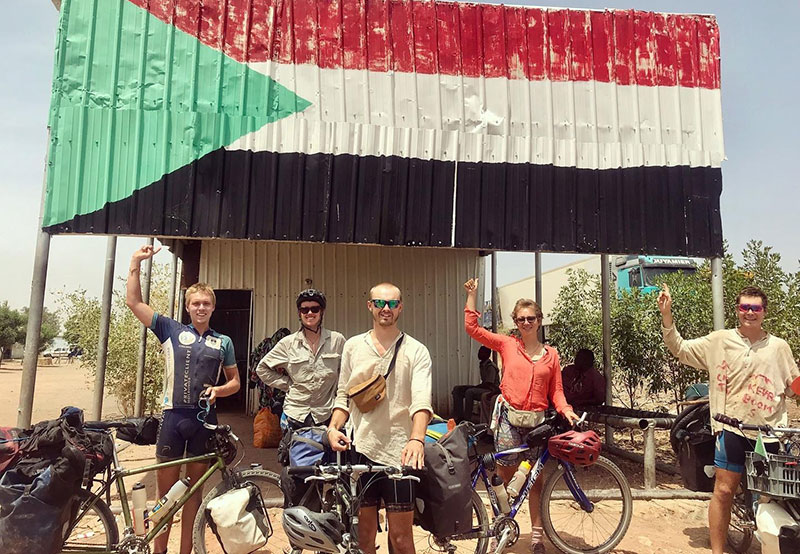 HS: Please share some of your personal reflections.
MR: It's been an absolute pleasure living such a simple life; life with ample time to really be where we are. Whether it is looking at the flowers or having a conversation or stirring a cooking pot that smells good. It's so easy to get caught up in making life complicated. We were very lucky to connect with people along the way that are somehow really living life, despite having so much less than people from our communities at home. They have time to really be with their family and friends. To focus on enjoying the food they are eating or the birds in the trees. Of course, they have more worries than we did travelling on our bicycles. They have children to feed, crops to grow …
"It's been an absolute pleasure living such a simple life; life with ample time to really be where we are."
Suzanne Lambert: One of my main reflections of the trip is noticing the power that media has to distance us from one another. Fear of 'the other' is a story we are force-fed, especially in a South African context: "Africa is a big, dark, scary place; be careful …" There's something wonderful in the vulnerability of a bicycle; you're out there in the open and you always need locals' help with water, food, a place to sleep or bicycle problems. These pre-conceptions fall by the wayside. And this is where the magic happens. We received generosity and kindness everywhere. People with nothing shared what they had, opened their doors, let us camp on their land and engaged with us enthusiastically. I cannot recall a time I felt unsafe or fearful.
HS The trip was also meant to provide a lens on development and innovation vis-à-vis your research interests.
MR: As our mission states, we believe there is intrinsic value in taking the time to stop and listen to voices that are almost never part of the "development conversation". We hope that engaging with young people on these issues will encourage them to believe that they have what it takes to be change-makers. Also, that the collective insights that emerge will contribute to the understanding that international organisations and individuals have of "development" in Africa. In sharing this story, we know that people removed from Africa's reality will begin to see our continent in her true light – rich in community and creativity, [with a] deep desire to live in harmony and willingness to work for a future that includes all Africans.
Yes, there are benefits to living a Westernised life. However, most people we met along the way live a different reality. Many don't have an alternative to farming or burning charcoal to make a living. Of course, as education systems have developed and people have had the chance to qualify as professionals, new choices have emerged. But too often we met qualified teachers, psychologists, social workers, who'd gone back to subsistence living – unable to find the jobs they were promised as reward for their hard work at school. There are so many beautiful aspects of the African way of living that the West would have done well to adopt in their development process; a way of life where people have real relationships with the people living in their immediate community.
"In sharing this story, we know that people removed from Africa's reality will begin to see our continent in her true light."
HS: Were there developments that stood out?
MR: The most powerful development projects that we encountered were born in their locality, creating context-specific solutions. They are built on African traditions and don't aspire to create lives that are consumed by hurried consumerism and harsh capitalism. Philip Munyasia at OTEPIC in Kenya created a micro revolution towards sustainable living in his hometown. He got young people excited about growing plants again – using traditional plants and methods combined with new international knowledge. Moleck in Tanzania has created a WhatsApp group with his friends who have left their small village to seek work. They raise money between themselves for a project they know will improve the lives of people in their village.
"People are empowered to build better lives without losing beautiful communities."
Someone in Malawi started an incredible WhatsApp group – often with a couple hundred messages a day – sharing knowledge about sustainable agriculture. Zambian organisation ZayoHub is setting up hubs of connectivity, power and microloans in very remote rural villages so that people can kickstart their businesses and schools can teach using digital and gamified curriculums when textbooks are scarce. People are empowered to build better lives without losing beautiful communities and migrating to cities to seek work. This year has certainly left us with great hope for the future of our continent.
HS: You were away from home for a long time but in terms of national excitement, did you get to watch the Springboks lift the Rugby World Cup?
MR: We did! We planned a 30 km hitchhike the previous day and woke up at 04:30 to get to the only lodge with DSTV and a generator in the rural part of Zimbabwe we were in. Justin, our new stats man, informed us that our average bike speed that morning was faster than ever. We had a gorgeous cycle along [Lake] Mutirikwe and arrived at the lodge to find the DSTV subscription didn't quite cover the right channel. Fortunately, they did have Wi-Fi and we managed to borrow DSTV login details and see enough of the game to be left with tears in our eyes and pride in our hearts.
---
This work is licensed under a Creative Commons Attribution-NoDerivatives 4.0 International License.
Please view the republishing articles page for more information.
---