You sit down at your desk to study. A short while later, a fly – a nhunzi – begins buzzing, distracting you. You decide you'll dedicate just a few minutes to catching the fly so that you can continue working in peace. The few minutes go by, and then an hour. Before you know it, three hours have passed and you are no closer to killing the nhunzi.
The ability to resist that nhunzi effect (the Shona word for fly) is what sets leaders apart, according to Gladys Mawoneke, guest speaker at the University of Cape Town's (UCT) Klaus-Jürgen Bathe (KJB) Leadership Programme induction dinner on Friday, 23 February.
The event was held to welcome the 2019 cohort, acknowledge the programme's recent graduates, and to celebrate the programme having funded a total of 50 students.
Entrepreneur Mawoneke, founder and director of Cape Town beverage company the Bumi Hills Group, told guests that when she worked in a corporate environment, she had given in to a nhunzi which came in the form of designer handbags, German cars, private schools and a posh apartment.
"I had sold my soul … in exchange for a high salary and comfortable life. To maintain that, I had to keep quiet," she said.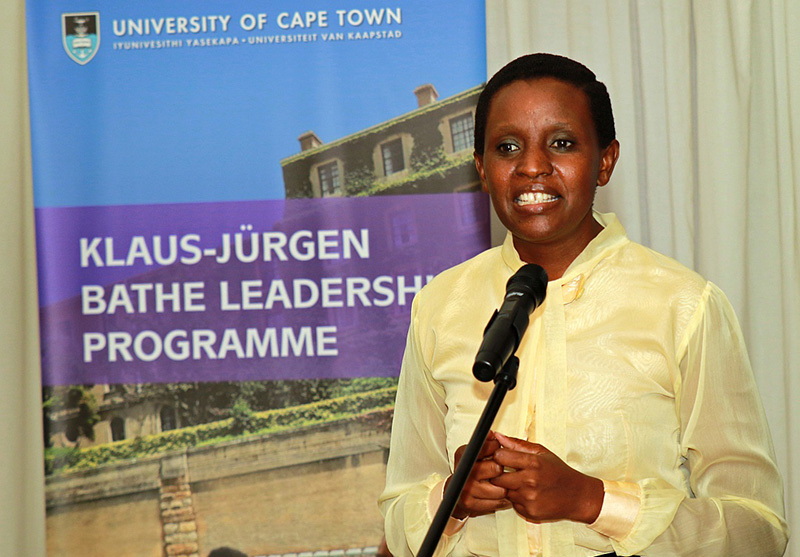 This silence was accompanied by neglect; neglect of her duty as an African leader.
Making a difference
"I forgot that taking this country forward as a manager and as a leader … is not just about negotiating a higher salary for yourself, denying others the same."
It also wasn't about dealing with her team with a heavy hand so she could look authoritative, nor being the only one occupying a senior role or being admired by the underprivileged.
"I had lost focus; I had entertained the nhunzi," said Mawoneke.
"It needs a generation to stand up and raise its voice and take steps to change the degradation of our nation."
Then, disillusionment set in. She looked at the socio-economic realities of South Africa and the work she was doing.
"I realised that I was doing nothing that was furthering what is important to this country."
She witnessed the silence of black people in management, their inability to stand up and contribute to anything substantive and which would make a difference. Mawoneke knew there was more that could be done by management to transform, and yet it wasn't happening.
"I am glad I am speaking to you as future leaders. These are some of the realities of this country … we need to understand that there is a need for that transformation."
But, while the issues were evident in her work environment, Mawoneke said the company was not to blame, emphasising that "the buck stops right here with me".
"The state of our country and economy is such that it needs a generation to stand up and raise its voice and take steps to change the degradation of our nation."
Being a leader in Africa, she stressed, comes with responsibilities. This includes the responsibility to "influence change that is in the best interest of our people; to say no to positions where we are gatekeepers and where we don't make a difference".
"We are called to be leaders who make a difference to this continent and I believe that looking at you, you are going to make a difference."
Good leadership
This ability to lead, a commitment to social justice, and a promise to make a significant difference to the country and continent are what defines KJB scholars.
"We are called to be leaders who make a difference to this continent and I believe that … you are going to make a difference."
Every year, the programme awards full-cost scholarships to deserving UCT undergraduates. They must complete their studies, two leadership courses and a six-week internship.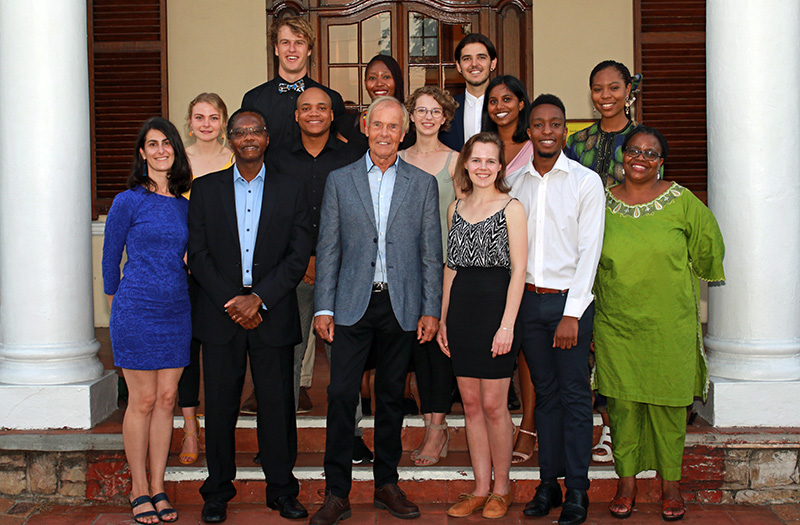 The programme was established at UCT in 2014 through a generous gift from Bathe. His relationship with UCT dates back to the 1960s when he was a student. In 1967, he graduated from the Faculty of Engineering as the gold medallist for that year. After completing a PhD at the University of California at Berkeley, he eventually settled at the Massachusetts Institute of Technology (MIT), where he is a professor of mechanical engineering.
Bathe began the scholarship because of his passion for good leadership in South Africa.
"With good leadership, the dream of prosperity and peace for everyone will be realised," he said.
And as he has done every year since the establishment of the programme, Bathe flew in from the United States to join the celebrations.
In his address to the scholars, he said humility is the most important quality for a leader.
"Humbleness pays out. It pays out as a leader and it pays out in life."
He added that he and the programme management are "looking forward to how [the scholars] will lead this country to a new future".
Bathe also thanked the director of the programme Professor Alphose Zingoni, who is professor of structural engineering and mechanics in UCT's Department of Civil Engineering.
Zingoni acknowledged the challenges faced by Africa, but said he remains optimistic about the future.
"As a region, we face many challenges, but there is also the possibility of a bright future for all if only we can harness the opportunities."
One of the 2019 scholars, Mapulane Makhaba, who is studying towards a BSc in Electrical and Computer Engineering, plans to harness the opportunities presented to her by the programme.
Growing up in Lesotho, she was fascinated with "the ways things work". Her love for technology led her to her degree, and her love for her country, the continent and her belief in the power of quality education led her to the programme.
"To have an impact on people's lives, you need to learn how to lead, how to connect with people," said Makhaba.
"I am hoping to learn this from the programme."
---
This work is licensed under a Creative Commons Attribution-NoDerivatives 4.0 International License.
Please view the republishing articles page for more information.
---