Many of those paying tribute to former University of Cape Town (UCT) vice-chancellor Dr Stuart Saunders, who passed away on 12 February 2021, remember him for his commitment to transformation, excellence and education. For UCT graduate, human rights activist and clinical psychologist Nomfundo Walaza, this is indeed the legacy he leaves behind.
"Some of us who attended UCT during the dark days of apartheid will forever be grateful for all his efforts in making UCT welcoming to black students and a place where we could thrive and develop as scholars," she said.
Walaza, the co-director of the Unyoke Foundation, was a student during Dr Saunders' tenure and, more recently, worked closely with UCT staff and students as a facilitator during the #RhodesMustFall and #FeesMustFall movements.
"I will … remember him as a champion of education for all South Africans."
"As an alumna who received all my degrees at UCT … I am deeply saddened by his passing.
"I will remember him as a kind and compassionate human being who would recognise and warmly greet me whenever our paths crossed. I will also remember him as a champion of education for all South Africans."
Walaza added that she had no doubt that Saunders loved UCT as an institution of learning and, equally, education in general. For that, "his legacy would reverberate for generations to come".
"Hamba kahle professor!"
Proud legacy
In 2018 Walaza delivered a lecture at UCT as part of the university's Centenary Seminar Series where the focus was on the legacies of the nine vice-chancellors who served from 1918 to 2018. Her lecture focused on Saunders' 15-year tenure from 1981 to 1996.
She recalled that Saunders led the university during a time of "severe repression from the state, which took the form of [states of emergency], severe erosion of academic freedom, freedom of association and freedom of speech".
Walaza noted that the former vice-chancellor leaves behind a proud legacy. He is credited with putting an end to the racially segregated training of medical registrars, admitting students of all races to UCT residences, refusing to bend to the will of the apartheid state and initiating fundraising among South African universities to ensure their academic freedom and meaningful services to science and the country.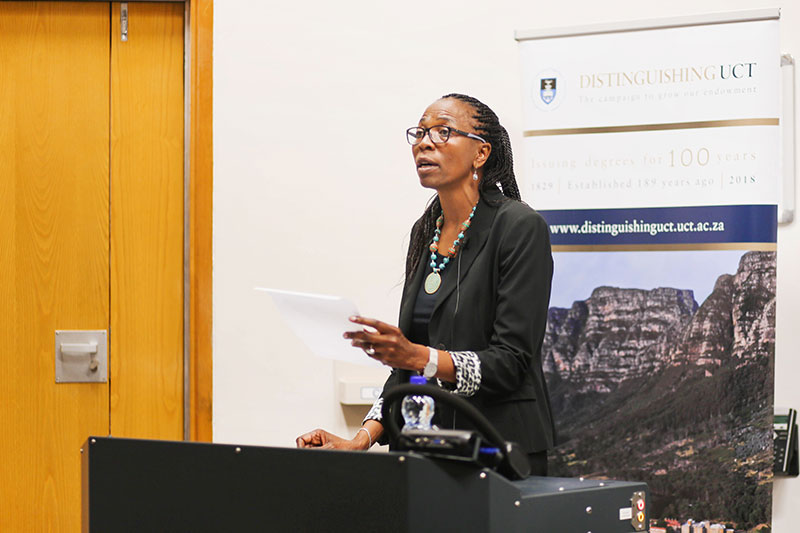 Further, Saunders had "famously resigned" from the South African Medical Association after its failure to act against the district surgeons who were responsible for treating Steve Biko at the time of his imprisonment and subsequent murder by apartheid operatives.
Freedom and development
During her lecture Walaza reflected on many more ways in which Saunders served the university, sector and country.
In a Council on Higher Education report on autonomy and academic freedom and the stance taken by UCT and others against apartheid at universities, Saunders wrote that their decision was taken "on the basis of the threat to academic freedom, as it affected ... the right as to who would teach, what would be taught and [to] whom it [would] be taught".
Walaza also drew on an interview where Saunders had shared his view on academic development.
In the interview, he shared how "teaching approaches must change", that there "must be an awareness of the different backgrounds of students" and that "one size does not fit all". Saunders also stated that "serious consideration" needs to be given to extend three-year degrees for more students and that the funding framework must be adjusted to allow for this.
'Wonderful contribution'
Walaza also drew on the reflections of UCT's first black woman vice-chancellor, Dr Mamphela Ramphele.
In her book Laying Ghosts to Rest: Dilemmas of the transformation in South Africa, Dr Ramphele wrote that Saunders had "the foresight to institute a systematic study of the institutional culture", was "exemplary among leaders of higher education", took a personal interest in transformation and was the first leader in the sector to "find loopholes in apartheid's legislation … to open UCT residences to black students and to raise funds to provide financial support for poor and deserving students".
Concluding her lecture, Walaza said, "There is no doubt … that [Dr] Saunders took the helm at a very trying time in the history of our country and this institution, and did his best to accomplish his vision for an inclusive, welcoming and non-racial university.
"It was a wonderful contribution at a time that was very critical," she said.
---
This work is licensed under a Creative Commons Attribution-NoDerivatives 4.0 International License.
Please view the republishing articles page for more information.
---