University of Cape Town (UCT) master's student Cwenga Koyana recently returned from the UNESCO and Women@Dior Global Conference in Paris, where she was a guest speaker. She was reporting back on the progress that her non-profit company (NPC) has made since winning this mentoring and educational programme's Dream for Change competition in March 2022.
Graduating with her BA (Hons) in Film and Television Studies on 29 March, the creative entrepreneur and aspiring philanthropist is currently enrolled for her MPhil in Digital Curation at UCT.
"[I] envision the enhancement of the South African entertainment industry, and the empowerment of teen mothers in Africa through the power of education," she noted.
Her passion for her causes is palpable.
"I intend to use my qualifications to strategically design digital creative and educational platforms that aim to uplift young women, artists and the youth of Africa."
"I am a faith-centred, family-oriented, and values-driven leader with a deep love for humanity."
Hailing from Johannesburg with her origins in the Eastern Cape, Cwenga's passion is leading her non-profit company Talitha Together.
"I am a faith-centred, family-oriented, and values-driven leader with a deep love for humanity. My parents, who are both entrepreneurs, have given me the vision to lead and the values to succeed in whatever I do," she said.
"My grandparents taught me to value quality education, and they gave me a sense of responsibility to serve others; to care and uplift the less privileged."
Her grandmother also instilled a love of fashion in young Cwenga, having worked in the fashion industry and headed a boutique for more than three decades – tying in neatly with couture house Dior's commitment to the empowerment of young women through the UNESCO mentoring and educational programme.
When Cwenga learned about the programme five months after her gran's passing, she saw it as "the culmination of my destiny with my late grandmother's legacy".
Dream for change
Cwenga's involvement with the Dream for Change project started when she became a Women@Dior mentee (class of 2021/2022). She represented her team by pitching their initiative, which won the Dream for Change award at last year's global conference. No small feat: Cwenga not only represented UCT among the 500 global female university student cohort, she was also the only African woman in the top six finalists representing South Africa and the continent.
"[The project presentations are] a celebration of Dior's mentees' Dream for Change project finalists, who are the selected top teams that pitch their social-impact projects; projects that aim to empower young women and build sustainable futures," Cwenga said.
"The conference hosts the Women@Dior mentees, mentors, guest speakers, and a prestigious jury who adjudicate the Dream for Change projects. This unique gathering is held at the UNESCO headquarters in Paris, France, and this year it took place on International Women's Day on 8 March."
The development of a project is the practical component of the programme, in which mentees are tasked with creating social-impact initiatives that support the empowerment and emancipation of young girls and women in their local communities.
"It entails four to five mentees in each team, and over 70 projects enter the Dream for Change competition. Only five or six projects get selected to be in the final stage of the competition. These teams then get the opportunity to present their projects at the conference," she explained. The winning team is then able to implement and scale their project with support from Dior and UNESCO.
Responding to the rise in teenage pregnancy
With the reality of teenage pregnancies across Africa being astounding, there could have been no better time to pitch their initiative and raise awareness around their project.
Reportedly, more than 600 nine- and 10-year-old girls gave birth in South Africa in 2020 – a shocking statistic, and one that prompted Cwenga and her team to begin conceptualising Talitha Together.
She explained: "In Gauteng alone, 23 000 girls under the age of 18 gave birth between April 2020 and March 2021. More recently, it was reported that in South Africa, 90 037 girls aged 10 to 19 years gave birth from March 2021 to April 2022. Of these, 42 were births to mothers between the ages of 11 and 12. Talitha Together was formed in response to the rise of teen pregnancy in southern African countries, which was exacerbated by the COVID-19 pandemic."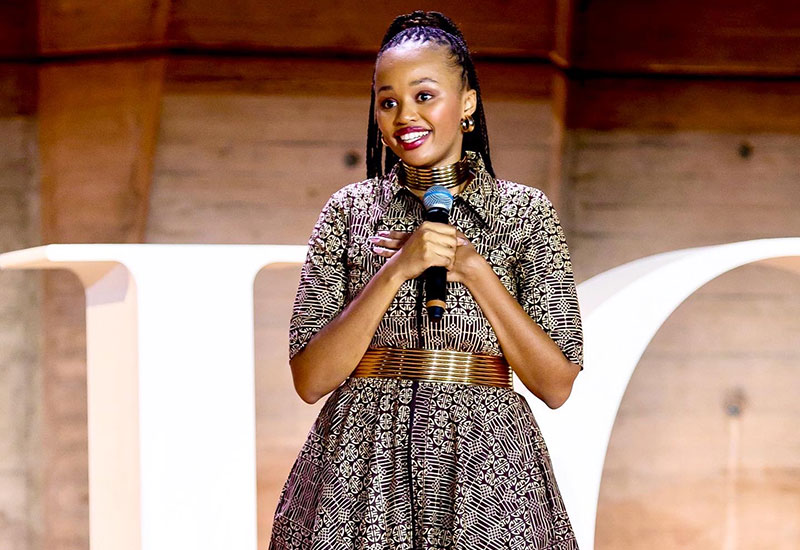 Although none of their design team are teen mothers, Cwenga noted, they all know what it is like to be a teenage girl and understand the stress and pressures that come with it.
"Our hearts broke at the reality and realisation of too many children giving birth to children in Africa and we decided to do something about it," she said. "Teen pregnancy is a scourge in our continent and country, and we desperately need to establish means of rectification and redesign of what is socially acceptable among the youth of Africa. Early this year we managed to do a few teen pregnancy prevention talks at schools and clinics to try to combat the rise in adolescent pregnancy in Southern Africa.
"As Talitha Together, we value education so it is our aim to motivate the pregnant teens to continue studying and not let the pregnancy stop them from accomplishing their dreams and career goals."
Increasing footprint
With a goal of increasing the NPC's footprint in Africa, the team plans to scale their work to other countries on the continent, to reach and support the thousands of pregnant girls who are caught in the plight of teenage pregnancy.
"We plan on doing this through collaborating with various organisations and entities that are already established in those countries to adopt the cause and implement our model in order to empower their teen mothers that they may rise above the challenges of adolescent parenting," Cwenga said.
"It is our collective duty to change the narrative by promoting sorority and celebrating the value of women."
"We need people and organisations globally and locally to invest in the development of young Africans – both girls and boys – especially since Africa is the continent with the youngest population."
To get involved, she noted, people can spread awareness about the cause and Talitha Together.
"They can help with collecting and donating baby toiletries, baby clothes, baby toys as well as toiletries and maternity clothes for the teen mothers. We accept both monetary and resource donations and our banking details and drop-off locations are stated on our social media pages, @talithatogether, on Instagram and LinkedIn. We are on Community Hours SA for those who wish to volunteer at Talitha Together."
Some sage advice
For this inspirational graduate, it is imperative to keep one's dream alive.
"My advice is never give up on the dream – this world depends on it. You have a singular and unique vision and the power within you to fulfil it. Stay passionate about the cause and with your heart always focused on the people your project is trying to help. Always remember that it's teamwork that makes the dream work. Collaboration is the new innovation. It is our collective duty to change the narrative by promoting sorority and celebrating the value of women," she said.
---
This work is licensed under a Creative Commons Attribution-NoDerivatives 4.0 International License.
Please view the republishing articles page for more information.
---