Getting across the line in only four years – and during a pandemic – takes a form of tenacity that's been well worked in PhD graduand Caitlin Courtney. In the acknowledgements that preface her highly praised thesis on a novel human urine treatment to make liquid fertiliser, Caitlin names many whose support lit her way. And among them is a dog called Ralph.
Caitlin will graduate from the Department of Civil Engineering on 31 March. Her dissertation describes a novel urine treatment and concentration process for liquid fertiliser production. It brings together the results of five published, peer-reviewed journal papers, each describing the efficacy, energy requirements and economics of different treatment processes.
Required reading
Her trailblazing study also makes a valuable contribution to the growing field of urine treatment and resource recovery in the world's burgeoning circular economy, where waste is recycled and completely reintegrated back into the economy.
"If there is an opportunity for Ms Caitlin to receive an award for the quality of her dissertation, I would wholeheartedly support such a nomination."
One reviewer has high praise for her work. Her summary of Caitlin's thesis noted, "I enjoyed reading this piece of outstanding scholarly work, and the outputs from it are required reading for my own students.
"If there is an opportunity for Ms Courtney to receive an award for the quality of her dissertation, I would wholeheartedly support such a nomination. As noted, the impact of her work is global and goes well beyond the UCT lab where her work was conducted."
Her supervisor, associate professor in water quality engineering in the Department of Civil Engineering and the Future Water Institute, Dr Dyllon Randall, is over the moon. Caitlin is his first PhD student.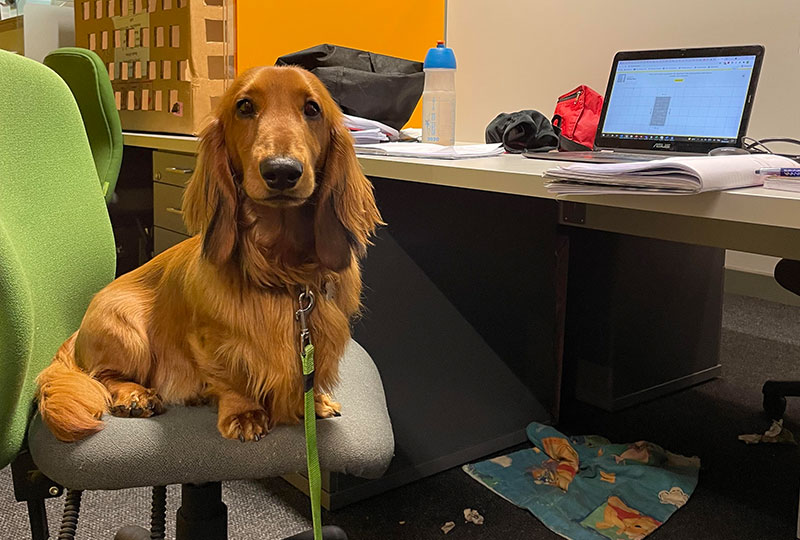 About-turn
Swapping out a career for postgraduate studies had never been part of Caitlin's plan. As a newly minted UCT chemical engineering graduate (with a full suite of distinctions) in 2015 she had landed a job in wastewater management, an area she is passionate about. But career advancement at the company lay in the sales arena.
"And I'm not a salesperson," she said.
Options were surprisingly few. But there was a lightbulb moment. She could go back to university. Cailtin was looking for a suitable master's project in wastewater treatment at UCT when Dr Randall's name came up. She emailed him on the off chance he'd take her on as a supervisor. Afterwards, realising the possibilities of her project, Randall persuaded Caitlin to upgrade to a PhD.
Much ado about pee-cycling
Human urine has long been treated as a waste product, but it's rich in nitrogen in the form of urea, which is an ideal fertiliser. But millions of litres are flushed away using drinking water.
Randall has been working in this area for some years, first as part of the sustainable sanitation project, "Reinvent the Toilet Challenge" at Eawag in Switzerland, which is funded by the Bill and Melinda Gates Foundation. He and his UCT postgraduate students have produced numerous award-winning projects over the years to re-engineer wastewater and sanitation systems and make urine part of the circular economy.
Five papers
Over the past 20 years, much work has been done to integrate and normalise urine as a resource. But urine treatment processes have proved tricky, and success lies in finding treatment methods that facilitate efficient resource (nutrient) recovery from urine.
"This is because urine is 97% water, making the logistics of using urine as a fertiliser challenging. In addition, without treatment, the major nitrogen source in urine (urea) breaks down to ammonia and is lost to the atmosphere," Caitlin explained.
Her thesis investigated the technical feasibility of using different membrane and freezing techniques to concentrate the urine and recover these nutrients. Her work assessed different stabilisation methods to prevent urea breakdown, urine pre-treatment techniques, and process configurations to produce fertiliser products with different compositions.
First, Caitlin investigated reverse osmosis (RO) to concentrate the pre-treated urine. This is the same technology used to desalinate sea water. This technique achieved 60% water removal while retaining 85.5% of the urea in the product stream. The water removal using RO has since increased to 70%.
Second, she tested a hybrid nanofiltration and RO process to remove pharmaceuticals from the urine and produce a purer urea stream. With this method, up to 99% of the pharmaceuticals tested can be removed. She showed that the urea purity can be increased to 89%, but that only 32% of the urea is recovered.
Her third investigation was a first when she investigated and confirmed experimentals that eutectic freeze crystallisation (EFC) could be used to further concentrate human urine while simultaneously precipitating undesirable salts. These could then be filtered and removed.
Results showed that 95% of the water can be removed. This is also the same technology (EFC) that Randall investigated in his PhD, but to treat mining wastewater.
Finally, Caitlin looked at the energy and economics of this process and showed that RO and a hybrid RO–EFC process could use substantially less energy than the other urine treatment methods.
Careful science
In her comments, the PhD examiner added, "Many people are working on technologies and trying to move them into the field. In previous attempts a few decades ago, implementations were attempted without conducting the careful science ahead of implementation and the subsequent failures based on limited scientific enquiry."
"Ms Courtney's dissertation uses sound and thoughtful scientific enquiry to lay the groundwork for experiments that she then conducted and reports on."
She added, "Ms Courtney's dissertation uses sound and thoughtful scientific enquiry to lay the groundwork for experiments that she then conducted and reports on. This reflects a responsible and impactful dissertation that is advancing the world's understanding of viable technological solutions to the practice of producing urine-based fertilisers as a sustainable alternative to resource recovery and environmental protection.
Caitlin's research contributed to five peer-reviewed articles published in high-impact journals. Her work is also core to UCT's Future Water Institute's (Randall and Caitlin are both members) commercialisation activities with regards to the urine treatment processes in development.
A real surprise from Caitlin's research, said Randall, was finding commercial liquid fertilisers in a nearby plant nursery that matched the composition of all the fertilisers they make from urine.
"The sale price varies from approximately R100/L to R480/L, with a strong linear dependence on nitrogen content," he said. "That's a lot of potential profit from urine, something we flush away every day, and with drinking water."
Thanks, and puppy love
Caitlin has high praise for her supervisor.
"I couldn't have asked for a more passionate and invested supervisor."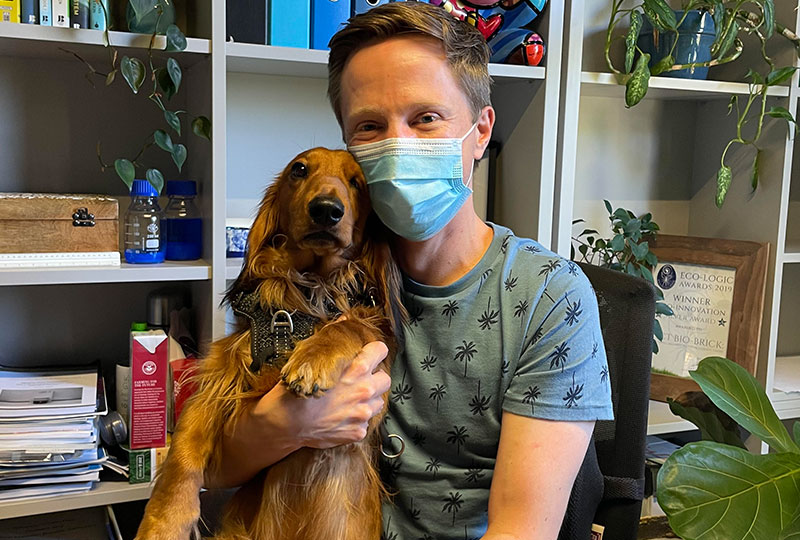 In turn, Randall has applauded Caitlin's tenacity, which came to the fore during the COVID-19 lockdown. It took a year for her essential equipment to arrive, and she faced almost six months of laboratory closures.
But in between Ralph, her faithful companion, was at her feet, asleep under the desk, or curled up beside her computer. Sneaked onto an almost empty campus (few were allowed into laboratories to continue essential work), Ralph also became the puppy darling of her co-postgraduate researchers.
Caitlin is now a newbie lecturer, on contract to the Department of Chemical Engineering, where she was once a student. She is planning to apply for research grant funding to support her own research in an allied area in the future.
"I am a strong independent woman in STEM because you told me I could be".
"I have been bitten by the research bug. I have the research brain. This is where I want to be," Caitlin said.
With graduation to look forward to, she will be welcoming her parents from KwaZulu-Natal as special guests. In her PhD acknowledgements she writes, "I am a strong independent woman in STEM because you told me I could be".
Of course, Caitlin would love for her partner, Niel (who for research purposes permitted her to keep a urinal in their flat during COVID-19 lockdown), and Ralph to attend too. But he is not a guide dog, and she only has two tickets.
However, for his unflagging support Ralph has been awarded high honours. Acknowledging his contributions, Caitlin writes: "Ralph, you can't read this because you're a dog, but thank you for all the cuddles and for helping me through all the tough times. For taking me on walks when I was stressed and always providing a little serotonin boost by just existing. You deserve an honorary PhD in my eyes."
---
This work is licensed under a Creative Commons Attribution-NoDerivatives 4.0 International License.
Please view the republishing articles page for more information.
---