Innovation, whether reflected in technology, design or systems, is the lifeblood of the health sciences; and at UCT it's being harnessed to suit conditions in developing countries, where 'simple' and 'affordable' are watchwords. We take a look at several projects – many the result of cross-faculty collaborations.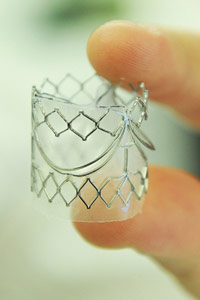 1. Heart valves
Several initiatives tackle the high rates of heart disease in the country and in the rest of Africa. Strait Access Technologies (SAT), another UCT spin-off company, develops and manufacturers cardiac-related medical devices that address the needs of 75 million rheumatic heart disease patients worldwide. The company's big coup is a delivery device that implants heart valves without complicated surgery or high-tech operating theatres with advanced imaging systems and surgical teams. SAT has also developed a plastic heart valve for younger patients, designed to last longer than current valves, which are made from animal tissue. Part of the SAT platform is also an 'easy to deploy' system for the repair of the inflow valve into the heart – the most affected heart valve in children and adolescents. Leading the team is Prof Peter Zilla, head of the Department of Cardiothoracic Surgery, with polymer scientist Prof Deon Bezuidenhout and Prof David Williams, a world expert in biomaterials and implantable medical devices.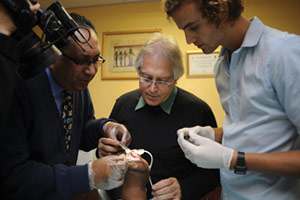 2. Titanium bones
Mechanical engineer Dr George Vicatos has married engineering know-how and a life-long interest in the medical field to design titanium-alloy bone and joint implants and prostheses, changing the lives of over 500 patients at home and abroad. This technology can salvage a damaged or diseased limb, and avoid the need for amputation. Recently, Vicatos and his team of Dr Rushdi Hendricks and student James Boonzaier made another surgical breakthrough in a tricky area: the upper jaw (maxilla). The Maxillofacial Distractor is a semi-circular structure with a moveable carrier that allows patients who are missing large parts of the upper jaw to regrow their own soft tissue and bone, from gums to palates. "Because locally designed and produced products cost far less than imported equivalents and are delivered faster to the surgeons, and hence to the patients, the lower cost is passed on directly to the patient. They're also more affordable to medical aids," says Vicatos.
3. Smart glove for leprosy patients
Indigenous technology developed partly at UCT is helping leprosy patients in India, where a new 'tactile' or 'smart' glove is being tested. The glove, built with a revolutionary fabric with embedded sensors that help patients avoid hand injuries caused by sensory loss due to nerve damage (for example, picking up a hot pot without realising how hot it is), was developed by Dr Sudesh Sivarasu, a biomedical engineer in the Department of Human Biology. The technology tracks pressure points on the palms and fingers and is being tested at the Leprosy Mission Hospital in New Delhi. The idea is to make technology more affordable, says Sivarasu. In South Africa, where 90 to 95% of medical equipment is imported with up to 300% mark-up, the high cost is passed on to patients. He and his team of postgraduate students have created several innovative, inexpensive solutions to common medical problems, such as locally designed drip lines to replace the imported models used in medical facilities.
4. Hand exoskeleton for stroke patients
Locally designed medical devices have the potential to revolutionise the lives of many, in the aftermath of illness and accident. For example, a 'hand exoskeleton' developed by biomedical engineer Yasheen Brijal and the Department of Human Biology's Dr Lester John and Dr Sudesh Sivarasu can help stroke patients write again. A low-cost stroke-rehabilitation device, reScribe fits over the patient's hand and guides their movement as they trace an image on a computer with a stylus. The technology is complementary to John's development of non-invasive deep-muscle electromyography. Using surface electrodes, electromyography 'reads' a muscle's responses to electrical stimuli via the nerves.
5. Pinpointing brain tumours
Last year a new colour-coded brain tumour operating technique was introduced at Groote Schuur Hospital, using 5-ALA, a drug administered before surgery. This drug is preferentially taken up by brain tumours, which literally light up under the operating microscope, helping neurosurgeons pinpoint a tumour's exact location. Pioneering neurosurgeon Dr Sally Röthemeyer of UCT's Division of Neurosurgery conducted the six-hour operation on a 52-year old patient, while the division is headed by Professor Graham Fieggen, who in 2009 received a medical doctorate for his work on the innovation known as the Cape Town Stereotactic Pointer (CTSP). Importantly, the CTSP provides a cost-effective alternative for neurosurgeons working in under-resourced settings. Fieggen says developments in CT scanning and MRI have led to an exponential growth in applications. The CTSP itself involves four steps: suturing a 'halo' to the patient's scalp, and then scanning the patient and calculating 3D co-ordinates that guide surgeons in setting the device. The system was patented by the Medical Research Council and has sold around the world.
6. App for cognitive disorders
The Department of Psychiatry and Mental Health's Prof John Joska's Cognitive Assessment Tool-Rapid Version (CAT-rapid) is a quick, easy-to-use smartphone application to assist the clinical assessment of cognitive disorders in busy clinical settings, and particularly those where there are limited resources. The app was written for Android, and can be used in multiple healthcare settings to screen for a range of neurocognitive impairment. The patient is taken through a number of tests using the interactive touch screen, and an assessment is automatically generated for the healthcare practitioner. A wide range of brain disorders, such as Alzheimer's disease, HIV-associated neurocognitive disorder, and traumatic brain injury can be diagnosed in this way. The app includes a link to a YouTube demonstration of the screener.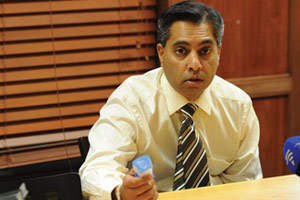 7. Rapid TB testing
Pioneering pulmonologist Professor Keertan Dheda developed a test for TB outside the lung (lining of the lung, heart and other organs, also called extra-pulmonary TB). Conventional TB tests (such as GeneXpert) work poorly for this type of TB, which is common in Africa. The same-day test is being commercialised by a UCT-co-owned spin-off company, Antrum Biotech, while a user-friendly bedside version of the test is also being developed. Dheda also led a team whose findings, published in The Lancet, showed that placing new rapid TB diagnostic technology (GeneXpert) in a clinic setting is feasible when the testing is performed by a nurse – making roll-out of this test feasible in TB hot-spots and resource-poor settings. This approach has led to rapid diagnosis of drug-resistant TB, with more patients being placed on treatment. As easily treatable TB strains are being superseded by highly drug-resistant strains, Dheda and his co-workers are also working to find a user-friendly test to identify the 'super-spreaders' of drug-resistant TB.
8. Early warning system
Dr Una Kyriacos' modified early warning score (MEWS) system for adult patients, incorporating a reporting algorithm, has had a significant impact on nurses' recognition and recording of deterioration in their patients. This early warning system is a useful adjunct to the clinical skill of observation, standardising early warning signs. Patients are scored on the chart according to basic physiological signs: respiratory and heart rates, oxygen saturation, systolic blood pressure, temperature and level of consciousness. Kyriacos' observation chart incorporates existing UK MEWS, and uniquely, unscored clinical signs. MEWS has now been adopted by the Western Cape Department of Health for bedside monitoring on general wards at public hospitals from 2015. Kyriacos' research has also inspired medical manufacturer Welch Allyn to incorporate a colour-coded early warning score protocol in their Respiratory Monitoring and Electronic Vital Signs Documentation System, and to add the UCT MEWS system to their Vital Signs Monitor for demonstration purposes.
9. E-health mobile technology
In 2004, when civil engineer Associate Professor Ulrike Rivett, together with colleagues Professor Jon Tapson (electrical engineering, UCT) and Dr Jevon Davies (electrical engineering, CPUT), conceived Cell-Life – an e-health mobile technology development – it addressed one of the country's biggest medical challenges: monitoring patient adherence to antiretroviral treatment, and managing stocks of ARVs at clinics and pharmacies. Over the past decade, Cell-Life (now an NGO) has rolled out their in-house pharmacy management platform, 'intelligent Dispensing of Antiretroviral Treatment', or iDART, to a number of sites in South Africa and the rest of the continent. Users in 112 countries have downloaded the platform, which operates as a stock- and patient-management system. Pharmacists and clinicians are able to monitor the drug supply chain and record when patients collect their medication, as well as noting any changes to their prescriptions.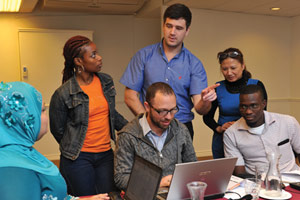 10. Electronic health registers
Tier.Net is an electronic register that allows the rapid digitisation of paper registers and further prospective electronic capture for patients on HIV and TB treatment. Developed by the School of Public Health and Family Medicine's Centre for Infectious Disease Epidemiology and Research (CIDER), Tier.Net was built to be able to export to and import from eKapa, an electronic health record for primary care, initially built for HIV/TB care and now being adapted for general primary care, including chronic diseases and all primary care visits. (eKapa is a joint initiative between UCT CIDER, the Western Cape Government and Médicins Sans Frontières). A three-tier monitoring system (using paper, Tier.Net and eKapa) has been adopted for HIV and TB services by the national Department of Health, which requires a centralised national database for monitoring the progress and temporal trends of the two epidemics. Tier.Net is currently being used by over 3 000 health facilities across South Africa and in several projects in Zimbabwe, Mozambique, Guinea, Malawi, Democratic Republic of Congo, Sudan, Pakistan and Yemen.
11. Real-time poison information
Once described as UCT's most successful social responsiveness project, the Poison Information Centre (PIC) at Red Cross War Memorial Children's Hospital recently launched a new internet-enabled platform that makes the most comprehensive poison databank on the continent, AfriTox, available to a broad community of medical practitioners. With over 40 000 records and accessible via mobile device, AfriTox is used in over 40 centres in South Africa as well as in Botswana, Zimbabwe, Mozambique, Kenya and Nigeria. In a new development, patient information is now available immediately, thanks to a program designed to record telephonic information and generate reports in real time, as well as immediate statistics. The program's developer is alumnus Dr Selig Leyser, who also paid for a part of the program that needed a commercial licence and covered the costs of converting it from the Apple operating system to Windows.The program has been branded AfriTox TeleLog. "It's a Rolls Royce program," said PIC director Dr Clare Roberts.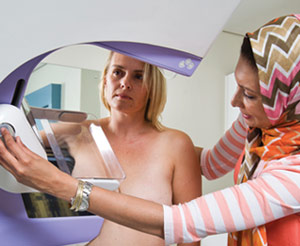 12. Digital mammography
Technology developed by Dr Kit Vaughan and his team in the Department of Human Biology five years ago has come to fruition in the form of the PantoScanner, an advanced mammography platform that combines ultrasound and low-dose X-rays to improve the detection of breast cancer. The innovative device has been developed by UCT spin-off company CapeRay, with Vaughan at the helm.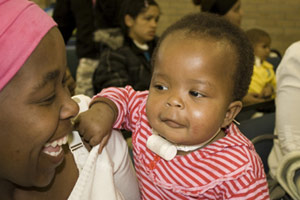 13. Home care for children with tracheostomies
Breatheasy was pioneered by Sister Jane Booth, Professor Louis Reynolds, Professor Max Klein and social worker Sheila Berger at the Red Cross War Memorial Children's Hospital, beginning in 1989. It is a unique and innovative home-care programme for children with tracheostomies and on ventilators (that is, they are technology-dependent). The programme trains mothers and caregivers to take care of their children despite many of them coming from conditions of poverty, where there is no readily available support system. Over more than 25 years, 700 technology-dependent children have been able to return home to their families and communities, rather than remain in hospital indefinitely. Although this has saved over 32 500 hospital days, the real saving has been in the social and psychological effects of long-term hospitalisation on the children and families, says Booth. The programme has been replicated at other institutions, and has also guided research and contributed to curricula content for clinicians and specialist nurses.
Compiled by Helen Swingler. Photos by Michael Hammond.
---
This work is licensed under a Creative Commons Attribution-NoDerivatives 4.0 International License.
Please view the republishing articles page for more information.
---