Africa is hardest hit by the worldwide shortage of healthcare workers, with only three percent of the world's healthcare workers tending to 24% of the global disease burden. In order to bridge the skills divide, UCT's Faculty of Health Sciences offers programmes aimed at African students who want to use the expertise gained here to make a difference in their home countries. These are some of their stories.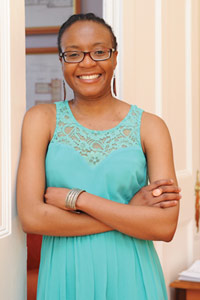 Theresia Shivera-Anton
MMed (Anaesthesiology)
Upon her return to Namibia, she plans to initiate a programme for anaesthetic nurses in every hospital anaesthetic services.
Theresia Shivera-Anton, who is in the process of completing a Master of Medicine in Anaesthesiology, describes herself as "patriotic from a young age".
"When I first came to study medicine [at UCT] my intention was to return home and serve the Namibian people. Now, as a postgraduate student, that has not changed," she says.
Namibia currently has only 10 registered anaesthetists, most of whom work in the private sector. There is hope, though, with the Namibian Ministry of Health and Social Services' strategic framework outlining plans to have 750 medical undergraduates, 100 postgraduates and 22 medical specialists trained by 2017.
Shivera-Anton has a passion for teaching, and sees herself passing on the knowledge and skills she's acquired at UCT to the next generation of Namibian medical professionals: "Namibia has its own medical school (almost five years old), filled with young, enthusiastic minds that need to be nurtured."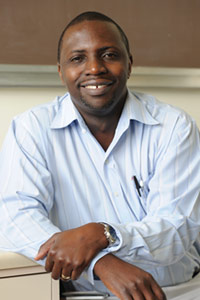 Chishala Chishala
Internal Medicine Fellow
A relative suggested that he do his postgraduate studies at UCT, and that, together with the prospect of using the skills acquired through his studies to find work in the developed world, persuaded him to apply for a training post at Groote Schuur Hospital.
However, Chishala Chishala has every intention of returning to Zambia, his home country, to practise medicine "in the way I have learnt it here". Chishala completed a four-year fellowship in internal medicine at UCT, following a Bachelor of Medicine and a surgery degree from the University of Zambia.
The best aspect of training at UCT is the access to many specialists in various fields, Chishala says. "The lack of specialists at home means that doctors have to learn from textbooks." He also appreciates the "availability of quality laboratory, radiology and other support services", and says that "the very heavy burden of disease in Cape Town" provides a wealth of learning opportunities.
The situation in Zambia is very different. There are very few specialists – Chishala estimates that fewer than 10 Zambians are currently in South Africa pursuing sub-speciality training, and he is also not aware of any efforts by the Zambian government to encourage medical professionals to specialise.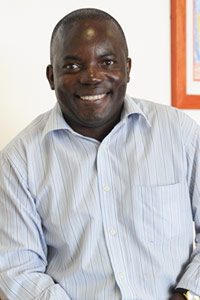 George Chagaluka
MPhil (Paediatric Oncology)
A holistic approach to childhood cancer is at the top of things this specialist in paediatric oncology plans to implement when he goes back to Malawi.
George Chagaluka, who completed his MPhil in Paediatric Oncology at UCT, believes the multi-disciplinary care he witnessed during his time at the Red Cross War Memorial Children's Hospital is something Malawian children could benefit from. "There is a dire need for good networking among professionals such as surgeons, pharmacists, radiotherapists and social workers," he says.
According to Chagaluka, Malawi forms part of the belt of African states where Burkitt lymphoma – childhood cancer associated with malaria, Epstein-Barr virus and HIV – can be considered endemic.
"Lately, there has been a remarkable increase in the number of cases [of this disease]. The increase has come about for two reasons: more medical graduates have an improved knowledge of childhood cancer; and the high immunisation coverage has reduced the burden of infectious diseases, and therefore, diagnostic efforts are channelled to non-infectious diseases such as cancer. This has led to a growing need for paediatric oncologists," he says.
Chagaluka is currently the only paediatric oncologist in Malawi, but he hopes to identify other paediatricians who can undergo oncology training, as well as set up a "training programme in Malawi" with others in his field.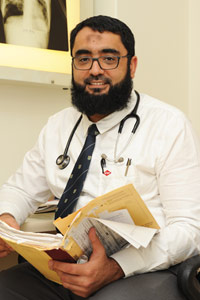 Haitem Elasir
Internal Medicine Fellow
Haitem Elasir is excited by the thought of applying the principles of clinical medicine, which he learnt when he specialised in internal medicine at UCT, when he goes back to Libya.
"Unfortunately, Libyan doctors are currently geared towards the American school of medicine, which depends almost exclusively on technology for a diagnosis. Libyan students are not taught how to conduct a relevant (physical) examination, and to look for signs that together with the patient history can produce a diagnosis without the need for expensive tests," he says.
Elasir has his sights set on building a new generation of Libyan doctors: "They will use patient history, a proper physical examination, and simple bedside tests to make a diagnosis – thus building confidence with the patient, by spending more time with them and answering any queries they might have."
Elasir starts as a senior registrar in rheumatology in November. He only knows of three rheumatologists currently practising in Libya. "I want to establish an arthritis clinic and ultimately hope to establish a Libyan Board of Rheumatological Diseases," he says.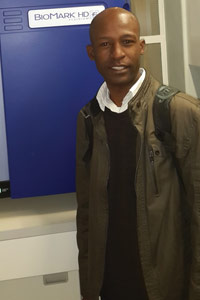 Fredrick Lutwama
Immunologist
Fredrick Lutwama is transferring laboratory techniques learnt at UCT to his home institution – Makerere University in Uganda.
Lutwama completed his postgraduate studies in clinical sciences and immunology at the South African Tuberculosis Vaccine Initiative (SATVI). What impressed him most was the "advanced laboratory facilities and greater technical capacity" he encountered in South Africa. "I valued the support from high-quality postdoctoral fellows and faculty members, and appreciated the greater efficiency of systems right from the registration process through to ICT support and supervision," he adds.
He is optimistic about immunology in Uganda, saying that although there are very few immunologists in the country, a new department of immunology will soon be established to train more postgraduate students in this important field.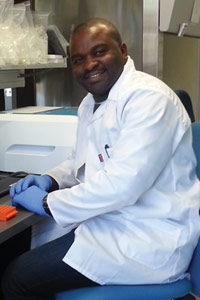 Muki Shey
Immunologist
His solution for the dearth of adequate research facilities and resources in Cameroon's health sector is a research action plan with "clearly defined evidence-informed research priorities that speak to the major health challenges of the country's population".
Muki Shey studied immunology and infectious disease at UCT before completing a postdoctoral fellowship centred on HIV/AIDS through the Centre for the AIDS Programme of Research in South Africa (CAPRISA) in KwaZulu-Natal.
According to Shey, whose brother is a professor at Stellenbosch University's Department of Interdisciplinary Health Sciences, South African and Cameroonian students experience similar learning conditions, but the research facilities in his home country are not at the desired levels.
The research action plan he envisions should contain "strategies for advancing the research agenda; and a sound monitoring and evaluation framework. All relevant stakeholders, including Cameroonian researchers based outside the country, should be involved at all stages of the plan, including securing funding for the plan through grants and other sources. This would help reduce the so-called 'brain drain', and encourage 'brain circulation' instead," he maintains.
Shey believes many of his compatriots have specialised in his field, but most of them work outside of Cameroon because of lack of adequate research facilities – an issue that is on the government's agenda, but which needs to be addressed in a more coordinated way.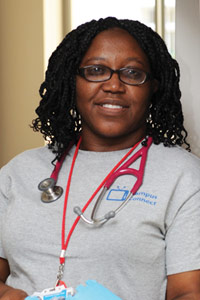 Gina Oladokun
MPhil (Paediatric Infectious Disease)
What makes studying at UCT stand out for Gina Oladokun is exposure to the appropriate identification and diagnosis of conditions related to paediatric infectious disease – about which she would only have read in textbooks in Nigeria.
Oladokun, a fellow of the African Paediatric Fellowship Programme, is in the process of completing an MPhil in Paediatric Infectious Disease.
She has already identified activities of the Paediatric Infectious Disease (PID) unit and the Department of Paediatrics that she would like to implement when she returns home. "I could see the annual research day of the Department of Paediatrics being replicated in our Faculty of Clinical Sciences at the University of Ibadan. The antibiotic stewardship and infection control activities in the PID unit can also easily be translated to our unit at home," she says.
Paediatric infectious disease is a relatively new sub-speciality in Nigeria; however, a Nigerian Society for Paediatric Infectious Disease has been established and is tasked with streamlining and standardising practice in the country. To Oladokun's knowledge, the West African College of Physicians also has plans "to commence sub-speciality training" in the region.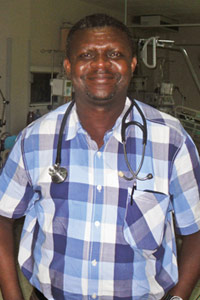 John Adabie Appiah
Paediatric Critical Care Specialist
He is the only paediatric critical care specialist in Ghana, having completed this training through UCT's successful African Paediatric Fellowship Programme (APFP).
John Adabie Appiah currently works at the Komfo Anokye Teaching Hospital in Kumasi, a city northwest of Accra, the capital. His dream is to establish a critical-care nursing programme in Ghana.
He found the learning conditions in Cape Town "practical and very patient-oriented – quite holistic", and praises UCT for its efforts to empower African students. "I feel more needs to be done to assist the continent. The support could be extended through establishing similar training centres in other regions in Africa," he suggests.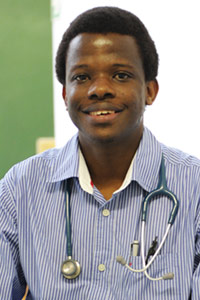 Thabani Thatha
MMed (General Paediatrics)
Zimbabwe has only 30 general paediatricians for a population of over 13 million. Bulawayo has three paediatricians serving some 1 million people – with two of the three nearing retirement age.
This is what prompted Thabani Thatha to register for an MMed in General Paediatrics at UCT, where he's now a fellow of the African Paediatrics Fellowship Programme, and based at the Red Cross War Memorial Children's Hospital.
Professor Michael Ikeogu, a senior paediatrician at the hospital in Bulawayo where Thatha served as medical officer, alerted him to the existence of the programme and encouraged him to apply.
Compiled by Abigail Calata. Photos by Michael Hammond.
---
This work is licensed under a Creative Commons Attribution-NoDerivatives 4.0 International License.
Please view the republishing articles page for more information.
---