The University of Cape Town's (UCT) Office of Inclusivity & Change (OIC) hosted the inaugural session of the "Transformation: A Humanising Praxis Think Tank Series" at the Hasso Plattner School of Design Thinking (d-school) Afrika on 18 July. The event explored the need to challenge oppressive systems and decolonise knowledge to realise human dignity.
In her opening address, Deputy Vice-Chancellor: Transformation, Student Affairs and Social Responsiveness Professor Elelwani Ramugondo outlined the motivation behind the theme as well as the unique opportunities that spaces like think tanks bring to academia.
"Why a 'humanising praxis'? Simply, it is what we do every day – that with our actions we either perpetuate oppression or begin to disrupt it. Some of you will recall that this is at the core of the framework for transformation, and, with these sessions, we have a chance to examine more deeply what is meant by this concept.
"There is less and less thinking space in academia. The focus has turned to doing, chasing outputs and churning out work without much thinking. This has serious implications for the quality of work that we produce.
"If we really look at that carefully, we'll find that a lot of what we call oppression takes from racism, using it as the blueprint."
"So, I am glad that we're able to come together in this generative space to engage in this conscious, reflective process and incorporate occupational consciousness to better understand how we can move towards transformation," she said.
Professor Ramugondo also highlighted the value of considering the programme within the broader context of the institution's work on transformation, particularly with reference to anti-racism.
"It's important that we think of this think tank series as part of the broader work of scholarship on transformation, to which we have another leg, the 'Anti-racism Conversation Series'. It is important to do that because if we really look at that carefully, we'll find that a lot of what we call oppression takes from racism, using it as the blueprint," she explained.
Ramugondo also noted that, to ensure the best outcomes, UCT must ensure that the well-being of people remain at the centre of the pursuit of transformation. In this way, the work being undertaken with the Humanising Praxis Think Tank Series is closely connected with UCT's Vision 2030.
Violence, coloniality and dehumanising practices
Keynote speaker, Dr Benita Moolman, explored the significance of critically examining prevailing ideologies and practices to foster a truly humanising transformation.
She tackled the topic of transformation as a humanising praxis by reflecting on her work around masculinity and sexual and gender-based violence. Specifically, Dr Moolman focused on how violence is rationalised in society, how this stems from coloniality and how certain social practices legitimise this violence.
"Drawing from [Cameroonian historian] Joseph-Achille Mbembe's work, which defines violence as a rationality and as a colonial way of reasoning, there are three forms of violence. Founding violence, which most of us understand as it pertains to Jan van Riebeek in 1652. Of course, decoloniality also picks up on other forms of violence – legitimised authority and social cultural imagery," she said.
"These three forms of violence are also a function of power. So, with founding violence, we often talk about this in terms of conquest, but there's also authority and how authority is misused to legitimise and sanction violence. Then there's the cultural imaginary. That's the idea of thinking through gender, thinking through race, as a form of violence."
Reframing the narrative
Moolman highlighted the need to rethink the assumptions around what it means to be human, as well as what the identities are that we are assigned due to this violent coloniality.
In doing this, she noted, there is an opportunity to overcome the binary or "dichotomous classification system" that is coloniality, the "invented fictions" we accept about humans and humanity, as well as the hierarchical and hegemonic practices that stem from this.
She then raised the question of whether there can truly be a humanising praxis within hierarchical systems, such as educational institutions, when such structures inevitably reproduce hegemony as a result of how all three forms of violence cooperate and function.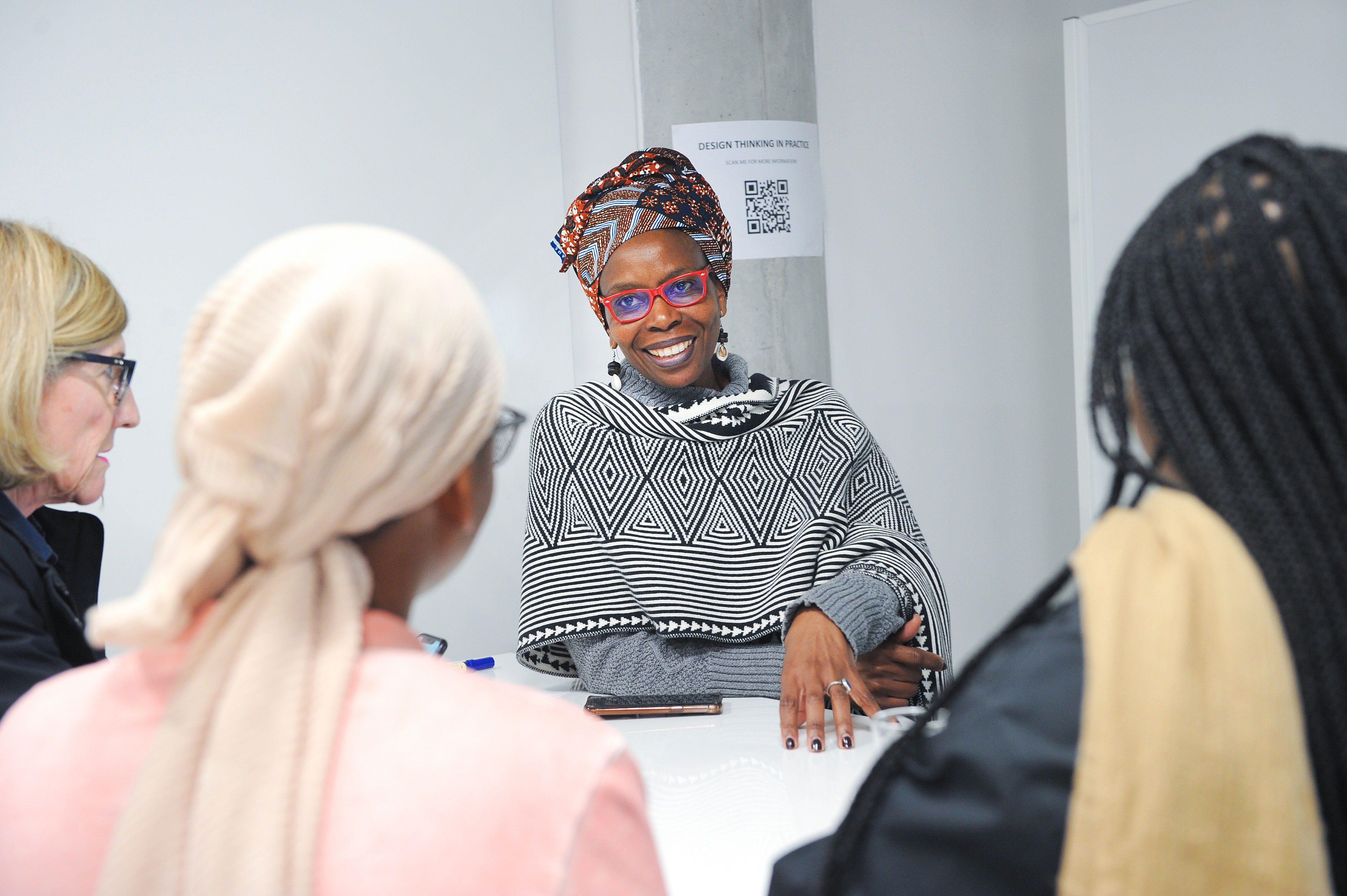 Moolman advocated for eschewing these binary viewpoints and pushing the ideas and assumptions rooted in coloniality aside. This, she explained, opens the opportunity to decolonise the patriarchal system in which we find ourselves and to challenge the narrative of modernity and transformation as revolutionary.
"The narrative that transformation is a narrative of modernity is constantly regenerated through this celebrated idea of newness. So, I am questioning, is transformation, through the human praxis, constituted through the colonial matrix? Is transformation presented as something new, when it actually is just a veiling to think of the colonial modern binary system?" she asked.
Enhancing our own humanity
Picking up on the theme of the binary in social frameworks, the executive director of GenderDynamix, Liberty Matthyse, reflected on the concept of masculinity and how it relates to transgender and gender-diverse individuals within society.
She homed in on how accepted patriarchal norms and constructs lead to the exclusion and marginalisation of – as well as violence against – these individuals. In this context, she noted, there is a necessity to oppose binary frameworks to resolve the challenges faced by transgender and gender-diverse people to create a more just and equitable society.
"I think that it's really about deconstructing binaries as part of the colonial framework that has been sold to us. The existing ideas around the gender binary, the sex binary, the sexuality binary and what bodies matter make it critical for us to engage in integrational training and being able to foreground the particular understanding that all bodies matter.
"All bodies need to be recognised through the lens of equity, because we are all different, in order to bring about a just framework. Particularly, playing on the idea of restorative justice, we need to think about what it means to rebuild and reconstruct, and to enable more people to be who they are.
"Dr Moolman highlighted the concept of ubuntu and how when we see others as human, our own humanity is enhanced. So, how do we start living that in a meaningful way so that we are able to recognise people for who they are, ensure that people are protected for who they are, that people can access what they need in order to live in solidarity and hold each other within society," she reflected.
Bringing society towards a humanizing praxis
Building on Matthyse's contribution, Babalwa Gusha, relations strategies specialist at UCT, discussed the importance of a humanising praxis in addressing gender-based violence. She emphasised the need to challenge gender-binary frameworks as well as to focus on deeply examining one's own perspectives and biases, and understand how these influence our interactions with others.
"For us to promote humanising practices, we must first examine our biases and what informs our perspectives. To what extent have we been exposed to people who are different to us, people who love differently, people who celebrate differently, who mourn differently? And how can one reconcile these in relation to their rights and responsibilities?" she said.
"The level to which transformation can occur, which are the intrapersonal, institutional and cultural level, will really depend on how intentionally one delves into the personal level of transformation."
Introspection, Gusha noted, is necessary to drive a paradigm shift in leadership and bring both institutions and society towards a humanising praxis.
"The level to which transformation can occur, which are the intrapersonal, institutional and cultural level, will really depend on how intentionally one delves into the personal level of transformation.
"Our relationships with others are influences by how evolved and in tune a person is with themselves. Leaders of institutions are better leaders when they understand themselves and their institutions. Self-aware personnel are able to produce work that is impactful, agile and relevant. Moreover, when organisations institutionalise empathy, cultural norms shift, differences are embraced and celebrated.
"So, the humanising praxis starts at the individual level and spills over into institution-wide practice," she explained.
Fostering a transformative and inclusive society for all
Rounding out the commentary on this thought-provoking topic was Dr Frank Kronenberg, whose work around the absence of the concept of humanisation in occupational therapy literature was the impetus for the think tank series.
Dr Kronenberg's research emphasises the importance of humanising practices and understanding how individuals' actions can either perpetuate harmful cycles or promote social cohesion and well-being.
"The focus of the study was not to dwell solely on the obvious negatives surrounding us, but rather to seek positives in a context that seems to emphasise the negative. The case studies provided a glimpse into how individuals, despite living in a dehumanising context, still manage to treat each other in ways that affirm humanity," he explained.
Kronenberg emphasised the necessity, as outlined by Moolman, Matthyse and Gusha, to challenge accepted practices on an individual and institutional level if we wish to create a society that recognises the humanity of all people.
"It is essential to challenge and transform practices that perpetuate harmful cycles of violence, division, and woundedness in the society. Adopting humanising practices can promote salutogenic health, social cohesion, and well-being, fostering a transformative and inclusive society for all," he said.
---
This work is licensed under a Creative Commons Attribution-NoDerivatives 4.0 International License.
Please view the republishing articles page for more information.
---