Applications are now open for The Pitch UCT 2021, which gives University of Cape Town (UCT) budding student entrepreneurs a chance to win R25 000 in seed capital, and business mentorship. The final pitch event is scheduled for September.
The Pitch UCT 2021 is a student-led programme developed by the Academic Representatives' Council in partnership with the Office of the Vice-Chancellor (OVC). It gives students an opportunity to enhance their entrepreneurial skills amid a pandemic, while preparing for a post-pandemic world where these skills will play a critical role towards growing employment.
The final competition will be a live pitching event in a socially distanced setting, which will allow for a judging panel and a limited audience.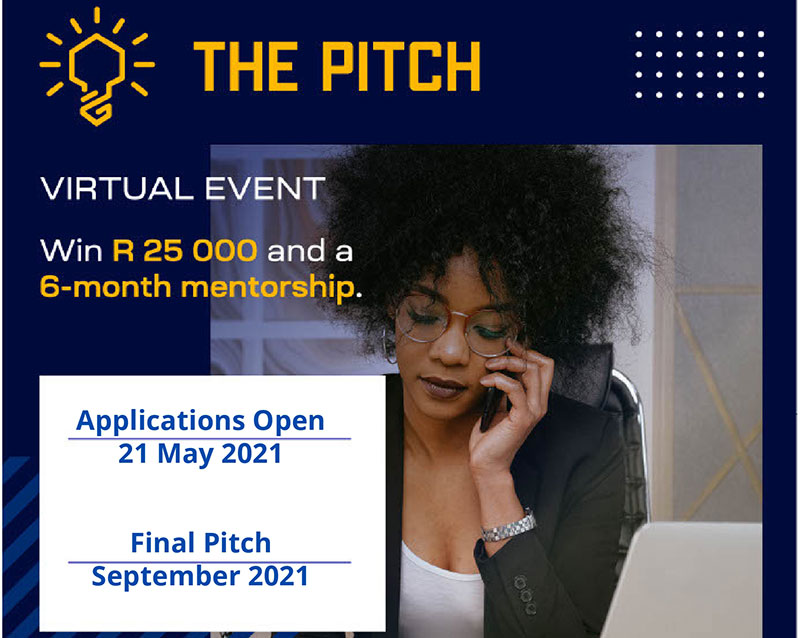 Students who have a business idea or existing start-up that they'd like to take to the next level are welcome to apply. The programme is open to all registered UCT students and will offer participants invaluable entrepreneurial-thinking training from the entrepreneur eco-system. This includes key stakeholders such as the OVC, UCT's Graduate School of Business MTN-Solution Space, UCT's Hasso Plattner School of Design Thinking (d-school), Careers Service, the Department of Student Affairs and the Allan Gray Orbis Foundation (AGOF).
Eligibility criteria
To stand a chance of winning seed funding of up to R25 000 and business mentorship and coaching from experienced players in the industry, students must meet the following eligibility requirements:
The applicant must be a registered UCT student for 2021
Students must pitch a new idea or an existing start-up.
In terms of size and diversity, teams can include more than one member and a woman lead is strongly encouraged.
A series of virtual workshops is being offered to help students grow as young entrepreneurs. Successful applicants will be able to participate in an online Design Thinking workshop and semi-finalists will benefit from a rapid launch online workshop. Finalists will receive business mentorship from the AGOF.
"All I had to do was have the courage to just take that step and enter."
Residence Life governance and programme support coordinator Frank Karigambe, who is the co-creator of the initial The Pitch, said that learning outcomes would play a significant role in realising UCT's Vision 2030, which aims to unleash human potential.
The programme has been structured to contribute towards the expansion of student entrepreneurship and to create sustainable businesses in the future, he said.
Jump right in
"The Pitch was born [because of] the need for students to begin testing the future they envision for themselves, their community and Afrika [spelt with a 'k' to reclaim ownership]," said Karigambe.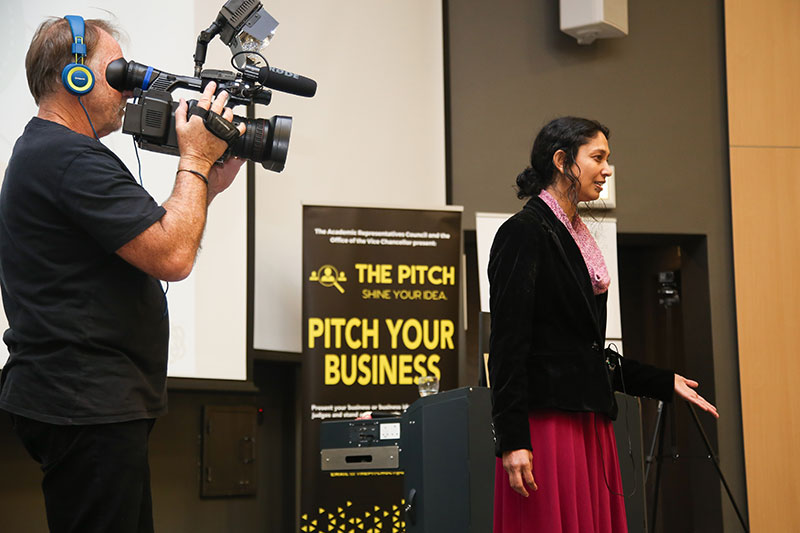 The Pitch 2019 winner Jasantha Singh said that before entering, she had no prior experience in pitching ideas or designing a one-minute elevator pitch.
"The Pitch has been the best experience ever," said Singh. "All I had to do was have the courage to just take that step and enter."
Singh has since rebranded her project as Aurora Natural Skincare and adapted the business to the new COVID-19 reality by creating 70% isopropyl hand sanitiser in a lab.
"I was able to donate close to 10 litres of sanitiser to Naomi's Joy Charity Shop, part of Naomi's Joy House, an NPO based in Fish Hoek, which works with abandoned and orphaned babies," she said.
Aurora Natural Skincare has been endorsed by Beauty Without Cruelty and was recently listed on the Vegan SA website.
Receive the The Pitch UCT 2021 application form.
Queries can be sent to thepitchuct@uct.ac.za.
---
This work is licensed under a Creative Commons Attribution-NoDerivatives 4.0 International License.
Please view the republishing articles page for more information.
---