For student entrepreneur Shruti Dowlath, the winner of the University of Cape Town's (UCT) 2020 Shark Tank, it was a case of sink or swim when she pitched her business idea to a team of "fierce shark" judges.
Dowlath said that nothing could be scarier, not even the real thing – shark cage diving with the ruler of the sea himself. Despite her anxiety, she kept her eye on the prize and went in for the kill, making the event look like a walk in the park.
The UCT Shark Tank is an annual event hosted by the UCT Investment Society in partnership with the UCT Entrepreneurs Society. It aims to expose a large pool of student start-ups to experts and institutions in a range of fields in the hope of growing their businesses.
This year, Dowlath's student networking business, UnifySA, bowled the sharks (judges) over. During round one, she was one of 22 participants who hopped into the shark cage and pitched her idea in just three minutes, in line with the competition's requirements. At the end of round two, beating seven competitors, Dowlath walked away with prizes to the value of R50 000, including a business leadership course, and a branding and legal package to help get her business off the ground.
"Pitching in front of the sharks was scarier than being in an actual shark tank."
"I am convinced that pitching in front of the sharks was scarier than being in an actual shark tank. Months of research was condensed into a three-minute pitch," she said.
"There was no safety net here. It was sink or swim."
Uniting students
UnifySA aims to bridge the gap between student entrepreneurs at the university by pairing like-minded students who have common business interests.
The final-year BCom student said that her business allows student entrepreneurs to list the desired skill set that they look for in a business partner. The platform then connects the two.
"My hope is that this idea will promote student entrepreneurship through collaboration."
Dowlath said that universities are the "breeding grounds" for innovative business concepts, but students often let them slip through the cracks because they seldom have a team equipped with the right skills to execute the idea.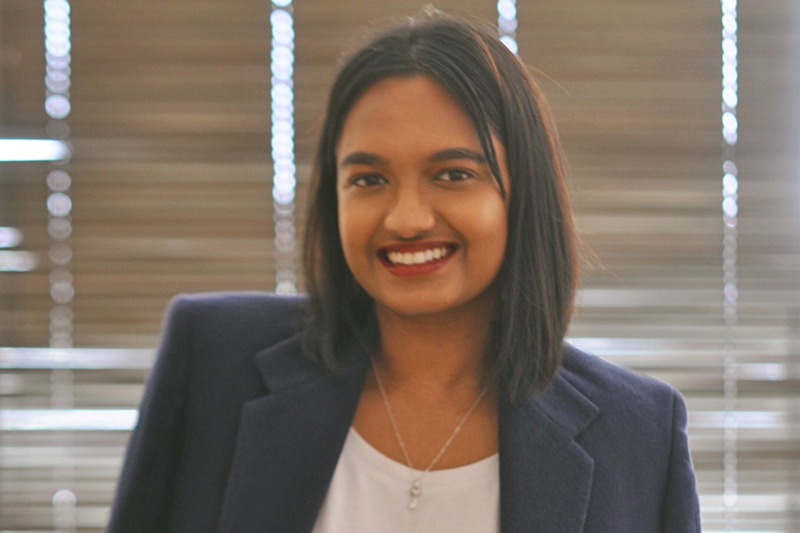 "Initially, I had a different idea that I wanted to pitch. But [I] didn't have the team to help me execute this idea. I realised that I can't recruit students for my business if I don't know anyone outside my faculty. That's how UnifySA was born," she said.
The winning pitch
Unlike Dowlath's competitors, when she entered the shark tank, she had no concrete business plan or prototype to present to the judges – only an idea.
"All I had was my idea and passion for bringing students together," she said.
"All I wanted was to make it to the final – anything that happened after that would exceed my wildest dreams."
"All I wanted was to make it to the final – anything that happened after that would exceed my wildest dreams. So, you can imagine how shocked I was when they announced me as the winner.
"I couldn't wrap my head around the fact that the sharks saw so much potential in my idea."
Up next
Following the event, a number of student entrepreneurs have come knocking on the door for the chance to be part of the team to help grow her business – and in turn to help grow the entrepreneurship ecosystem at UCT.
Dowlath and her team are hard at work behind the scenes to grow a business that stays true to its vision: connecting budding student entrepreneurs at UCT. And hopefully one day the business will expand to include students at other universities across the country.
"It's been a wonderful experience and I can't wait to join other student entrepreneurs across campus and contribute to their business success," she said.
The UnifySA platform officially launched on Monday, 28 September.
---
This work is licensed under a Creative Commons Attribution-NoDerivatives 4.0 International License.
Please view the republishing articles page for more information.
---