On Sunday, 18 April, a fire that started on the mountain above Philip Kgosana Drive soon blazed out of control and, driven by strong winds, reached the University of Cape Town's (UCT) Rondebosch campus.
At least four buildings have been damaged: the Jagger Reading Room (previously the JW Jagger Library), the HW Pearson Building, and the Fuller Hall and Smuts Hall student residences. Various provincial, local and university leaders gathered on campus on 19 April to examine the damage and discuss the way forward.
The group included Vice-Chancellor Professor Mamokgethi Phakeng; Deputy Vice-Chancellor for Research and Internationalisation Professor Sue Harrison; UCT registrar, Royston Pillay; the executive director of UCT's Properties and Services department, Mughtar Parker; Western Cape premier, Alan Winde; Cape Town mayor, Dan Plato; Environmental Affairs and Development Planning MEC Anton Bredell; the chief director of the Western Cape's Disaster Management and Fire/Rescue Services, Colin Deiner; and Table Mountain National Park's (TMNP) fire manager, Philip Prins.
"To stand here yesterday and see flames … you feel so powerless. It's a terrible thing to watch."
The building most affected by the fire was the Jagger Reading Room, which housed some of Africa's most treasured special collections.
"We are of course devastated by the loss of the Special Collections in the library. [These are] things that cannot be replaced. It pains us to look at it," said Professor Phakeng, who emphasised that UCT is not just for Cape Town but for the continent. She added that people come from around the world to see and use these pieces of history.
"This is a huge loss, but we will recover, and recover stronger."
The library team was already assessing the losses and checking on what may have been saved, she said.
Reflecting on the night before, Plato said: "To stand here yesterday and see flames … you feel so powerless. It's a terrible thing to watch."
He added that firefighters would remain on campus overnight to ensure there were no flare-ups.
Damage assessment
Parker said that the buildings on campus needed to be assessed for structural damage before anyone could return – this would happen in the coming days. Some students may soon be able to return to residences that are not on upper campus but about 500 would need alternative accommodation.
As the group viewed the damage to the Jagger Reading Room, parts of which were still smouldering, and made their way to the HW Pearson Building and Smuts Hall, the mood was serious, but hopeful. Discussions focused on how all parties could work together to rebuild UCT and the city, and how to prevent a similar crisis in future.
"We need to think about how we put in mitigating measures in the future, especially when looking at design."
"We need to think about how we put in mitigating measures in the future, especially when looking at design," said Winde. It was necessary to look at the risks and learn from them to be ready for the future, he added.
The possibility that the ivy-lined walls at UCT had played a role in spreading the fire was discussed. Pillay said that the ivy was an integral part of the look and feel of UCT and an important part of the institution's identity, but the potential risk it posed would need to be examined.
Extinguishing the fire completely will take more than a week, said Prins. "Wind is our biggest enemy at this stage."
Working together
Winde expressed his pride in the teams and organisations that came together to protect the campus and the city, including UCT, the City of Cape Town, TMNP, emergency services, firefighters and volunteer firefighters.
"We are grateful to everyone who helped manage the fire on campus," said Phakeng. "We've had to evacuate about 4 000 students and accommodate them in hotels around Cape Town. It was not an easy task but thank you to our staff."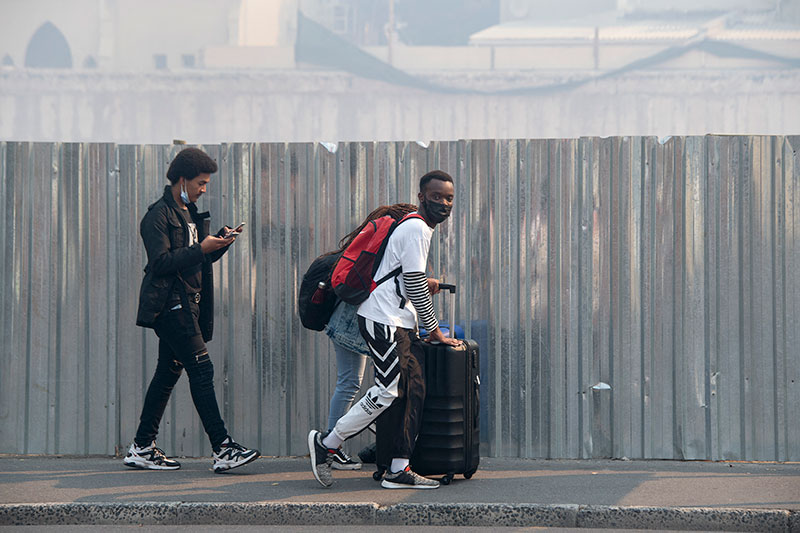 She also thanked everyone who had offered accommodation and transport for the evacuated students.
She expressed her gratitude to alumni for their support, and to the various corporate entities that had made donations. She also made special mention of Gift of the Givers for running a food programme for the students.
"Sometimes crises such as these are to show us how strong we are and how strong we can be. Together we can recover."
Pillay added: "The goodwill [shown] to UCT was very encouraging and heart-warming."
Integrated approach
The public support for both students and firefighters was immeasurable, said Prins, who lauded the collaboration between organisations. This integrated approach, he added, was crucial to successfully fighting wildfires and that the donations received were much appreciated.
"People of Cape Town are unbelievable. To all the [people] of Cape Town: Thank you from us."
Speaking to the families of the four firefighters who were injured, Bredell said: "Our hearts are with you." He assured them that they would be with them every step of the way.
He emphasised the need for funding for all emergency services – not only the firefighters – and explained that it was imperative for emergency personnel to receive proper training and have access to the best resources.
Looking ahead, the City and UCT will work together on assessing the damage to the university, putting forward plans to rebuild and finding ways to mitigate against future fire damage.
In terms of university operations, Pillay said that while the priority on Sunday was life and limb and ensuring everyone was safe, university operations do need to continue and discussions on how best to do so are under way.
---
This work is licensed under a Creative Commons Attribution-NoDerivatives 4.0 International License.
Please view the republishing articles page for more information.
---