For an incredible fifth consecutive year, athlete Mpumelelo Mhlongo has been named the University of Cape Town's (UCT) Sportsperson of the Year.
The only other person who has won the coveted Jamison Cup in consecutive years is rugby great HO de Villiers, who took top honours in 1966 and 1967.
Mhlongo, who excels in 100 m, 200 m and long jump events, was named 2019 Sportsperson of the Year on Friday, 11 October, at the university's annual sports awards dinner hosted at Kelvin Grove.
Accepting his award, PhD candidate Mhlongo thanked the team around him, the university and his sporting peers. He said it was an honour to stand next to Hayley Preen, Nepo Serage, Nicholas Papas and Liam Neill, all finalists in the Sportsperson of the Year category.
"I feel pretty inspired by what everyone is doing," he said.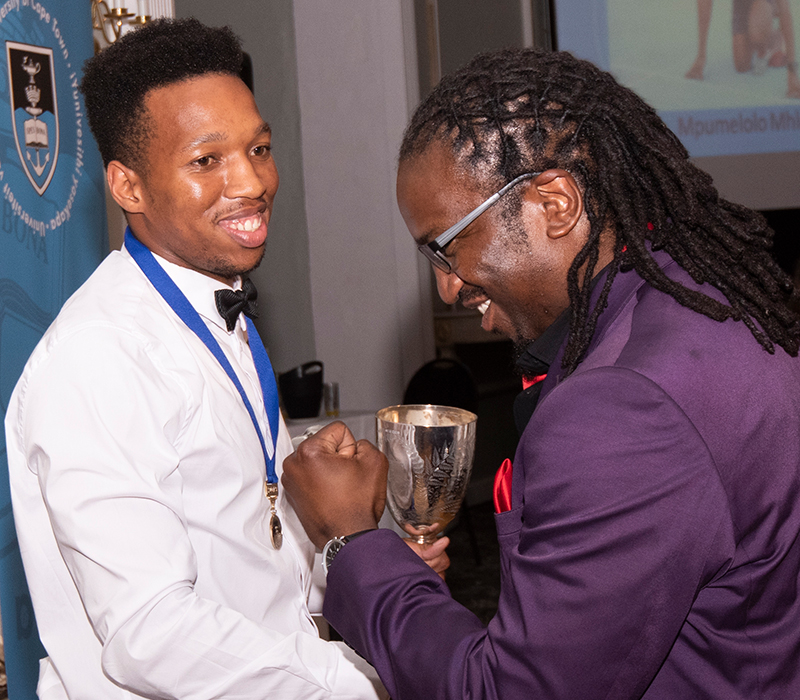 In addition to the Jamison Cup, the evening saw an additional 10 trophies being awarded. These trophies and the recipients were:
Chairperson's Award: Tomas Bruce-Chwatt
The Lydia Hall Club of the Year Trophy: Surf
Coach of the Year: Peter Ivey for Ultimate's first team, Flying Tigers
Turpin Cup (service to sport): Jessica Worsley
Sports Residence Champions: Clarinus Residence
Transformation and Outreach: Jointly awarded to Hockey and Surf
Best First Year: Luke Wynford
Landstem Trophy (outstanding performance in a specific event): Rowing – UCT Men's A Eight at the University Sports South Africa (USSA) Sprints
Butterworth Cup (team of the year trophy): Ultimate's first team, Flying Tigers.
Full colours, honours for excellence in sport and merit awards for club administration were also awarded.
The winners of the Chairperson's Award, Lydia Hall Club of the Year, Coach of the Year, Turpin Cup, Sports Residence Champions, Transformation and Outreach, Best First Year, Landstem Trophy and the Butterworth Cup awards.
Breaking barriers
While the sports dinner celebrated the achievements of UCT sports stars in their respective codes, the impact of sport was also highlighted.
Surf, Hockey and Jessica Worsley were all celebrated for their contributions to transformation in sport, work that extends far beyond the bounds of the university campus.
In his address at the dinner, chair of the UCT Students Sports Union Ammar Canani spoke about the powerful transformative role that sport can play in society.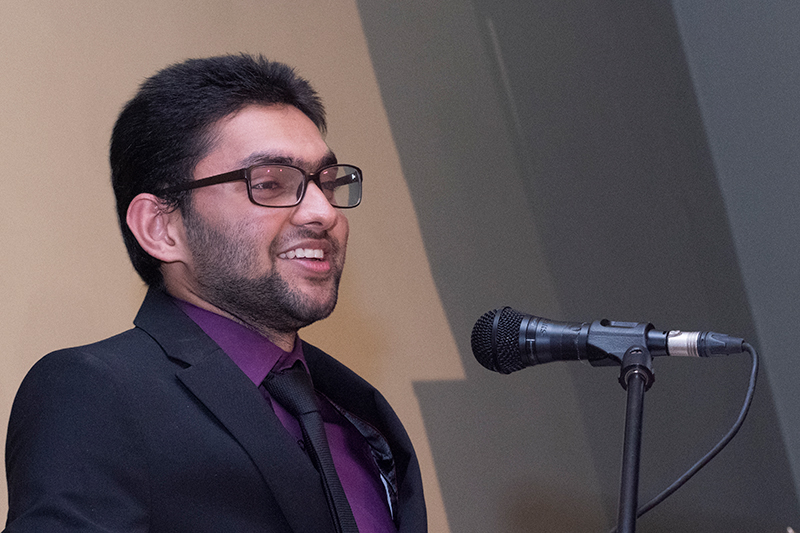 "Sport has been breaking [down] barriers and sport takes us out of our comfort zones," he said.
Acknowledging the diversity in the room, Canani however cautioned that sport at UCT still has some way to go before it is truly transformed and inclusive. He made reference to transformative work taking place in different sporting codes such as Surf's intervention work that uses the sport to keep young people off the streets and out of trouble.
Sport as a uniting force
"Sport is about fitness and exercising but at the same time, sport has been used as a tool to shape youth," he said.
"[If] you want to keep them away from drugs and crime … sport is the way to shape the mind of youth."
"Sport has been breaking [down] barriers and sport takes us out of our comfort zones."
Canani also spoke about the ability of sport to unite people. He referred to the Springbok team's emphatic win over Canada at the Rugby World Cup currently being played in Japan. Even as a Mozambican, he could share in the celebrations, watching the match alongside people from different backgrounds.
There are also the skills that sports help students develop: stress management, time management, leadership and perseverance, to name a few.
"That is the blessing of sport," he said.
---
This work is licensed under a Creative Commons Attribution-NoDerivatives 4.0 International License.
Please view the republishing articles page for more information.
---