The "largest crowd" yet turned out to hear renowned guest speakers from the sporting world share their stories of trials and triumphs at the University of Cape Town's (UCT) third annual Women in Sport event, which took place on 6 August.
The three speakers, all of whom have excelled in their respective sporting arenas, were Zanele Situ, South Africa's first black female Paralympian; Rinette von Mollendorf, who captains the Western Cape senior women's goalball team and is chairperson of Maties ParaSport at Stellenbosch University; and Sikhumbuzo Muchenje, captain of UCT's women's rugby team and vice-captain of the Zimbabwe team.
Host Muya Koloko said the event is growing.
"Each year we have been increasing the magnitude of what we do here, and [this is] the largest crowd we have had so far."
Record-breaking Paralympian
Introducing Situ, Koloko said: "I'm not sure how many of you have tried javelin … but when you can say you have a personal best of 17.90 metres at javelin, you know you're amazing."
Situ has overcome incredible odds to become the champion she is today. She fell ill and lost the feeling in her lower body when she was 11 years old. Over the next few years she spent months in hospital while doctors struggled to diagnose her illness.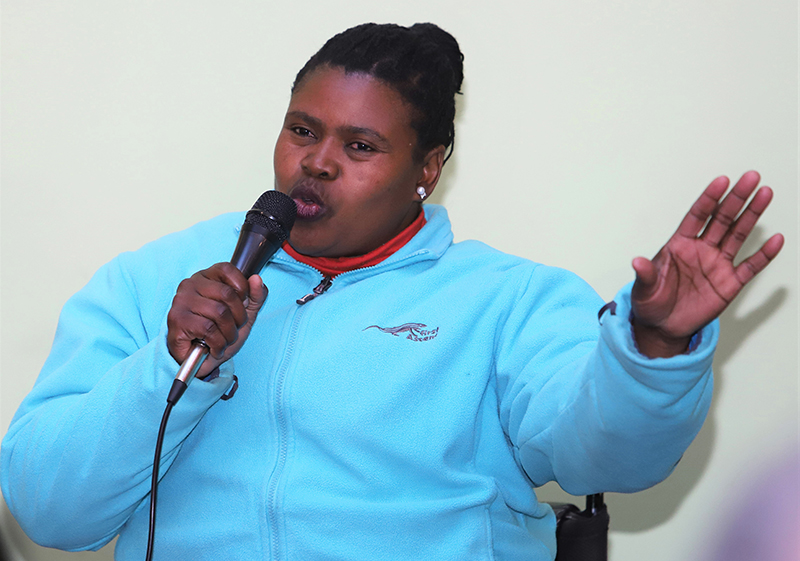 Confined to a wheelchair, she was introduced to javelin, discus, shotput and table tennis at school. Although she disliked travelling, she agreed to compete at a national event one year.
"I came away with four medals [but] I still didn't think it was going to become a big thing," she recalled.
Nonetheless, she began to compete internationally, travelling overseas for the first time in 1996. In 2000 she was selected to compete in her first Paralympic Games, held in Sydney that year.
"I'm still training, even today. We are preparing now to go to the world champs in Dubai at the end of the year."
"At that time, I was coaching myself."
Alongside completing a dressmaking course, Situ managed to train for the Paralympics.
"Every single minute [that I had], I went to the field, I took the equipment and [trained]. Weekends or no weekends."
The Sydney Paralympics was a turning point for her.
"I broke a record for javelin; I got gold. I got silver for shotput."
When she heard that she had broken a record, she didn't comprehend the significance and thought she was in trouble. Her response was: "Don't tell me I'll be arrested… How did I break it?"
Situ continues to pour her heart and soul into athletics.
"I'm still training, even today. We are preparing now to go to the world champs in Dubai at the end of the year. I'm also focusing [on] the Paralympics next year."
It will be Situ's sixth Paralympic Games.
"I'm not doing it [for myself], I'm doing it for my daughter. I'm doing it for her sake."
Sport is a clear path to success for Situ.
"For now, I always put [my daughter] in sport. When she grows up she will have time to choose what she wants for her life. From my side, I'm trying by all means to make sure that she's going the right way."
Goalball go-getter
Von Mollendorf, who is blind, came to Cape Town 10 years ago.
"That's where my journey at Stellenbosch started, and also my journey with goalball."
Goalball is designed for blind and partially sighted players, but people who are not visually impaired can play wearing a blindfold. The aim of the sport is to roll the ball, which contains bells, into the opposing team's goal.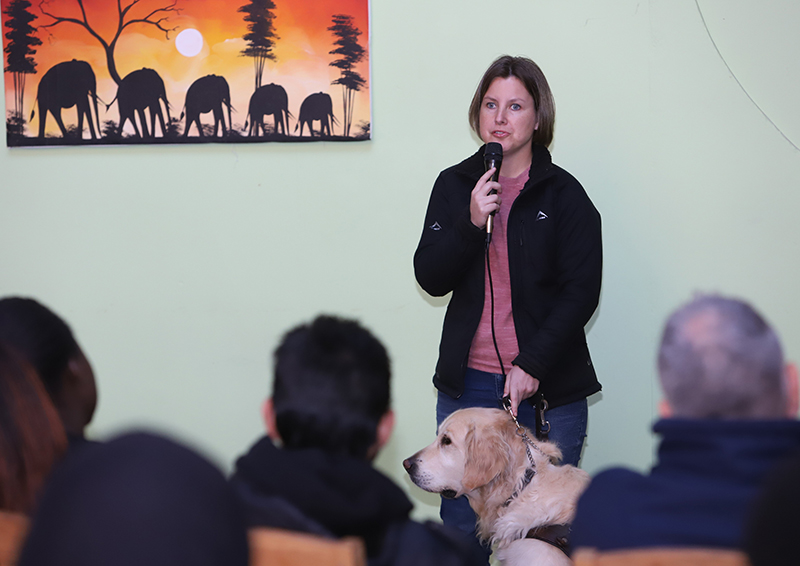 She started playing goalball in 2011 and in 2012 participated at the national championships. Since then, she has captained the Western Cape goalball team, has been selected to play for the national team and has been deeply involved in the administration of the sport.
"My highlight of the past eight years – playing goalball and working behind the scenes – was the IBSA [International Blind Sports Federation] workshop we did last year.
"I always said I wanted to get these people to South Africa to host either a coaching or refereeing workshop. Currently South Africa has no qualified [goalball] referees which is quite sad."
Besides being an active member of the ParaSports administration at Stellenbosch University, Von Mollendorf has also been instrumental in setting up UCT's goalball team.
"One of the key reasons that UCT is trying to get ParaSports going is because we got in touch with Rinette," said Koloko
"I went to Marquard and got the balls and the cones, and then the girls from Tugwell would train … in the rain, in the cold and in the sun."
Women's rugby star
Muchenje discovered rugby when she was in detention at high school. Rather than writing lines, she joined a team practising on the field.
"I had no idea what rugby was all about. I just thought: 'Let's see how it goes'."
When she came to UCT in 2017, she hoped she would find a women's rugby team to join, but that wasn't to be. So she started her own informal team with the women from Tugwell Hall residence.
"I went to Marquard and got the balls and the cones, and then the girls from Tugwell would train. … in the rain, in the cold and in the sun."
In 2018, a male member of the rugby club told Muchenje he had heard that there was a women's team. She followed this up. She saw three or four names signed up for the team and knew the women from Tugwell would also want to play.
"From there the journey started: We decided to have our first UCT rugby team for ladies."
The support of the rugby club has been invaluable, she said.
"I really have to commend the rugby club for being there for us, because starting a team is not easy."
One of the greatest obstacles she has faced is public opinion.
"People still have this mindset that there are a lot of injuries and it's not a ladies' sport. But I'm going to try my hardest to motivate every lady I meet to play rugby."
The Women in Sport event closed with Wentzel Barnard from Maties ParaSport presenting a goalball ball to the UCT team.
Koloko told the audience he has played sport at UCT for about 16 years, and has "seen a change in the dynamics".
"We have more women on sports committees and we have more women getting involved in sports and trailblazing than ever before."
---
This work is licensed under a Creative Commons Attribution-NoDerivatives 4.0 International License.
Please view the republishing articles page for more information.
---