Drought may have disrupted the province's 2017/2018 cricket season, but UCT's new coach Eugene Moleon is out to rejuvenate interest in the sport and the UCT Cricket Club. They won the 2017 Western Province Cricket Association's Club of the Year title.
The former Western Province and Lions player will coach the first XI for the 2018/2019 season, replacing Paul Phillipson who is now coaching at Wynberg Boys' High School.
A right-handed batsman and right-arm fast-medium bowler, Moleon played 49 first-class and 66 List A matches for the Lions, North West and Western Province. He is both batting and bowling coach for the UCT first team.
Assistant Ayden Smith will look after player conditioning and fitness – and add his own insights to the coaching. Hayden Higgs is the third member of the coaching team.
Moleon is keen the squad gets all the insights available, especially in the days leading up to the University Sport South Africa Varsity Week in Stellenbosch. The UCT First XI will play five matches between 2 and 7 December.
Slow and steady approach
A recent South Africa Club Cricket post alludes to Moleon's impressive record: "He won the Pro20 with the Lions and represented South Africa at the Hong Kong sixes, so there is no doubt there will be some explosive cricket coming from the [UCT] players."
That may well be, the new coach says. UCT has talent in spite of the small club numbers.
"Although UCT does offer sports bursaries, we don't have many young players on bursaries."
Moleon's slow and steady philosophy to coaching reflects his holistic "open and simple" approach to managing players.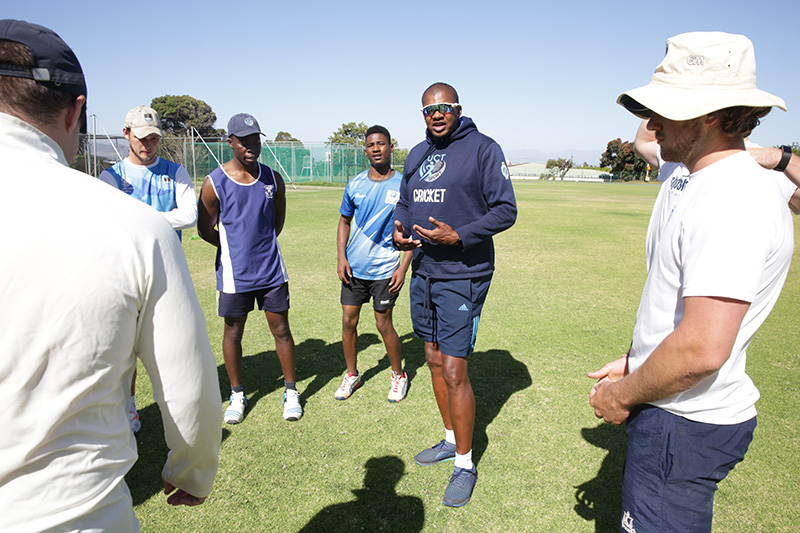 "This is important when you're coaching students who face unique additional challenges with their academic programme – and who come and go depending on the time of year and the place they call home," he said.
"It's an interesting venture. As a coach, you're not just dealing with the playing side of things but also the lifestyle skills side of it. You're dealing with students; you've got to understand that. Also, some are in their teens, others are finishing their degrees, so it's a wide age group."
What makes them tick
The mental side is where he begins. First up will be getting to know the individuals and what makes them tick and how to get the best from them.
"There's more to athletes than just seeing how far you can run or hit the ball."
"There's more to athletes than just seeing how far you can run or hit the ball. So, I set challenges for them – each player in a different way – in every session because you want to walk away knowing you've learnt something. Success might not come straight away, but we will find a way.
"That's a pleasing challenge. Every day is a learning curve and I'm enjoying that side of it tremendously."
The key is adaptability.
"We try to get everyone into the nets as often as possible. As a coach I do understand that there are other influences and things that are not under their control. So, yeah, you have to be nimble and flexible."
Building confidence and mental strength is vital; cricket is an unforgiving game.
He recalls the beginning of the season in September and October: "One of the lads was struggling to get a start. As a batter he just couldn't score a run, no matter how many hours he put in. And he was working really, really hard. And all that happened is he took an unbelievable diving catch. And then he went on to score 100. So, it's a game of such fine margins."
League structure
UCT Cricket Club plays in the Western Province Cricket Association's first division A, one tier down from the top premier league, which is where Moleon hopes to take his team. From there it's into the Western Province Amateur team, which is the first-class tier, and from there they can filter into the franchise system.
Building a new crop of young players will take time and commitment. UCT's talented left-hander, Jack Newby, recently made his provincial first-class debut at amateur level.
The resurgence of cricket worldwide has followed the introduction of new formats, the T20 Indian Premier League and now the local Mzansi Super League injecting more razzmatazz and spectator appeal.
"The guys are always watching cricket and talking about cricket, and for a coach that's good."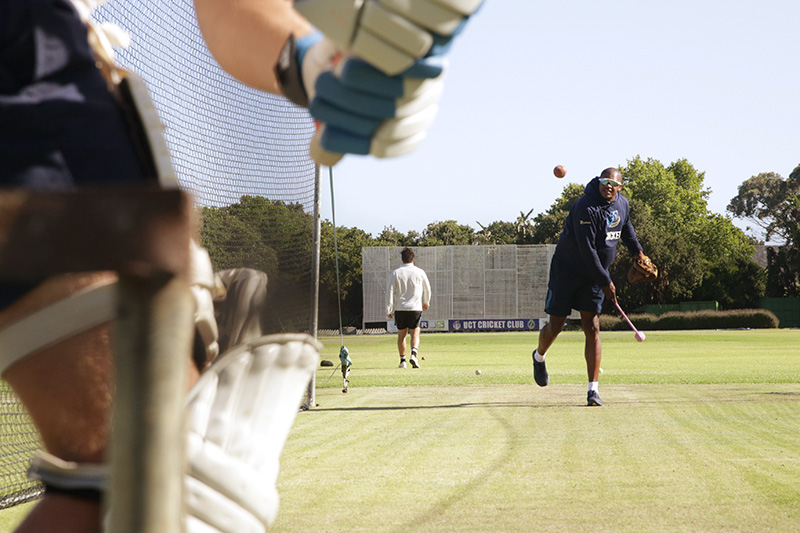 The challenge is to seed more local talent by attracting black African players at all levels.
"We don't see enough African black players coming through at university. We need to find guys outside the club and get them interested. We want players putting pressure on others for places."
Though the club is not as fortunate as the more fully-fledged Stellenbosch University and University of the Western Cape clubs, Moleon believes they can make the most of what they do have by playing positive cricket.
"The good thing about UCT is that we have a great bunch of lads pulling together."
"The good thing about UCT is that we have a great bunch of lads pulling together. We're certainly not the end product, but I've ... seen this group grow, even over the past weeks, enjoying each other's company, which is important too."
The local league structure has changed from two-day matches over weekends to one-day 50-over cricket.
"We have 22 fixtures this year and with just a few games under the belt, we've got a long way to go."
Women's cricket
Moleon is also keen to see women's cricket take off at UCT, as it's done worldwide. He has been involved with Cricket Ireland since 2007 – and now also with Denmark. The popularity of the game is growing.
"It was really on the up in Ireland with a lot of good ladies playing there. Give them another two or three years to give the youngsters some experience and we can expect to see them doing really well."
At UCT he's hoping to tap into the pool of women hockey players.
"I feel there's a cross-over between hockey and cricket and we're figuring out how we can rejuvenate that interest."
World Cup Cricket 2019
Any favourites for the Cricket World Cup 2019?
"I'd like us [the Proteas] to pull it off in a big tournament. There's a good young side there and they're playing some really great cricket. And they seem to be playing well away from home," he said with a wry smile.
"The tour, the one-day and T20 wins in Australia were great. And we did well against Sri Lanka. So South Africa could get one over the line in world cricket and lift that trophy. But there are a lot of good sides and England will be favourites on home ground.
"And we've got so many explosive cricketers. Hopefully this will be the one!"
---
This work is licensed under a Creative Commons Attribution-NoDerivatives 4.0 International License.
Please view the republishing articles page for more information.
---