Outgoing Vice-Chancellor Dr Max Price officiated at his last graduation ceremony this morning, receiving a standing ovation after his final message to over 350 graduands, including almost 60 PhDs, in Memorial Hall. His 10-year term ends on 30 June.
Price shared a key leadership lesson he'd fallen back on during a decade of leading the institution in uncertain, complex times.
"Success is not final, failure is not fatal: it is the courage to continue that counts," he said, citing Winston Churchill in a transition-themed address.
Graduands were predominantly from the Graduate School of Business, with the red gowns of PhD students from the faculties of Law, Humanities, Science, Commerce and Engineering & the Built Environment providing a vivid backdrop at the sole winter ceremony.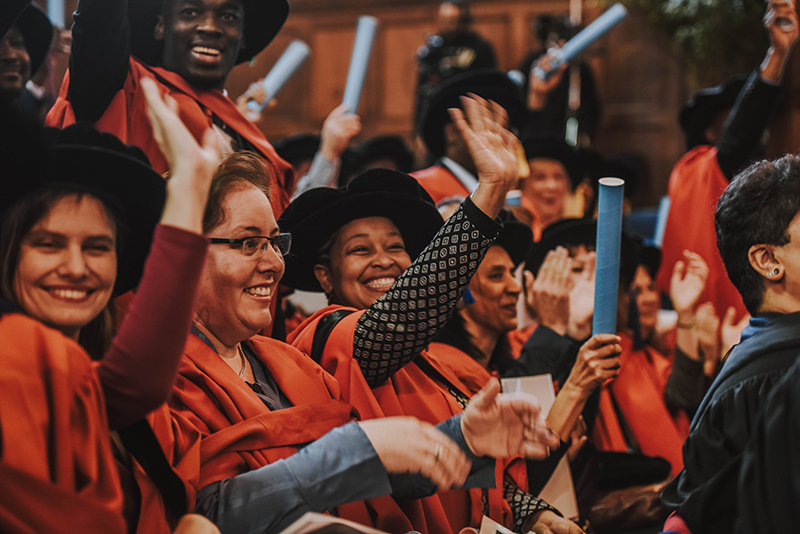 Most inspiring moments
"We rejoice in your successes," Price said.
Graduations had been "the most inspiring moments" of his tenure, he said, transforming individuals, families, villages, communities and society. These successes were a key part of UCT's mandate to produce highly skilled professionals who would not only fulfil their role in the economy, but change society.
"I've tried to preside in person over as many graduations as possible, precisely because they are such a highlight."
"I've tried to preside in person over as many graduations as possible, precisely because they are such a highlight."
Memories are made of this – happy scenes at the winter graduation ceremony.
Canny, cutting-edge knowledge
The June graduation is traditionally devoted to capping postgraduate students, and Price highlighted three aspects of this advanced scholarship.
First is UCT's contribution to cutting-edge knowledge globally, "which puts us among the top universities in the world and we must protect that precious asset". Second, the PhD graduands' thesis topics addressed real problems in society. Last, the diversity of postgraduate students, particularly doctoral candidates, showed that UCT attracted scholars from all over the world, but particularly from Africa.
"Nearly one-third of our postgraduate students are from Africa. This points to the role UCT plays on the continent, in knowledge production and as a nursery for future academics as we position ourselves as the hub of an intellectual network across the continent."
In a final message to graduands, Price said: "We know the quality of your degree; your technical competence is superb … but we hope that as a graduate of UCT you will also leave with a value system.
"The business world in the past decade since the financial crisis of 2008 has suffered a serious dent to its reputation in terms of integrity … our leaders have been found wanting. The challenge to you is to ensure that you remedy that reputation."
He emphasised, however, that graduands would not achieve anything unless they took chances and risks. Quoting Mark Twain, he said, "explore, dream and discover".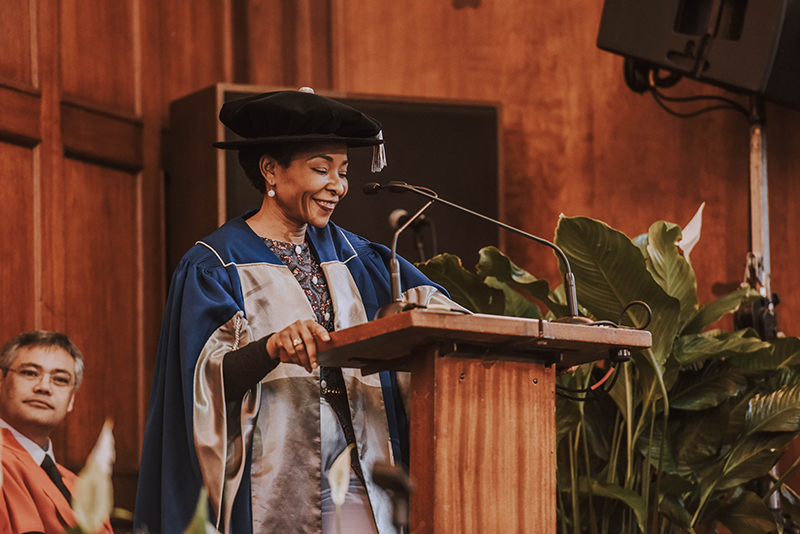 Paying tribute to Price's leadership, ceremony MC and Vice-Chancellor designate, Professor Mamokgethi Phakeng, said: "You brought your whole being to the job … It's been a pleasure working with you. Through the rough times and the good times, you stood up … you sometimes took the pain. We want to thank you for doing that."
---
This work is licensed under a Creative Commons Attribution-NoDerivatives 4.0 International License.
Please view the republishing articles page for more information.
---