Addressing 400 business science students at last night's final graduation, Vice-Chancellor Dr Max Price said they would be judged as much by their qualifications as by their values.
The graduation, the fifth for the Faculty of Commerce, wrapped up a marathon 14-ceremony season, involving more than 5 200 students, five awards, stirring music and song from the South African College of Music's students, several inspirational messages – and much rejoicing.
Price urged the graduates present to become ambassadors for the university.
"And you have a choice; you can practise your profession with integrity, as we hope you will, or you can be that auditor at KPMG who signs off fraudulent accounts."
He also encouraged them to commit to social justice and building equality and equity in the world.
"Coming to UCT is a privilege and with that privilege comes a responsibility to change the world and make it a better place for everyone. We are sure you will do that and make us proud."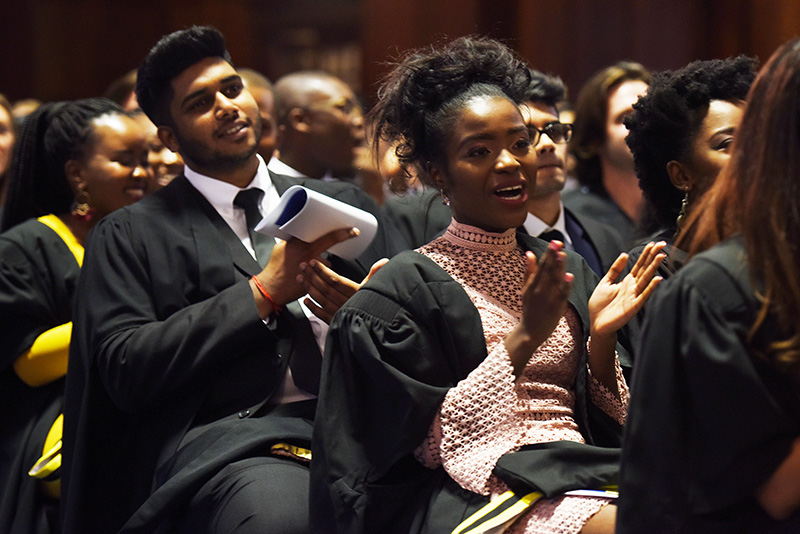 Changing fortunes
Price said that he'd enjoyed meeting some of the graduands' families before the ceremony. They had reminded him of the important ways universities like UCT do change the world.
"I met a family from Taung in the North West Province who are in Cape Town for the first time, seeing the ocean for the first time. Their daughter is graduating this evening, and you can see how in one generation this is going to change the fortunes of an individual, a family, a village and a community. And that is what higher education is about: development."
Another family's son represented the third generation graduating from UCT.
"This represents not just tradition and continuity and how long UCT has been making a difference to the country, but [also] the confidence that family 'dynasties' have in the university."
Price said that he'd met families from Nairobi and Kampala as well.
"We are so proud to have so many students at UCT, nearly one in five, who come from other African states and who are here to make a difference to their countries."
"We are so proud to have so many students at UCT, nearly one in five, who come from other African states and who are here to make a difference to their countries."
He reminded graduates that many alumni chapters could now be found on the continent; in Gaborone, Harare, Nairobi and so on. These, he said, are part of a valuable network of over 170 000 living alumni around the world.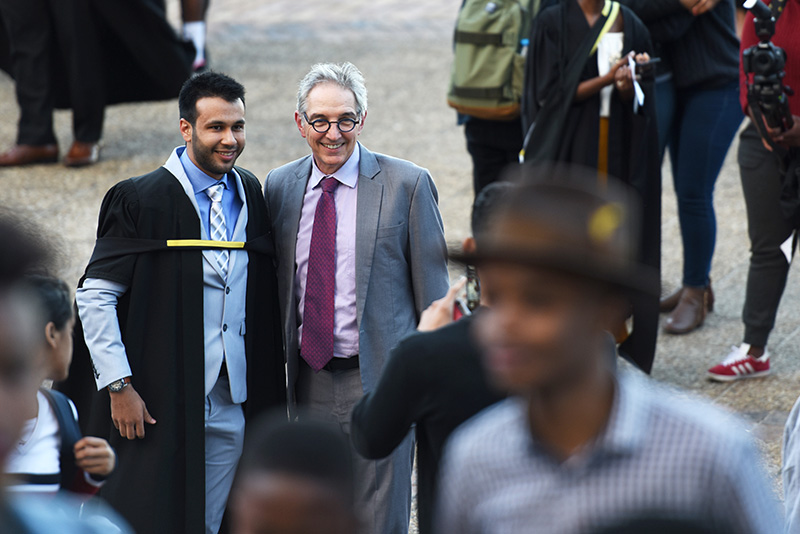 Tough years
Paying tribute to UCT's academic and PASS (professional, administrative support and service) staff, Price said that the university had experienced "a tough few years" of disruptions, which had placed enormous stress on the community. Nonetheless, the university had delivered an outstanding curriculum and produced more research in 2017 than in any previous year.
To loud cheers from the assembly, he said to the graduates: "I invite you to go out and celebrate. This is your day."
Graduation highlights
Among the awards, honours and qualifications conferred during the 14 ceremonies from 3 to 10 April were:
67 doctoral degrees
two honorary doctorates, these to former rector and vice-chancellor of the University of the Western Cape, Professor Brian O'Connell, who received a Doctor of Education (honoris causa) from the Faculty of Humanities for his engaged leadership in education and development locally and abroad; and Justice Yvonne Mokgoro, the first black woman to be appointed to the Constitutional Court in post-apartheid South Africa, who was awarded a Doctor of Law (honoris causa) from the Faculty of Law for her notable contributions to transformation and social justice beyond the legal profession
the Social Responsiveness Award to Drs Jon Clark and Patti Silbert and Ferial Parker who pioneered the Schools Improvement Initiative, primarily in Khayelitsha, to boost university entrance rates from secondary schools in this area
the Department of Mathematics and Applied Mathematics' Professor Peter Dunsby's formal welcome to the UCT College of Fellows
the President of Convocation Medal, awarded to community health activist Dr Sophia Kisting-Cairncross, which is awarded annually to a UCT alumnus who has made a significant contribution to the common good.

Watch the Faculty of Commerce graduation ceremony on 10 April…
---
This work is licensed under a Creative Commons Attribution-NoDerivatives 4.0 International License.
Please view the republishing articles page for more information.
---