Renowned journalist and author Zubeida Jaffer gave graduands a speech to remember during the afternoon ceremony of 3 May, when some 306 humanities students received their degrees.
That morning, 414 science graduands stepped onto the Jameson stage to be capped, in what was the week's biggest ceremony.
Two UCT academics received special mention during the morning event. Dr David Erwin and Dr Jonathan Shock were officially announced as two recipients of the Distinguished Teacher Award. Erwin and Shock both teach in the Department of Mathematics and Applied Mathematics, and were praised for their outstanding teaching prowess.
Later on Wednesday, Jaffer addressed the Humanities graduands.
It is unfortunate that we are still grappling with making "our universities places that reflect and affirm us fully", said Jaffer. "Unacceptable" is how she described the phenomenon of existing in one culture at home and having to slip into another when attending university.
"No British parent would accept that his or her children go to university where French culture dominates," Jaffer added. "Yet year after year we send our children into situations where they have to learn within a British or Dutch cultural milieu and not a South African one."
She saluted students who objected to this.
"We are beginning to create a truly South African university where we will study within an African context and draw from knowledge sources across the world," said Jaffer. "We will take the best ideas and develop home-grown solutions to solve our tough social problems."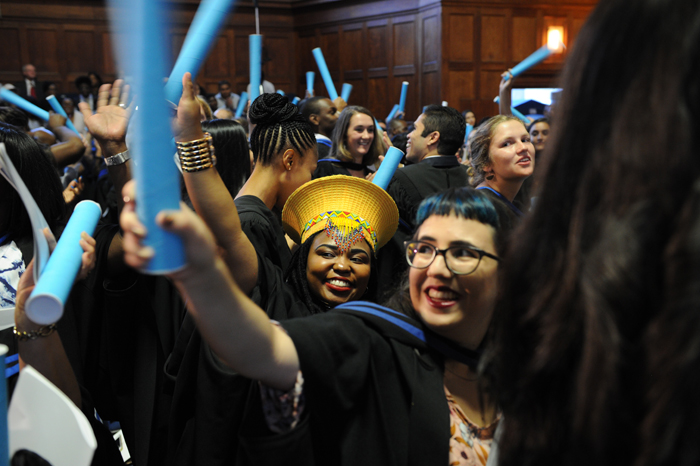 A driving force
Jaffer holds a bachelor's degree from UCT, but, like many of her generation, did not attend her graduation.
"Forty years ago, I made my choice. I did not walk across this stage to graduate," said Jaffer. "We were a handful of black students at UCT. I chose not to graduate to say very strongly that I despised the system of apartheid that forced me to apply for special permission from the Coloured Affairs Department to study at UCT. We were excluded from staying at the residences and participating in any mixed race activities such as sport.
"It was a very different UCT then."
Young people are often the innovators and historically have been the driving force of "our story", Jaffer continued.
"I have no doubt that you will find the strength to take our story further and help our people reach their full potential," Jaffer said. "I have no doubt that 40 years from now when you look back you will say with certainty that you made the right choice, as I believe I did, and helped to provide the leadership to put our country back on track."
---
See pictures from social media:
Watch the recorded ceremonies:
Faculty of Science, 3 May at 10:00
Faculty of Humanities: All education programmes, all PGDips, BSocSc honours, master's and doctoral qualifiers, 3 May at 15:00
---
This work is licensed under a Creative Commons Attribution-NoDerivatives 4.0 International License.
Please view the republishing articles page for more information.
---