Registrar Emeritus Hugh Amoore was awarded the President of Convocation Medal during the first of two graduation ceremonies on 2 May 2017.
On a day when more than 700 graduands from the Faculties of Humanities and Commerce were capped, Amoore was presented with the medal, which is awarded every year to an alumnus who has made a significant contribution to the common good.
The morning ceremony, where Amoore received the medal, was brought to life by Blackroots Marimba, who ushered the opening procession in to some feet-stomping rhythms (as they have at all the ceremonies). The band was founded by UCT student Sibahle Sky Dladla.
Pianist Alice Clegg then accompanied opera singer Brittany Smith, performing "Summertime" from Porgy and Bess by George Gershwin. Most of these musicians are graduating themselves this week, and as their academic profiles were read out by Professor Anwar Mall, the word "distinction" was mentioned more than a handful of times.
"I haven't brought a calculator to count all these distinctions, but that is what UCT produces," beamed Mall.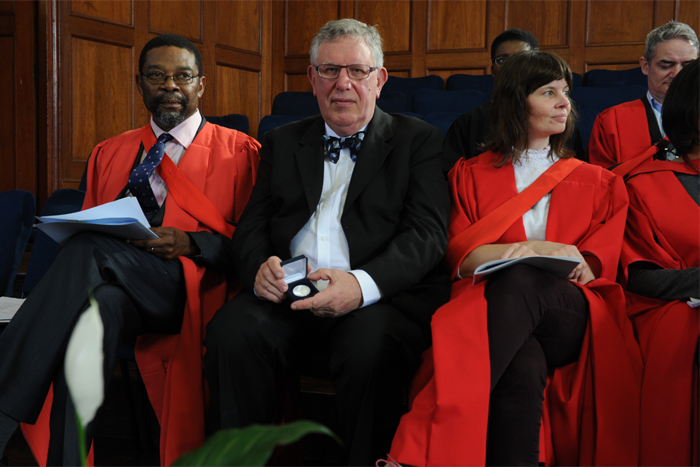 Once everybody was settled, Amoore was honoured for his decades of service to the university and to South African higher education. He was the youngest-ever registrar of UCT when he was appointed in 1987 and his biography is a tale of a student leader who rose through the ranks to become one of the most influential figures in South African education.
To this day, as President of Convocation Professor Barney Pityana read from the citation, Amoore is in high demand to assist other universities.
"He found and developed ways to get around apartheid restrictions in order to bring into UCT students who, according to the apartheid government, did not belong here," read Pityana.
Pityana summarised why Amoore was worthy of receiving the medal.
"The award of the President of Convocation Medal recognises the way Hugh Amoore has represented UCT and higher education and the dignity he has conferred on the institution through his consistent attention to detail; for the service he has given over more than four decades and the imagination and innovation he has brought to that service; for the ways he has collaborated with colleagues at UCT; and with other institutions and government agencies in South African higher education; and for the critical thought he has put into every activity he has initiated, led and carried to completion at UCT."
---
See pictures from social media: