Some 4 500 graduands from all six faculties will be capped at 14 ceremonies during a bumper six-day schedule of graduations, which kicked off in UCT's Jameson Hall on Monday, 1 May and ends on Saturday, 6 May. This will complete the delayed 2016 graduation season.
Last year's ongoing student protests saw the traditional year-end December graduation season pared down to focus on postgraduate qualifiers. It is expected that 28 doctoral degrees will be awarded in this round of graduation, specifically scheduled for students who could not graduate or who graduated in absentia last December.
Registrar Royston Pillay said, "We congratulate our students for reaching such an important milestone in their university careers. We are especially proud of our students who are graduating with postgraduate degrees. The findings of their theses will help improve the lives of many in our communities."
First up today, 1 May, were graduands from the faculties of Engineering & the Built Environment and Health Sciences.
Special awards and guests
The graduation week will include several special awards and guests: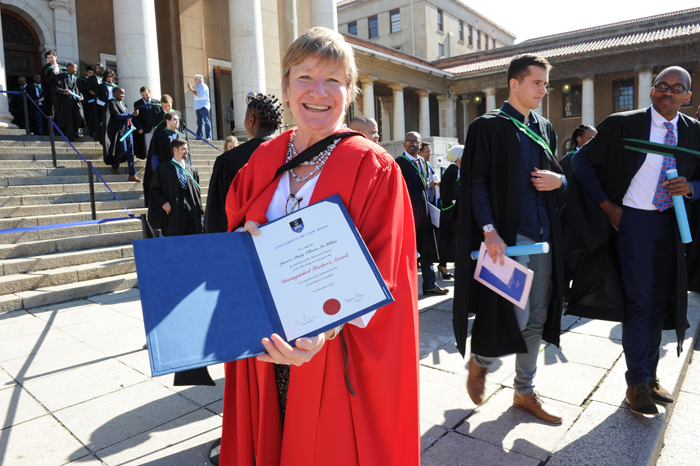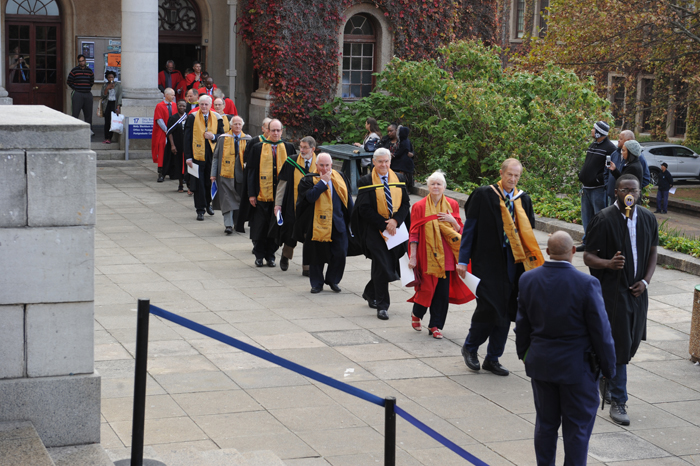 The Distinguished Teacher Award (DTA) will be presented to six candidates: Dr Janice McMillan: Centre for Innovation in Learning and Teaching; Dr Jonathan Shock: Mathematics and Applied Mathematics; Dr David Erwin: Mathematics and Applied Mathematics; Associate Professor Jimmy Winfield: College of Accounting; Associate Professor Ryan Kruger, Department of Finance and Tax; and Dr Miguel Lacerda: Department of Statistical Sciences. The DTA is the highest accolade awarded to teaching staff at all levels within the university and recognises excellent teaching.
The President of Convocation Medal will be awarded to Registrar Emeritus Hugh Amoore. The medal is awarded annually to UCT graduates who have brought credit to the university through their contributions to the wider community. Amoore recently retired after a 42-year career at UCT, 27 of those years as Registrar.
Golden Graduates, alumni who have kept in touch with UCT since they graduated in 1966, were invited to participate in the morning graduation ceremony on 1 May.
The guest speaker at the Humanities graduation ceremony on 3 May will be award-winning author and journalist Dr Zubeida Jaffer, Writer-in-Residence at the University of the Free State's Department of Communication Sciences. Jaffer is the author of Beauty of the Heart, a biography of Charlotte Mannya Maxeke.
Special visitors this week include: Professor John Volmink, acting vice-chancellor of the Cape Peninsula University of Technology; Professor Ihron Rensburg, vice-chancellor of the University of Johannesburg; and Professor Adam Habib, vice-chancellor of the University of the Witwatersrand.
---
See pictures from social media:
---
Watch the recorded ceremonies:
Faculty of Engineering & the Built Environment, 1 May at 10:00
Faculty of Health Sciences, 1 May at 15:00
---
This work is licensed under a Creative Commons Attribution-NoDerivatives 4.0 International License.
Please view the republishing articles page for more information.
---