Some 4 500 graduands from all six faculties were capped at 14 ceremonies during a bumper six-day graduation in Jameson Hall from 1 to 6 May. This completed the 2016 graduation season, delayed after protracted student-led disruptions.
Last year's ongoing student protests saw the traditional year-end December graduation season pared down to focus on postgraduate qualifiers. Nonetheless, an additional 28 doctoral degrees were awarded in this late round of graduation, specifically scheduled for students who could not graduate or who graduated in absentia last December.
Commenting ahead of the ceremonies, Registrar Royston Pillay said, "We congratulate our students for reaching such an important milestone in their university careers. We are especially proud of our students who are graduating with postgraduate degrees. The findings of their theses will help improve the lives of many in our communities."
Special awards and guests
The graduation week included several special awards and guests:
The Distinguished Teacher Award (DTA) was presented to six candidates: Dr Janice McMillan: Centre for Innovation in Learning and Teaching; Dr Jonathan Shock: Mathematics and Applied Mathematics; Dr David Erwin: Mathematics and Applied Mathematics; Associate Professor Jimmy Winfield: College of Accounting; Associate Professor Ryan Kruger: Department of Finance and Tax; and Dr Miguel Lacerda: Department of Statistical Sciences. The DTA is the highest accolade awarded to teaching staff at all levels within the university and recognises excellent teaching.
The President of Convocation Medal was awarded to Registrar Emeritus Hugh Amoore. The medal is awarded annually to UCT graduates who have brought credit to the university through their contributions to the wider community. Amoore recently retired after a 42-year career at UCT, 27 of those years as Registrar.
Golden Graduates, alumni who have kept in touch with UCT since they graduated in 1966, participated in the morning graduation ceremony on 1 May.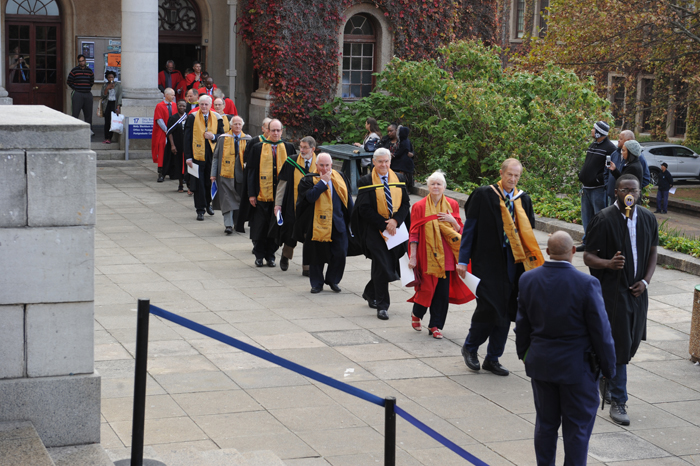 The guest speakers were award-winning author and journalist Zubeida Jaffer, Writer in Residence at the University of the Free State's Department of Communication Sciences; Professor Mark Solms, a psychoanalyst, chair of neuropsychology at UCT and president of the South African Psychoanalytical Association; and Professor Heinz Klug, anti-apartheid activist and comparative constitutional law doyen.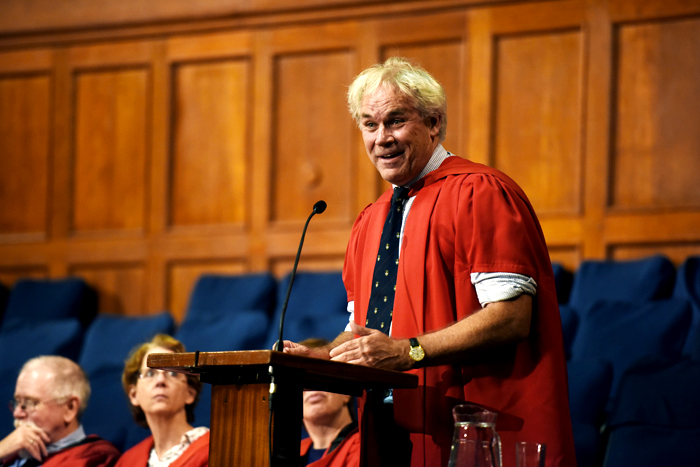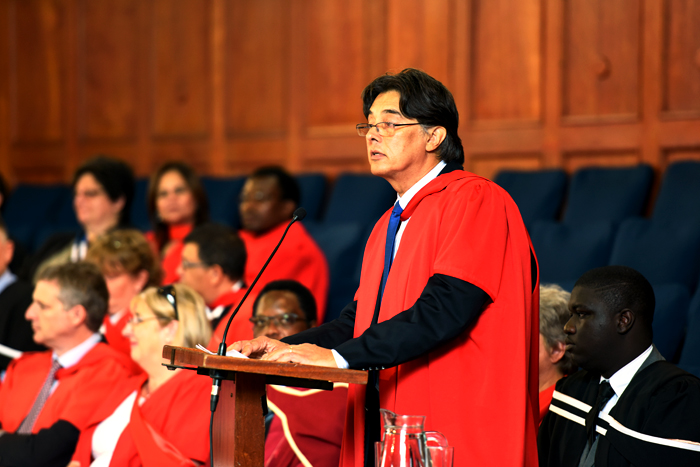 Special visitors included: Professor John Volmink, acting vice-chancellor of the Cape Peninsula University of Technology; Professor Ihron Rensburg, vice-chancellor of the University of Johannesburg; and Professor Adam Habib, vice-chancellor of the University of the Witwatersrand.
Inspiring stories
Among the many inspiring graduands was the health sciences faculty's Dr Matthew Amoni. Amoni was greeted by a standing ovation when he stepped onto the platform at the morning ceremony on 5 May. He scored a 'two-in-one', graduating MBChB and with a Master of Medicine in Physiology, both with distinctions, combining his twin passions: science and medicine. What is remarkable about Amoni's academic journey is that he completed the master's degree in tandem with the last years of his MBChB.
---
See related items:
---
This work is licensed under a Creative Commons Attribution-NoDerivatives 4.0 International License.
Please view the republishing articles page for more information.
---