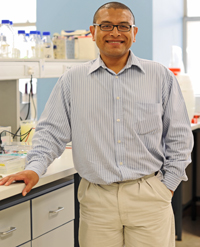 Many hats: Ryan Benjamin, a registrar specialising in chemical pathology, will receive his PhD in mechanical engineering this week.
Ryan Benjamin keeps two lines in the water at once.
At graduation this week Benjamin will receive his PhD in mechanical engineering (he completed his undergraduate degree in 1997). And while he was putting the final touches to his PhD, he was also hard at work as a registrar, specialising in chemical pathology.
Benjamin's PhD concerns a new theoretical model of polymers and a numerical method for computer simulations of these polymers.
How has he been able to balance the demands of two demanding areas of research and study?
"For any given period of time," says Ryan "you cannot have everything. Thus, if you want something, you have to sacrifice something else. So I just redistribute time from other areas. I cannot deny that it is difficult to switch from one way of thinking to another, but I have been lucky in this respect."
He is currently contracted to the National Health Laboratory Service for two years and says he will be functioning as a chemical pathologist for the foreseeable future.
"If things go according to plan, I will be able to do research in vascular disease, numerically modelling blood vessels and prosthesis design."
UCT, he says, has been very kind to him.
"The university has allowed me to enter multiple fields of study simultaneously, and they and my supervisor, Professor Daya Reddy, have been very patient with me. I am very fortunate that UCT has allowed me this latitude."
---
This work is licensed under a Creative Commons Attribution-NoDerivatives 4.0 International License.
Please view the republishing articles page for more information.
---