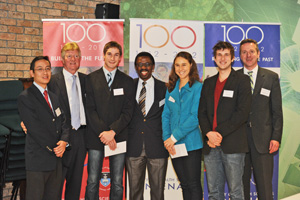 Pioneers: Students James Francis (third from left), Valmy Craffert (third from right), and Jacob Hoffman (second from right) are three of the four UCT students who will graduate with honours degrees in December as part of their intercalated MBChB/medical research studies. They were photographed with (from left) Dr Kevin Ho, medical director, Boehringer Ingelheim South Africa (BISA); Paul Stewart, former CEO, BISA; Prof Bongani Mayosi (middle); and (far right) Georg van Husen, new CEO, BISA, when the company announced its scholarships for the intercalated programme.
In finance and investment they would proably call it 'diversifying your portfolio'.
In the Faculty of Health Sciences, they call it an intercalated degree, which allows a select group of students - they have to be picky, because the programme is so demanding - to squeeze in honours and PhD research degrees while working on their MBChB degrees. This is part of the faculty's plan - ie the UCT Clinical Scholar Programme, funded by a Vice-Chancellor's Strategic Award and led by Professor Arieh Katz and Professor Bongani Mayosi - to jog the production of clinical scientists over the coming years.
The faculty took their cue from European and US models, and a 2010 study by the Academy of Science of South Africa titled Report on Revitalisation of Clinical Research in South Africa.
Come the December graduation ceremonies, four of the five students who signed up for the inaugural Clinical Scholars Programme in 2011 will graduate from step two of the intercalated degree.
Step two - following on from step one, a course in molecular medicine that they had to include in the third year of their MBChB studies - is an honours degree known as BSc (Med) Hons, which Valmy Craffert, James Francis, Jacob Hoffman and Vinasha Ramasamy have now wrapped up. While there had been concerns that the students wouldn't have the background in biological sciences for this honours degree, the four finished the course with aplomb - three managing first-class passes, the fourth scoring an upper second.
Craffert and Hoffman were the best students of the BSC (Med) Hons programmes.
To do this degree, the four had taken a year's break from their medical degree. For 2013, Craffert, Francis and Hoffman will return to their MBChB studies, choosing to put off part three of the intercalated degree, a three-year PhD, until after graduating. But the research bug has bit Ramasamy, who had chosen to leave medical studies and go for a master's degree, and thereafter, doctoral studies.
"The top performance of the medical students in BSc (Med) Hons vindicates the proposers of this programme," says Katz, "and are a testament that the intercalated BSc (Med) Hons/MBChB programme will generate the future clinician-scientists that will lead and revitalise clinical research in SA."
The numbers are proof of that. Five students who did the molecular medicine course in the third year of their MBChB studies in 2012 have signed up for the BSc (Med) Hons degree in 2013, and over a dozen have applied for the intercalated programme for next year, hoping to kick-start their dual careers with the selfsame molecular medicine course.
---
This work is licensed under a Creative Commons Attribution-NoDerivatives 4.0 International License.
Please view the republishing articles page for more information.
---