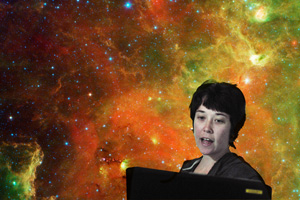 The future: Honours students such as Louise Steward were among those who presented papers - on everything from star formations and dark matter substructures known as subhaloes to the tracking of hurricanes - at the end-of-year NASSP presentations.
A decade later, and suddenly the South African National Astrophysics and Space Science Programme (NASSP) seems not only well-timed, but downright visionary.
A direct outcome of the South African Astronomical Observatory's strategic planning exercise in 2000, the course was launched in 2003 as a combined degree programme between UCT (as host) and 12 other institutions. The Square Kilometre Array (SKA), the radio telescope now being developed in South Africa and Australia as part of a €1.5-billion international project, was little more than a dream - although the Southern African Large Telescope, or SALT, then still under construction in Sutherland, loomed on the horizon.
Today NASSP seems like a SKA academy. Initially, though, the programme was all about boosting the number of postgraduate students in the disciplines of astrophysics and cosmology, especially as the country's 'older' cadre of space scientists were nearing retirement age. In particular, South Africa was keen to produce black astronomers.
That first year, 2003, the programme registered 16 and six students respectively for the out-ofthe-box honours and master's programmes. Most hailed from other corners of Africa.
Founding partners included the Universities of the Free State, Potchefstroom, Zululand, KwaZulu-Natal, Rhodes, the South African Astronomical Observatory and the Hartebeeshoek Radio Observatory. UCT would and still does host the honours programme, but master's and doctoral students would be affiliated to and based at other institutions.
In December this year, 19 honours students will graduate from UCT through NASSP, as well as one UCT PhD student. (As master's students graduate from their respective universities, those numbers are not yet known.)
From a sheer numbers perspective, NASSP has been a resounding success. It has graduated over 150 honours students, over half of them going on to doctoral studies. About one third of the graduates have been women. Understandably, the number of black South Africans coming through the programme has not matched the numbers from other African countries; but UCT's astronomy department and the NASSP extended honours programme, run by Saalih Allie, is already setting that right.
"But overall I would say that we've done incredibly well, given where we started in 2003, but we'd like to do better," says the director of the postgraduate programme, UCT's Professor Peter Dunsby.
Those numbers could even improve. Plans are also afoot to set up another node - matching the one in Cape Town - in the north of the country. And other institutions are beginning to see NASSP as a blueprint for international collaborative programmes.
The SKA has further spotlighted the need to grow the country's human capacity in space sciences, adds SAAO director Professor Patricia Whitelock, principal research officer in UCT's Department of Astronomy and chairperson of the NASSP steering committee.
"There will be wonderful opportunities for students to use the combination of optical and radio facilities to study some of the most exciting problems of the moment," says Whitelock, "everything from looking for Earth-like planets around other stars to understanding the nature of dark energy."
Hard as it is to imagine, the second decade for NASSP could be even more groundbreaking than the first.
---
This work is licensed under a Creative Commons Attribution-NoDerivatives 4.0 International License.
Please view the republishing articles page for more information.
---